Blog - November 2004 Archives
November 2004 Archives
Index

.25 Trattoria flea market


.25 10 Years of Mellow Gold


.25 Kusama Yayoi: Eternity — Modernity


.22 Sites down


.21 Komaba Rock Festival 2004


.19 Time Slip Glico Group Sounds


.16 All Moz'd


.15 Kishino You-ichi's Video cram school


.14 YMCK album release party



.13 My first Chevy


.08 USB keitai charger ♥






.07 Tamori and Maywa Denki


.05 Top 40


.04 Dégustation à Jazz

---
November 25, 2004
Trattoria flea market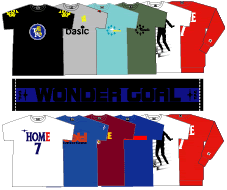 Just can't resist to bring this to your attention.
Felicity's Web shop is selling Trattoria T-shirts for a bargain! You get 6-7 T-shirts/sweatshirts/mufflers (items may vary), of a value of ¥20000~¥30000, for only ¥6800!!
I'm undecided whether to get a set myself, since I already own tons of T-shirts and can't even wear them to work.
(To those not in Japan: It doesn't seem like they ship outside of Japan, but it can't hurt to email and ask.)
Posted on November 25, 2004 at 16:40 | Permalink | Trackback (0) | Comments (0) | Tweet |
---
10 Years of Mellow Gold

Last night I had a good time watching the 3-part documentary about Beck's "Mellow Gold", freely available at the great beck.com. Though not featuring Beck himself, interviewed are many people who were involved with the album and tour (even Edy Lopez, the artist who made the cool robot on the jacket).
There are also streams of the whole album and the KCRW Morning Becomes Eclectic radio shows.
I had caught the Mellow Gold tour in Montreal back in 1994, and it was certainly the most memorable Beck show I've seen (having also seen him on his "Odelay" and "Midnight Vultures" tours which were a lot more choregraphed, also very enjoyable but just not quite the same as seeing him jump around with his harmonica singing "One Foot In The Grave").
Lots of good memories!
Instructions: Go to the news page, click the icon and register to the newsletter in order to be allowed to watch.
Thanks to Momus for pointing this out, otherwise I may have missed it.
Posted on November 25, 2004 at 10:45 | Permalink | Trackback (0) | Comments (0) | Tweet |
---

Kusama

Yayoi: Eternity — Modernity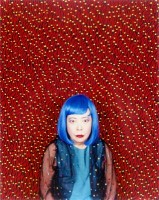 Tuesday was a national holiday, and we went to see Kusama Yayoi's current exhibition, Eternity — Modernity, held at the National Museum of Modern Art, Tokyo (MoMAT).
I had seen her exhibition Kusamatrix at the Mori Art Museum (Roppongi Hills) early this year, and had found it quite fantastic.
A lot of Kusama's works focuses on certain objects such as dots, mirrors and pumpkins, and media she uses include paintings, collages, installations, etc.
My favorites are certainly her installations, which range from furniture covered with protruding phallic shapes to rooms that seem to be part of another world (Dots Obsession, Infinity Mirrored Room, Fireflies on the Water, ...).
This exhibition also includes works from as early as the 50's.
Until December 19.
Posted on November 25, 2004 at 00:18 | Permalink | Trackback (1) | Comments (2) | Tweet |
---
November 22, 2004
Sites down
Two sites I watch closely have went down the last few days...
It seems like the great IndiesNews.com has forgotten to renew it's domain.
Update (23:50): It's back!!
And what happened to l'appareil-PHOTO bis?
Update (11/25 10:23): Whew, and it's back! Well that was quite a scare.
Hopefully they will be back soon.
Posted on November 22, 2004 at 12:02 | Permalink | Trackback (0) | Comments (0) | Tweet |
---
November 21, 2004
Komaba Rock Festival 2004
As we were having a quite busy weekend, I didn't quite think I could make it, but at the last minute I decided to go to the 55th Komaba Rock Festival 2004, outdoor live shows part of the University of Tokyo's festival. I'm very glad I ended up going!
The whole event was free to attend though they asked for donations (beer fund?).
Kiiiiiii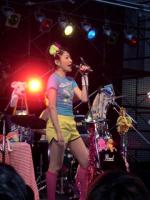 Although I thought I'd be late, I got there just in time for Kiiiiiii (that's 7 i's), the unique performance unit of two girls, featuring nothing but drums/percussions and vocals! and also a lot of toys and enthusiasm!
Jumping, running and screaming were all part of the hilarious show which certainly left no one indifferent!
I wish I'd have checked them out much sooner. I'll surely be seeing them again.
"Kiiiiiii for any occasion, or just for fun!"
漁港 (gyokō)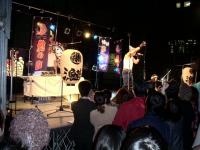 Gyokō are real fishermen who sing about nothing but fish. They sang "katsuo bushi", "maguro bushi" and a few others, and even brought a tuna head on stage and cut a bit of fresh sashimi which was given to people in the audience. :)
Their performance was quite something, the stage setup itself being a great sight. I'm now tempted to buy their recent debut maxi-single "maguro bushi" which includes a DVD.

Spank Happy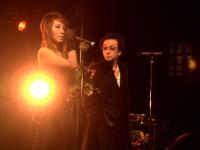 (... Now isn't that a pretty good picture? It would have been great if only her hand wouldn't be in front of her face...)
Last on stage was Spank Happy, who played a full set (similar to what I had seen at Soi Music Festival in Bangkok recently). They even did an encore which included their theme song, during which they gave/threw flowers to the spectators.
Not being too familiar with Spank Happy except for the latest album "Vendôme, la sick kaiseki" which I love, I'm not sure whether about half of the songs were old or new ones.
Kikuchi-san also spoke a lot, explaining the recent female vocalist changes (though I didn't get who's the current girl), admitting to kuchipaku (lip-sync), and asking people to give donations and .


(Click thumbnails for larger pictures.)
Posted on November 21, 2004 at 23:47 | Permalink | Trackback (1) | Comments (2) | Tweet |
---
November 19, 2004
Time Slip Glico Group Sounds
Time Slip Glico is back with a new series of singles re-released as 3" CDs, this time putting the focus on Group Sounds artists.
I always find these series to be a fun introduction to music I'm not too aware of.
Available singles: (A-side song only)

301: The Tigers "kimi dake ni ai o"
302: The Carnabeats "sukisa sukisa sukisa"
303: The Wild Ones "omoide no nagisa"
304: The Golden Cups "nagai kami no shōjo"
305: Ox "Swan no namida"
306: Jackey Yoshimura & his Blue Comets "Blue Chateau"
307: The Dynamites "Tunnel tengoku"
308: The Jaguars "kimi ni aitai"
309: The Mops "tadori tsuitara itsumo amefuri"
310: Zoo Nee Voo "shiroi sango shō"
311: Village Singers "barairo no kumo"
312: Purple Shadows "chiisana Snack"
+ secret
313: ?
314: Village Singers "amairo no kami no otome (On The Windy Hill)"
(those I own so far are in bold)
As to what Group Sounds were, I direct you to the great J-Rock Wikipedia (Group Sounds entry) (and while you're there, do add all what you know about Japanese artists).
Posted on November 19, 2004 at 14:18 | Permalink | Trackback (0) | Comments (0) | Tweet |
---
November 16, 2004
All Moz'd
I've switched to Mozilla's Firefox and Thunderbird over the last week or so.
In the browser's case, I had been tired of Internet Explorer's ever-growing vulnerability list for a long time. Also the browser hasn't been updated in years.
I've always been using several browsers for work, but I had tried switching to something else a few times and I couldn't quite find myself as comfortable as with IE. Being a PC user, IE has the advantage to be part of the OS and therefore to load quickly. I always found Mozilla a bit heavy, and I don't want Opera's banners nor to pay for a Web browser.
With Firefox' first official release I gave it a try and now I'm convinced I won't be going back.
Firefox pros: tabs!, popup blocking!, extensions (Locale Switcher), automatic text finder, gradual table rendering, RSS support (though I still use SharpReader), in development!, ...
Firefox cons: no <ruby> support, no CSS writing-mode support (sure, it's CSS3, but it works in IE), occasional display bugs, takes a little bit longer to start-up.
As for email, I had been using Eudora ever since I started using the Internet, about 10 years, so it's a big change to move to other software. Thunderbird seems to have pretty much all I want though, and more. Plus it's all free.
I was able to import all of my tens of thousands of emails without trouble (I never delete any email except for spam). It did take a few hours though. :)
Thunderbird pros: UTF-8 support!, blocks images and scripts in spam (making it safe to look at it), good spam filtering (with Eudora if I marked one Japanese email as spam, it marked all of them as spam), extensions (Quick Reply), multiple accounts, threaded views (a bit limited cause it matches only/mostly by subject), cleaner interface, quote levels coloring, ...
Thunderbird cons: ?
So far so good!
Posted on November 16, 2004 at 22:42 | Permalink | Trackback (0) | Comments (8) | Tweet |
---
November 15, 2004

Kishino

You-ichi's Video cram school

On Saturday, after having been to YMCK's release party, we came back home and then rode our bicycles to Enban in Kōenji to see 岸野雄一ビデオ塾 (Kishino You-ichi's Video cram school), to which our friend Fukuta Takeshi (8-bits) was also participating.

I've been a fan of Kishino You-ichi's unit La veuve moustachue (in Japanese ヒゲの未亡人 or "higemibo") since their mini-album "Les vacances de la veuve moustachue" (Japanese title 「ヒゲの未亡人の休日」) came out in 2001. The unit plays live every month at Aoi Heya in Shibuya, event which I'll have to finally check out soon.
I had seen Kishino-san once before thought, at the Pizzicato Five tribute live for Fuji TV show Factory, where he was co-MC'ing the event with Konishi Yasuharu. Kishino-san also sang a fantastic version of "World is spinning at 45rpm" on Pizzicato Five's tribute album.

This time was the first time I went to an event at Enban, a small record shop/café which changes into an bar, club or theatre at night.

When we got there they were viewing a hilarious old UFO special hosted by Tamo-san (circa 1990). The show was featuring confessions by people who claim to have been abducted or in contact with aliens, and even featured Raël as a guest (he was only allowed about 1 minute to speak, and all he seemed to care about was to sell his book)!
Then the cram school began. Kishino-san and Fukuta-san had each brought dozens of videos of all genres.
Their selection included:
animation (60's old Japanese Tōei trailers, Czech and German series),
old Japanese musicals (「君も出世ができる」 ("kimi mo shusse ga dekiru", 1964) featuring the song "America de wa" covered by Pizzicato Five in 2001, 「ケロヨンの大自動車レース」 ("Keroyon no daijidōsha Race" / "Keroyon's big car race", 1968), and more),
Osaka drama 「河内のオッサンの唄」 ("Kawachi no ossan no uta", 1976) featuring Miss Hanako,
a crazy puppet show where puppets are Russians speaking in broken Japanese,
a TV show where talents were trying to find old people who used to like GS and then drag them to a The Hair/Nagisa Yōko live,
etcetcetc.
After each segment, they would talk in great detail about what we had just watched.

Everything was great, but I think my favorite has to be the Keroyon musical, which was totally crazy.
I think it's meant to be for kids, most characters being animals and played by humans in large costumes. The main character, a frog named Keroyon, impatiently waits for spring when his new sports car will arrive (and repeatedly sings something like 「新しい車が来る、春と一緒に~!」 (my new car will come, together with spring)), and after his car finally arrives he decides to take part in a race.
However, he has a sort of yakuza one-eyed enemy who calls him up and claims he'll win the race no matter what (problem is that this one doesn't even have a car...), who then receives a strange offer from some sort of KKK-like dudes who want to kill Keroyon! What the hell!?
I just need to see how this ends!!
Anyway we were there until 5am, and then rode our bikes back home, stopping by Sukiya for a late night kimuchi gyūdon. Mmm...
Posted on November 15, 2004 at 14:59 | Permalink | Trackback (0) | Comments (0) | Tweet |
---
November 14, 2004
YMCK album release party
Yesterday we went to YMCK's release party for their first album "Family Music", held at the small Club Asia P (the site is a bit of a mess so beware) in Shibuya.
Blasterhead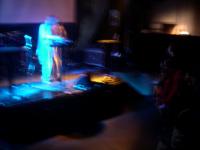 First played Blasterhead, a mid-long -haired guy in big clothes with a Gameboy and a mixer. According to his site he uses LittleSoundDj.
His music was sort of Famicon-like melodies with techno/trance-ish beats, which was enjoyable. I bought his CD "Chopping Mall-E.P." for ¥1000 to check out more.
However, his site and CD designs are kind of scary... :)
Aprils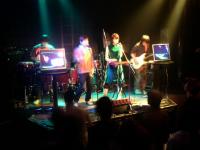 Aprils played a full set on the small stage which didn't allow for the Gloomy panda to show up. He was replaced by a fun video for a new song, "papapa-panda", featuring him playing around in all sort of places.
They had a replacement drummer for this show, and I felt like it made the band sound less tight than usual. It sure is an art in itself, beyond drumming, to play over pre-recorded beats tightly.
The show was a lot of fun as usual, and they announced that there will be a split-EP with Orangenoise Shortcut released on January 12! (Watch the agenda for more details when available.
Ram Rider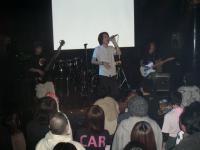 Ram Rider sounded to me like 100% French house, with Japanese [vocoder'd] vocals.
They were 6 guys on "stage", actually 3 on stage, Ram Rider himself (vocalist) and also live guitar and bass, and 3 sort of big guys grooving behind the console (I'd name them the Ram Rider posse).
This sounded like good club tracks, but I didn't care much for seeing it performed live though. I thought the live bass was cool though!
Also played was a bit of what seems to be a very funny video for the first single "Music"'s title track, featuring a soccer game where a whole team is himself. The video should be airing on Space Shower TV, and will also be included on the EP out 11/17.

YMCK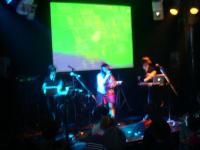 Last came YMCK, who gave a great show of most songs from their album, with fantastic video for all of them!
Most songs were played as on the album, except that there were one or two added solos.
The coolest part of the show was that they brought on stage guests from each of the previous bands for a series of "battles", displayed on screen as old RPG fights (ever happy, no one's HP ever went down! :)).
Blasterhead, Aprils' Imai-kun and Ram Rider in turn added their touch to a YMCK song. In the case of Aprils, we got a YMCK version of "Twinkle Stars, Little Stars, Shining Stars" (Aprils song co-produced by YMCK), which was really great!
After the show I got to talk a little with YMCK's very cute Midori who signed a flyer for me, and also Usagi-chang shachō Aki-san (Sonic Coaster Pop).
Another surprise came last, as we found Softly! Edition 8-ban records, slightly hidden, apart from the rest of the merchandise! I bought 4 records, the ones I got are Aprils' "Pan·da", Pomeraninas "boku no suki na kotoba", EeL "cheap sweet ~ green biscuit" and orangenoise shortcut "Lookin' through the rainbow".
My quest is now over!
Posted on November 14, 2004 at 13:45 | Permalink | Trackback (0) | Comments (2) | Tweet |
---
November 13, 2004
My first Chevy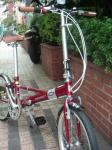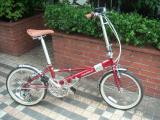 Last night after eating mexican at Maracas Bongo (Shinjuku 2-14-9 2F), after months of contemplation I finally ended up buying a Chevrolet bicycle!
I got a red 6-speed 20" (FDB20-6), for ¥25,300+tx at the Don Quijote in Kabukichō.
My old bicycle was an orange small folding bike with no gears, which had become rusty and a real pain to ride. Now I can enjoy riding again with my Chevy!
Also, at Don Quijote, while waiting for the bike to be brought down, we realized that there's a free to use automatic pump. Don Quijote is open 24h.
Posted on November 13, 2004 at 13:52 | Permalink | Trackback (1) | Comments (4) | Tweet |
---
November 8, 2004
USB keitai charger ♥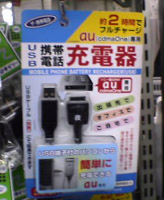 It's been a while since I bought mine, but I think this is such a fantastic product that it deserves mention.
This is a USB mobile phone charger which comes in different models for most major providers. Simply hook up your keitai to any computer and it starts charging.
Best of all, even though it could probably be sold at electronics shops for ¥1000 or so, it's actually only ¥100 at Daiso ¥100 shops! (I got mine at the Nakano-sakaue store.)
Leave one of these nearby each computer you use, and say goodbye to expensive spare batteries, one-time ugly external battery packs sold at combinis, and even reusable external 9V battery packs.
Posted on November 8, 2004 at 13:05 | Permalink | Trackback (0) | Comments (2) | Tweet |
---
November 7, 2004
Tamori and Maywa Denki
Today we went for a bicycle ride with the first intent to eat pizza at La Piccola Tavola.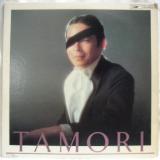 Often on Sundays we go check out a few flea-markets, and although today that wasn't on our mind at all we passed by Suginami Sanshinomori park (Higashi-Kōenji) where there happened to be one.
While usually we don't find much stuff of interest, today just while looking around quickly I found this old Tamori comedy record (Toshiba EMI ETP-72227, 1977/3/20) for ¥1000 and also a small Vestax 2-channel mixer for ¥3000 (still have to check whether it works well).
(Is it my destiny to collect Tamo-san stuff?!) (If he wrote good pop songs would that make him a Japanese Momus?)
We then made it to La Piccola Tavola (4-2-4 Eifuku-chō, Suginami-ku), but it was already about 2:30 and they had just ran out of pizza paste, so we had to give in and have pasta instead.
There were people next to us eating a pizza and it seemed so delicious. Still having to find decent pizza in Japan we'll definitely have to go back there again soon, maybe next weekend...!
Our pasta was fine though, and the tiramisu we had for dessert was large and tasty!
We then rode down to Tokyo Opera City to see the Maywa Denki exhibition at NTT ICC, after I had found out about it on Gregg's blog a few days ago.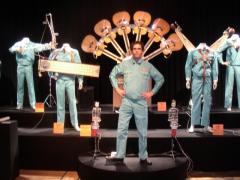 The exhibition presents most of Maywa Denki's works, from their fish-inspired inventions hoping to unveil the meaning of life, to their large array of wacky electrically triggered acoustic musical instruments. The gallery presenting the musical instruments allowed playing with some of them, and even to change into Maywa Denki's outfits and take pictures! Holding a foot pedal lit up the picture area. :)
The main member of Maywa Denki was even there to do demonstrations and speak with fans.
We spent over 2 hours at the exhibition, it really was a lot of fun. We even got a 6 month membership to the gallery which allows us to go to this exhibition again (until December 26), and also to check out the next one, for only ¥1000 (instead of ¥800 for a one-time entry).
After getting back home, we finished our fun day by going to our favorite Thai restaurant, Ploy Thai House (4-28-7 Honchō Nakano-ku), which is celebrating its 2nd anniversary.
Posted on November 7, 2004 at 21:57 | Permalink | Trackback (0) | Comments (2) | Tweet |
---
November 5, 2004
Top 40
Some may be watching my listening blog (appearing on this blog's home page on the left-hand side) where I keep track of most of what I'm listening to.
It having been a little while since I started, back in September 2003, I thought that compiling statistics from it could be interesting.
So I've just made a new feature that shows the top 40 artists and top 40 titles that I've entered in that blog. This may give a pretty good idea of what I listen to.
Disclaimer: Since I don't enter 100% of what I'm listening to (e.g. I may only make one entry for something that I keep on repeat for a few days or weeks), these statistics are for entertainment only and should definitely not be used for gambling, etc. :)
Why top 40? Cause "Top 40's No.1"!
Posted on November 5, 2004 at 11:18 | Permalink | Trackback (0) | Comments (4) | Tweet |
---
November 4, 2004
Dégustation à Jazz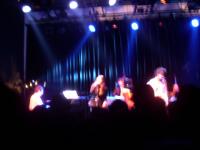 Last night, my friend Miwa and I went to see Kikuchi Naruyoshi Quintet Live Dub feat. Kahimi Karie at an event called Dégustation à Jazz, held at Unit in Daikanyama.
DJing was United Future Organization's Raphael Sebbag, who did a great jazzy set.
The show was, as its name implies, jazz, led by Kikuchi-san on the saxophone. Other members of the quintet were Tzboguchi Masayasu (piano, sampler), Kikuchi Masaaki (acoustic bass), Fujii Nobuo (drums) and Pardon Kimura ("live dub"/off-stage electronics).
I was quite impressed with Kikuchi Naruyoshi's performance. Although I had seen him play improvised jazz in Bangkok, it's this show that proved to me that he's really a talented musician, not just a pop songwriter and lip-sync'er as it's the case with his unit Spank Happy (which I also like).
All musicians were truly great. I especially enjoyed Kikuchi Masaaki's bass playing. Pardon Kimura, who was hidden behind the audience, applied effects to the others' instruments, sometimes making Kikuchi [Naruyoshi]-san's saxophone sound like there were five of them.
Kahimi was beautiful as always, and sang 5 songs, including two of her own: "Kinski" (from "Trapeziste") and "Pancartes" (from "Montage").
Other songs sung were "Samba de couleurs" (「色彩のサンバ」) in duet with Kikuchi-san (from his album "Dégustation à Jazz") and Billie Holiday's "Crazy He Calls Me".
[Blurry] picture (from left to right): Tzboguchi Masayasu, Kahimi Karie, Kikuchi Masaaki, Kikuchi Naruyoshi and Fujii Nobuo.
Posted on November 4, 2004 at 13:52 | Permalink | Trackback (1) | Comments (0) | Tweet |
---