Blog - August 2016 Archives
August 2016 Archives
Index
.27 Weekly revue: 2016 week #34 (August 20 to 26)
.22 Weekly revue: 2016 weeks #32-33 (August 6 to 19)
.07 Weekly revue: 2016 week #31 (July 30 to August 5)

---
August 27, 2016
Weekly revue: 2016 week #34 (August 20 to 26)

Food: - Pork curry at Kitchen Ohnami, Kichijoji, a recently opened teishoku restaurant ran by DJ Gō who serves delicious Japanese style meals and curry rice, with good music (vinyl BGM)
- Cakes, coffee and tea at Kies, Nishi-Ogikubo
- "FLAT" event at Lug Hatagaya, with food by Path, desserts & drinks by Sunday Bake Shop, and wine by Lug
- Napoli-style pizza at Guerrero, Shimokitazawa. Pizza and appetizers were great!

Exhibition: Checked out the latest exhibition by Okano Akiko (Tapir), at Cafe Hi Famiglia in Mitaka! Her latest works are double-sided and mounted with a mirror so that the reflection of the backside can be seen too.

Music release news: Pizzicato Five, Maika Loubté, Jintana & Emeralds

Playlist: Hoshino Michiru, Nakatsuka Takeshi, Metafive, Dorian, Pizzicato Five

This week's videos:

Maika Loubté "FEEL"

Maika Loubté "You and I" (Live at home studio Manju studio)

Posted on August 27, 2016 at 23:01 | Permalink | Trackback (0) | Comments (0) | Tweet |
---
August 22, 2016
Weekly revue: 2016 weeks #32-33 (August 6 to 19)

Food: - Carne asada beef steak enchilada by Cactus Burrito (Kawasaki) at an event at Watering Hole, Yoyogi
- Corn, and mint & coriander hiyajiru (cold soups) at Tapir, Shin-Ōkubo
- Pork sandwich and croquant ice sandwich at Bird, Daikanyama

Music events: - I went to a DJ event feat. Sally Kubota, DJ Fukutake & friends at MeWe in Shibuya. Sally was selling some of his dead stock records (Les 5-4-3-2-1!) so I could grab the "Cutie Honey" 7" that I was missing, and even get an autograph! :) I also ran into Comoesta Yaegashi!

- We had the great opportunity to attend a concert by Agata Morio at "haretara sora ni mame maite" in Daikanyama. He was backed by a full band with guitar/banjo, bandolin, keyboards, bass and drums (Itoken!), and played several brand new songs. Despite not being very familiar with this great artist's repertory, it was a very enjoyable show!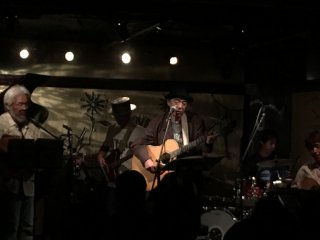 - Then on a hot sunny day, I fled to Roppongi Hills to watch Shinovani perform their new song "onnanoko otokonoko" for the first time! Shinovani is the brand new unit of Shinohara Tomoe and Vanilla Beans! That's wonderful news as I'm a big fan of both! :) Their debut single will be released on September 28. Tomoe wrote the new song (bits can be heard here), and the single will include a cover of her own "kokoro no usagi" (from "Megaphone Speaks")! Can't wait!
- Pizzicato Five reissues of "Couples" and "Bellissima!", the two first albums, are coming on August 24! Actually Tower Records has exclusive vinyl editions that are even available in advance at Tower Records Shibuya only! Of course I grabbed both! That came with a ticket to a talk show with Konishi Yasuharu and Nagato Yoshirō (P5 manager in the Sony years, who also owned the legendary Pied Piper House record shop). That was very interesting!
Pied Piper House is revived on the 5th floor of Tower Records Shibuya for a limited time, and Nagato-san is often present. Rare early P5 memorabilia from his archive is now on display there to celebrate the reissues. I'll have to go back to take a closer look!
Music release news: Especia, Sugar's Campaign, Perfume, kataomoi, Metafive
Playlist: Hoshino Michiru, Nomiya Maki, Flin Flon, Halfby, hitomitoi, Tarte Tatin, etc.
This week's video: Nomiya Maki "Un homme et une femme" en duo avec Yokoyama Ken de Crazy Ken Band
Posted on August 22, 2016 at 00:08 | Permalink | Trackback (0) | Comments (0) | Tweet |
---
August 7, 2016
Weekly revue: 2016 week #31 (July 30 to August 5)

Last week was my birthday! :) Lots of great food and fun times!

Food: - Curry lunch plate at Toranoko Shokudō, Shibuya
- Delicious aged sushi at Marufuku, Nishi-Ogikubo
- Some great ice cream at #UTTHF (Unable To Take Hot Food), an ice cream stand that keeps moving from a place to another. Check their Instagram (@unable.to.take.hot.food) for the latest info!
- Grasshopper (cucumber & mint sandwich), chicken tikka masala and world class brownie at Bespoque, Higashi-Nakano
- & many cakes here and there! :)

Music event: - I went to see Kaji Hideki's first show of his 20th anniversary tour! It was held at Club Quattro in Shibuya, the perfect place for a Shibuya-kei kind of show! He played a bunch of songs covering his whole career but also many from his latest album "The Blue Boy" that I love! As always he gave a very energetic and powerful show. This time he was accompanied by the two of Koncos (TA-1 and Satō Hiroshi), Sister Jet's bassist Ōnari Yasushi) and keyboardist Simoryo (the chef cooks me). Simoryo's keys were especially great! There was a quick appearance by Kaseki Cider, for the song "Tropical Girl".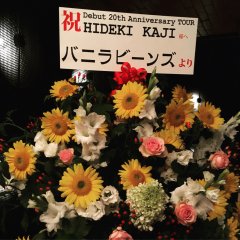 - A nice cassette tape player found its way home! I had been wanting one for a while especially because I had some unlistened tapes sitting around, and also because tapes seem to be gaining a bit of popularity again!
Music release news: Ishino Takkyu, Crazy Ken Band
Playlist: hitomitoi, bambino, 5th Garden, Kaji Hideki, Especia, Reina & The Blue Valentines
This week's videos:
Kaji Hideki "Heroes"
Kaji Hideki "Tropical Girl"
Especia "Savior"
Ishino Takkyu "Rapt In Fantasy (Radio Edit) Ver. 1"
Posted on August 7, 2016 at 23:45 | Permalink | Trackback (0) | Comments (0) | Tweet |
---