Blog - December 2007 Archives
December 2007 Archives
Index


.27 La Veuve Moustachue ~kyō wa Christmas nanoyo~: live report


.26 Jack Diamond Disco Night


.25 Merry Christmas!!



.22 Ikebukuro cats



.17 Saint yume to Cosme: live report


.16 Slitherlink


.10 YouTube: Denki Groove and Kid Sister


.07 Immobile Suica


.06 Christmas music




.04 Happy Happy SMAP

---
December 27, 2007
La Veuve Moustachue ~kyō wa Christmas nanoyo~: live report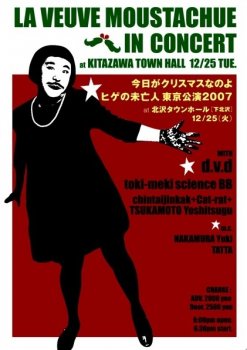 On Christmas day, I left work a bit early to go to Shimokitazawa Town Hall where was held the Christmas concert of ヒゲの未亡人 (hige no mibōjin aka La Veuve Moustachue = The Mustached Widow), the unit of Kishino You-ichi. The event was themed around enjoying both music and visuals at the same time, and featured 4 different bands.
First on stage was chintaijinkak+Cat-rat+Tsukamoto Yoshitsugu, respectively thereminist, pianist and light artist. Both musicians also sang, and they wore white blouses with black long skirts and glasses. They played 3 songs, the first two of which were rather "normal", that's in contrast with the last in which the theremin simulated an ambulance siren, and the lyrics were also crazy. :)
Next was tokimeki science BB, a unit formed of suzueri and Kinoshita Kenkyūjo. I had seen suzueri performing solo last June. This time she did similar things with toy pianos controlling her computer (she explained that one of the toy pianos has been transformed into a real MIDI controller by herself) and also played piano, while Kinoshita played with some electronic boards. I couldn't quite see what he was doing, but according to the MC's, he was changing connections and tweaking settings right on a board, changing the sequences and tempo and such. The whole was nice, but I couldn't help but feel a bit sleepy.
Then it was La Veuve Moustachue, who I had seen several times before at Aoi Heya back when he had a regular show there every 2 months. Kishino-san wears a black dress and becoming a widow who tells sort of melancholic stories of her loneliness, but being told with humor and by a mustached widow makes for a really happy show. It was the first time in Tokyo that the show was presented with video, as it was for his recent French tour. Most songs even had French subtitles, which made it even more enjoyable for me than the previous times.
Last was d.v.d (MySpace), which stands for "drums+video+drums". It was the first time I saw them live, although I had played with their kit at the Roppongi Crossing exhibition last month. They also opened for Cornelius and Plastics at Liquid Room recently.
The concept is that they have drum-controlled games, and the two drummers make each song progress while "playing" (double-meaning). Just when you would start getting a bit bored of the game, it changes into music. The video guy, Ymg, sat in the middle and used a Wii remote to control some aspects of the games, like throwing balls into the game set. It was all a lot of fun to watch!
I liked that they didn't hide how they're doing their stuff, between every song the Mac's screen would come up and Ymg would go in menus to select the next program.
They should be touring Europe again soon, to Germany, Switzerland, Poland and Holland (according to 23N! who also attended).
On our way out, we saw Shindō Mitsuo leaving!
One way to spend a Christmas evening. :)
Posted on December 27, 2007 at 22:22 | Permalink | Trackback (0) | Comments (0) | Tweet |
---
December 26, 2007
Jack Diamond Disco Night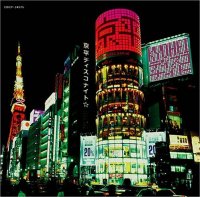 The press release for "Kyōhei Disco Night", a remix album of songs written by Tsutsumi Kyōhei (Japan's #1 pop songwriter), made me realize something quite funny.
It says "music by Tsutsumi Kyōhei (except track 10 by Jack Diamond)"... track 10 is Asano Yūko "Sexy Bus Stop". A quick search made me find out that "Jack Diamond" is a rare nickname that he only used a few times it seems, for disco tracks such as this one and "Soul korekkiri desuka", a funny disco medley 7" that even made it to my Japanese disco collection. :)
Finally today, I got my hands on the album (it got on the shelves yesterday) and I'm just having a first listen now, and no surprises, it's all great!! I couldn't resist but to listen to the P5 cover first, and it's fantastic! P5 fans will also recognize Ishida Ayumi's "taiyō wa naiteiru" as the inspiration of "Mon Amour Tokyo", this one is remixed by mash-up unit Missing Linc! As seen on this blog, P5 also borrowed some typography from the single's jacket.
The jacket designed by Shindō Mitsuo is a must-see, with a sparkle effect that can't be enjoyed on a computer screen.
For release details, see my agenda or the Konishi discography.
(I had made some mistakes in the 2nd paragraph and it was a mess, so I've corrected it. Sorry for the confusion, if any.)
Posted on December 26, 2007 at 22:41 | Permalink | Trackback (0) | Comments (0) | Tweet |
---
December 25, 2007
Merry Christmas!!
Merry Christmas!!!
I wish all my dear readers [had] a special day with their loved ones.
I've received my gifts, and the best one has to be a pair of Amadana earphones! I was quite in need of new earphones for my commute, and this is a happy upgrade from cheap ¥2000 Panasonic ones.
Amadana is the cool electrical appliance brand by Shuwa Tei, the younger brother of Towa Tei. The designs are retro with a lot of brown and orange tones. Entering an Amadana shop for the first time in Velvia Ginza a few months ago made me wish that I had a daily use for a desktop calculator. Amadana also has shops at Omotesando Hills, Bals Store in Nakameguro, and until February at Shibuya Parco Part 1.
Also I got a handmade slip case for my iPod Touch just like I wanted, a type that doesn't seem to be found anywhere! I like using the iPod without any type of silicon case on it, but I wanted a place where to slip it back to, protecting it from other stuff inside of my bag. The case has a silk interior and one of the sides is a bit rigid so that it keeps its shape, and also to make it easy to put the iPod in and out.
Also we got a large box from my parents, full of goodies and chocolate, and today we received cards just in time from our friends Tsugumi and Spencer! Big thanks!! :)
I'd have recorded a Christmas song this year, and I had a good idea, but unfortunately I didn't have time to record and now the 25th is almost over here, so I might keep that idea for next year maybe. :)
---
Changing topic, last night on the way back home I was curious about a bright spot in the sky nearby the moon, while no other star could be seen (as it's the case most of the time in Tokyo). Turns out it was Mars! And just around that time it passed right behind the moon, which means that the sun, the Earth, the moon and Mars were all aligned in one straight line. It was still visible tonight, farther away from the moon though, but still it's more noticeable than any star so it's easy to find. It might still be visible for a few days before it disappears later this week. This happens once every 26 months.
Posted on December 25, 2007 at 23:34 | Permalink | Comments (3) | Tweet |
---
December 22, 2007
Ikebukuro cats
Tonight I passed by Ikebukuro for the bōnenkai where I work, and on my way back through the station, there were these two cats laying on top of each other, on the head of Ikebukuro's symbol owl statue ("Ikefukurō")! Despite all the people around them snapping photos, they remained there very calm (sleeping?!). The smaller top cat had a cute collar with a flower on the side.
Unbelievable sight! How did they get there? Or in the station at all? It remains a mystery. :)
They sure made a lot of people happy!
Larger photos (and a few more blurry ones) at Flickr
Posted on December 22, 2007 at 00:29 | Permalink | Trackback (0) | Comments (3) | Tweet |
---
December 17, 2007
Saint yume to Cosme: live report
Last night was event "Saint yume to Cosme" (Dreams & Cosmetics), organized by solange et delphine, at Aoi Heya in Shibuya. After a quick dinner with my friend Miwa at nearby café seat mania (located just next to Soft, Aoi Heya just across Roppongi-dōri), we headed to the venue a bit past 18:00. A few people were lining up in the stairway, and when I asked the person in front of me if the place wasn't open yet, that person happened to be friend "parakeet clipshot" who we had met in September at another solange et delphine show. The rehearsals weren't quite over yet to we had to wait outside a few minutes while hearing bits of the bands.
First of all was sono na wa Spade (aka The Lady Spade) who I had seen twice before. They gave a groovy sexy show better than ever. The lovely Secretaries-A-Go-Go wore maid outfits, and singer Ruby first wore a white gown and later a see-through pink babydoll. Mr. SLF (Sh*t Lives Forever) danced and MC'd in the back in his black suit and sunglasses as usual. There were a few new songs, and also a special jazzy cover of "Santa Baby". The show closed with "Tout, tout pour ma chérie" sung in French (her pronunciation wasn't bad at all). I love that this band has live vocals (I'm not being fooled am I?), and the choreography is so professional and tight.
Ok, and I like the girls too!
Next up was Round Table's Kitagawa Katsutoshi, who performed a solo set of covers, alternating between slower and upbeat tracks. He was accompanied by a bassist, and Hase-san on piano, and a beatbox. Although I could tell that I had heard about half of them before, I could only clearly recognize The Tigers' "Seaside Bound" which I love. I'm not too familiar with Round Table, but he had a very good voice and gave a nice show!
3rd on stage was arcorhyme for their first live full set ever! Takanami K-tarō and Nishimura Ikuyo were accompanied by Nakamori Yasuhiro (Hicksville) on guitar, and Kecchan (Takahashi Yūko of Gomes the Hitman). K-tarō wore a red shirt, of which Ikuyo fixed the collar before they began their set, and Ikuyo first wore a black dress, and later a Christmas-ish outfit of a red dress with a white vest, and silver Christmas ornament balls for earrings!
The set list went like this: tsukiyo no hōseki ~Les Bijoutiers du Clair de Lune~ / Strawberry Decadence / Charade / Don't Do you believe in Magic? (cover of Lovin' Spoonful) / You Really Got Me (cover of The Kinks) / Never Fall In Love Again (cover of Southern All Stars) / amai hibi ~la douce vie~
K-tarō played guitar and he sang "Don't Do you believe in Magic?" solo, and Ikuyo sang lead for most of the rest, also playing saxophone and flute bits. Although there were small mistakes (no biggie!), surely due to a bit of nervousness of a first show, it was just great! I was very pleased to hear all of these live, and even sitting at the front row.
Oh, and I saw the album jackets for the first time on a flyer, you'd think they're psychedelic neo-GS, haha! Not surprising since they were designed by Sally Kubota (ex-The Phantom Gift).
Last up were solange et delphine, who this time played a full-band jazz set, with violin, guitar, bass and drums. Hase-san and Yumi-chan both wore warm winter fur hats which must have been very hot under the spotlights. They opened with a Christmas song and played all of their recent regulars plus one or two new songs. I felt there was a bit more of a disco feel to their sound than usual. I picked up their two new CD-Rs "yume to Cosme" (3 new tracks) and "Dream On Hype" (house remixes by Yoshida Tetsuto).
Upon leaving, I had DJ Yoshida Tetsuto show me a 7" of the motoneta of Pizzicato Five's "20th Century Girl". It's actually a Christmas song, Claudine Longet's "I Don't Intend To Spend Christmas Without You". I'll probably have to hunt this down for myself!
Oh, and big thanks to my friends of arcorhyme (and label Vivid Sound) who could get me in! That was a truly wonderful pre-Christmas evening!
Larger size photos and more at Flickr
Posted on December 17, 2007 at 23:21 | Permalink | Comments (3) | Tweet |
---
December 16, 2007
Slitherlink
A few days ago I finished a second book of Kakkuro (aka Kakuro), "Kakkuro #20" containing 95 puzzles that lasted me almost 2 months. It's about then that I heard somewhere that people who like Kakkuro tend to like another Nikoli game called "Slitherlink" and that's the next book that I got ("Slitherlink 18").

Slitherlink is also a game of numbers based in a grid, but instead of filling-in numbers like Sūdoku and Kakkuro, you trace a line along the grid's dots. The rules are simple:
cells with a number (0 to 3) must have exactly that number of sides touched by a line,
crossing lines or "T" shapes are not allowed, and
the resulting line must be only one continuous (looping) line.
It's possible to solve these by using some logic. For example, if there's a "0" (no lines around it) next to a "3" (3 lines around it), only the side of the "3" facing the "0" will not have a line, the 3 other sides will have one. See examples of the game's flow, see this introduction at Nikoli's site. The logic rules listed at Wikipedia.
I got the book yesterday and spent maybe an hour or two completing 10 puzzles or so, and so far it's a lot of fun! It's easy to get trapped in places where it looks like the line would go one way but actually it's heading elsewhere.
Nikoli has 18 Slitherlink books, available for direct online order (international orders via PayPal).
Posted on December 16, 2007 at 11:33 | Permalink | Trackback (1) | Comments (0) | Tweet |
---
December 10, 2007
YouTube: Denki Groove and Kid Sister
I rarely post YouTube, but there's always the exception. Denki Groove's video for the new single "shōnen Young" really cracks me up, with more cheesy 80's girls than you could count. It's also the theme song for the manga-inspired film "Gumi Chocolate Pine" which I'm curious about. I dig the song too, first single in 8 years(!!), but I just can't figure out what the English line from the chorus is supposed to mean: "We are little children use to be"!?
Also just up is Kid Sister's first video, for the great song "Pro Nails" featuring Kanye West. It's the first video from A-Trak's label Fool's Gold which promises a lot of fun stuff to come.
Posted on December 10, 2007 at 23:59 | Permalink | Comments (9) | Tweet |
---
December 7, 2007
Immobile Suica
Yesterday I woke up late and didn't have my coffee before leaving for work. That's what I put the blame on about dropping my keitai just after using Mobile Suica (my train pass inside the keitai's IC chip) to get in the JR gates at Shinjuku. After my train ride when I tried to walk out, it wouldn't work anymore! What was strange was that I could still view my train pass data on the phone's screen, so the IC chip wasn't really broken, but the IC reader just wouldn't react to it anymore. The rest of the phone still worked nicely, except for a few buttons that had a slightly strange touch. :) It wasn't the first time that I dropped it, I dropped it dozens of times, but it was the first time that something broke.
To get this solved, I first tried Mobile Suica's call center. After telling the whole story in details, I was asked questions that I had already answered, and some questions that wouldn't even apply to my case. Then I was told to go to a DoCoMo shop.
So during lunchtime I rushed to a DoCoMo shop where my phone was checked and there was indeed a problem with the IC chip and the phone needed to be changed completely. Luckily it was still under warranty, but being an oldish model (I got it a year ago) they didn't have the same in stock and they'd have to find one elsewhere. Since no nearby shops had it in stock either, they had one sent over for the next day. Meanwhile, they made me start the process to switch my Mobile Suica to another phone. Since my phone was technically "broken", the clerk had me do the same procedure as for someone who lost their phone or broke it completely. This involves calling the Mobile Suica call center again which bills ¥500 for doing the procedure manually. I thought that was the only way to proceed.
So I left the shop and would come back the next day to get my new phone. Until I still had my old phone that worked except for IC chip beeping. However later I searched a bit on Mobile Suica's site, and I found out that I could have done the switching procedure myself from a menu of the appli (which still worked fine), without paying ¥500. In the evening I called the Mobile Suica call center again and argued a bit about having had to pay ¥500 even though it wasn't necessary, and they told me that they "can't refund" because it's all "automated" (uh-huh) and it was the DoCoMo shop staff's fault for getting me to do that procedure.
On my way back from work yesterday, and to go to work the next day (today), I still had my old phone which wouldn't beep but could display my train pass details on the screen. I had to explain to the station staff the story every time, showing the details on the screen and begging them to let me pass for free. Luckily they were all nice and there was no problem.
Today at lunchtime I rushed back to the DoCoMo shop, where a new phone was waiting for me. First though, I explained the staff (different guy than yesterday) the story about having had to pay ¥500 for something that I didn't have to. The fault was obviously the previous guy's who didn't know better, and the new person understood the situation right away and there was no arguing. He first tried to call the stubborn Mobile Suica call center though, which gave him the same negative answer as I had got the evening before. This took almost half-an-hour. Then I think he went to ask someone important about issuing me some kind of refund which took more time.
It was also time to get my phone switched, and just about 10 minutes later an identical but brand new and shiny phone came. I was also helped to reinstall the Mobile Suica appli, and I was ready to take the train again. The staff also had a good surprise for me, ¥1000 worth of DoCoMo rebate "mobiler's check" cards which I can use as a rebate on my next phone bill. Yay!! Well it probably cost me about ¥500 of calls to the call center and downloading the applis again, so I'm not exactly winning here, but I thought it was very kind.
So, after two visits to the DoCoMo shop, about an hour each time, I'm pretty much all sorted out (I just haven't got the DCMX Mini appli running yet, and I think it will require another trip to a DoCoMo shop), and I've got a brand new phone! I'll be careful not to toss it to the floor, promise.
Posted on December 7, 2007 at 22:07 | Permalink | Comments (4) | Tweet |
---
December 6, 2007
Christmas music
As December approaches, we become surrounded with Christmas music wherever we go. Some may get annoyed, but I tend to stuff my iPod with yet more Christmas music, and I enjoy dim-lit dinners with more Christmas music whenever possible.
I often hesitate to buy Christmas music since it can only really be enjoyed one month every year, but then again I find it hard to resist. This year I've been weak, and added a bunch of Christmas CDs and even records to my collection. Complemented by what I already owned, I feel ready for one of the most musical Christmases so far.
New stuff (in my collection anyway)


akiko "a white album" (2007)
Produced by Konishi Yasuharu, this is a true vocal jazz album with hints of club beats. akiko, one of Japan's most talented jazz vocalists, treats us to a bunch of Christmas traditional tunes everyone knows, all sung in her beautiful flawless English.
SMAP "Happy Happy SMAP"
This Christmas single of boy group SMAP is produced by Konishi-san and sold only at their limited "SMAP Shop" at Omotesando Hills through December. While I'm far from being a SMAP fan (though I do watch their TV shows once in a while), at a ¥390 price I had my share of waiting outside in the cold to enter the shop.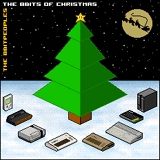 Various Artists "Holy 8bit Night" (2007)
Also just out in November, this is a first true release from the indies label VORC that's been around for ages. It features 8-bit artists giving redemptions of Christmas pop songs, a selection that goes from Leroy Anderson to Wham! to Mariah Carey, to Japanese artists Yuming and Sakamoto Ryūichi.
Various Artists "The 8bits of Christmas" (Free at archive.org!)
Talk about a concept: 8 Christmas tracks by 8 artists using 8 different vintage 8-bit computers/game consoles! While looking up info about "Holy 8bit Night", I found this other compilation available for free at archive.org! It includes the same track by VORC's Hally that's featured on "Holy...". The rest is great too!
Tokyo Panorama Lounge "Mambo de Christmas" (1999, SRCL-4663)
While being a big fan of Paradise Yamamoto and Tokyo Panorama Mambo Boys, I didn't know this one existed and found it by chance the other day. Paradise Yamamoto, the only Greenland-approved Santa Claus in Japan, presents his Christmas favorites in mambo and latin flavors, with his characteristic mambo shouts throughout. Ahhhh... UGH!!!!
Tokyo Panorama Mambo Boys will be back in January with a brand new release, "Mambo Imperial"!
Various Artists "A Gift For Swingin' Christmas" (12") (2006, NOEL-001)
Out last year as the first release of Noel Records, a Japanese club/breakbeats label only active that only shows up for the holidays, this 12" has great party tracks by Sherlock Notes, V-Neck Afternoon and Monsieur Mieurax. Sherlock's track is especially groovy, with "Santa Claus has been kidnapped" samples that would make any little kid panic.
Various Artists "Christmas Will Be Just Another Lonely Day" (12") (NOEL-00?)
This is just in at Jet Set and I haven't yet got my hands on it, but Noel Records has another omnibus 12" coming up any minute, with tracks by Boot Beat, Three Good Rules and more.
Older stuff
"The 8-bit Xmas" (circa 2002)
Adam Bruneau (aka Oliver Cobol of Super Madrigal Brothers) made this collection of 8-bit Christmas songs, much before the big 8-bit hype. I had bought the CD instantly and it's still regular BGM every year. Great stuff!
Various Artists "Fantasia De Navidad" (2002, Siesta 160)
A great Christmas-themed compilation from the Siesta label (Spain). Gotta love the design of the limited edition I have, a digipak made of real wood, with metal hinges.


Various Artists "Mint Sound's Xmas Album" (12" LP) (1987, MSR-1008)
Late 80's neo-GS compilation including Young Odeon (side-project of Konishi Yasuharu) and Original Love. It's a mix of Christmas classics and original songs. I've seen a pile of brand new CDs (MSR-CD2) of this recently at Coconuts Disk in Kichijōji. I've got this on vinyl though, comes with a bonus purple 7".
Pops All Stars "Yellow Christmas" (7") (1986, 07SH-1861)
Just a great funky mid-80's pop track. Said to feature Konishi-san on chorus..!? It's also on the "Winter Lounge" compilation which included P5's "Kiss Kiss Bang Bang".
Check out this funny video on YouTube!
"Keroyon no Christmas / Keroyon no Jingle Bells" (circa late 60's?, PSB-31)
A picture 7" of Keroyon, "oneesan" Mori Akiko and little kids singing. The B-side uses the melody of "Jingle Bells" with original Keroyon lyrics. My copy is scratched very badly but it plays.
And let's not forget my own Christmas offerings: "Medley de Noël 2004" and "Noël Blanc 2005".
Happy Christmas preparations!!
Posted on December 6, 2007 at 23:59 | Permalink | Trackback (0) | Comments (2) | Tweet |
---
December 4, 2007
Happy Happy SMAP
Today I was at a MySQL seminar at the Swedish embassy. That was uneventful although I learned several good things! MySQL AB speaker Brian Aker was especially interesting and kept the audience awake with some funnies here and there. :) Around the Swedish embassy there were a lot of autumn colors, probably the best kōyō I've seen this year.
On my way back I had some stuff to check out around Harajuku (clears throat) so I went by the minuscule "Happy Happy SMAP" Shop that's present throughout the month at Omotesando Hills. I had first been there last Sunday at 17:00, but there was an endless line of SMAP fans, and the tickets you need to get in were already all gone. It was the opening day, so no surprise there. Meanwhile I also heard that last year it was like that everyday though..!
But today I was there again just past 17:00 and the shop was empty! I thought that was my chance to get the Konishi-produced CD (my only interest in the shop, really), but I soon met a doorman who would only let in people with the silly ticket. Goods inside... no shopper around... buyer who wants to get in... what's the problem with their stupid manual?
So anyway, I was told that from 19:00 there's no more need for a ticket. After a bit more arguing and seeing that I wasn't being let in even for a minute, I gave up and left... and came back at 18:40. :) I waited in the cold until "opening time" (the shop was open but still empty meanwhile..!?). Needless to say, after waiting half-an-hour in the cold, people take their Happy Happy Time™ inside the shop, taking photos of each of the SMAP manekins, making the line last even longer. :)
Anyway I finally got my hands on the CD! The 3'09" track is pretty good, very Konishi-style club track with a Christmas feel that doesn't disappoint! In my opinion, it would be even better without SMAP, who just keep saying "Happy Happy SMAP" and "Merry Happy SMAP"(?), no singing involved whatsoever. But then again, without them we wouldn't have a track at all. :)
Oh and let's make things clear, I don't hate SMAP. I often enjoy some of their shows on TV, and sometimes they do cool things (like collaborations with Konishi-san, for instance). But I'm just not a SMAP fan.
Back at Harajuku station were these capsule posters announcing the new album "Flash Back" out tomorrow!
Posted on December 4, 2007 at 23:10 | Permalink | Trackback (0) | Comments (1) | Tweet |
---