Blog - November 2007 Archives
November 2007 Archives
Index


.29 Donuts and the invisible cat




.26 Tsukishima, Hamarikyū, Ginza, Juliana


.24 Chindonya



.12 Broken wiper




.04 Roppongi afternoon of music and art


.03 Future vol.2: live report

---
November 29, 2007
Donuts and the invisible cat
On Monday after meeting up with friends Franck and chienloup from Sonore, I went to line-up in the cold for half an hour for some Krispy Kreme donuts. It must have been talking about it with Sylvain the day before that made me crave some. :)
1. Christmas lights in Shinjuku Southern Terrace, while waiting for...
2. ... the donuts
3. Invisible cat in Kagurazaka on Saturday
Posted on November 29, 2007 at 22:23 | Permalink | Comments (2) | Tweet |
---
November 26, 2007
Tsukishima, Hamarikyū, Ginza, Juliana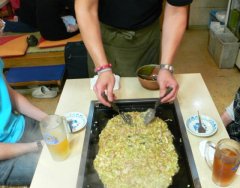 Yesterday I met up with fellow Quebecer Sylvain who's visiting Tokyo. We started the day by having monja for lunch in Tsukishima with my good friend Noriko. Not really knowing where to go, we asked the monja association stand and were recommended to Hanabishi (花菱), a place apparently ran by a sister and brother. It was up par and they were very friendly especially seeing that we were enjoying the food. They said that they sometimes get groups foreigners who can't speak Japanese and once they managed to order they won't eat their delicious meal (despite the maybe suspicious appearance)...
Then we walked over to Kachidoki and across Kachidoki-bashi. Noriko had to split, but Sylvain and I went to have a walk in the quiet Hamarikyū Gardens. It's about the right time to catch some autumn colors, though there wasn't as much as I'd have hoped around there. Still it was a nice little escape from the city, if you can say that even though buildings are always peeking in the landscape.
We then headed towards Ginza and stopped to have a look at the Nakagin Capsule Tower Building. The strange building's architect, Kurokawa Kishō (English Wikipedia), still seemed healthy last spring when he was running for Tokyo governor elections, but then he suddenly died last month. One of his most famous creations, the Nakagin building is set to be destroyed in the near future because of its bad condition. Sylvain pointed out how it's similar to Montreal's Habitat 67 (Wikipedia) that was built 3 years earlier.
We walked a bit through Ginza, doing quick stops at Apple Store and the large Muji. Then we looked around for food and ended up having curry at the small curry/sushi restaurant inside of Ginza station.
Our last destination was Shibuya to check out the 8th edition of Tokyo Fun Party. Home Cut's skills were once again very impressive. I love seeing him pick up records from his pile non-stop.
Posted on November 26, 2007 at 22:12 | Permalink | Comments (3) | Tweet |
---
November 24, 2007
Chindonya
Last week in Ginza I came across this chindonya band. I liked that the blonde one (guy?) played an electric guitar with a small portable amp. :)
Chindonya is often some kind of publicity for a business. This time it was some promotion for a fair at the Matsuzakaya department store. Saxophone is a common chindonya instrument.
I've been very lazy at blogging lately, and I have quite a bit of stuff to catch up with (including that Malaysia/Singapore trip!). Stay tuned, if you will..! :)
Posted on November 24, 2007 at 00:31 | Permalink | Comments (2) | Tweet |
---
November 12, 2007
Broken wiper
We spent the weekend outside of town, and last night we took the bus back home. It's usually a 2h30 ride, but it was raining and a wiper decided to break about halfway... We had to transfer to other buses going in the same direction, and I ended up sitting next to a blond cyberpunk guy who wore Tron-like clothes and took 120% of his seat. It was less than comfortable.
To entertain myself from the time the bus entered Tokyo, I kept searching for Wi-Fi networks on my iPod Touch. Lists of 4 screens in the Akihabara were fun, but the best were two networks called ButaBooBoo and BooBoo2 somewhere near Asakusa. :)
We eventually made it to our Shinjuku destination, 40 minutes later than expected.
On a happier note, in another bus the day before, this kitsch lighting with cheap chandelier-like ornaments inside an orange plastic box got my attention.
Posted on November 12, 2007 at 20:12 | Permalink | Comments (2) | Tweet |
---
November 4, 2007
Roppongi afternoon of music and art
This afternoon (Saturday), after a bit of shopping in Shinjuku, we headed down to Roppongi... not a frequent destination for me.
The first plan was to go see a free live show by the fascinations, who I hadn't have the chance to see in a little while. They played outdoors at the Roppongi Hills Arena, a round space of which the stage is a sort of semi-island. They began the set with a song that I heard them play before, but I think that most of the rest was from their upcoming album "quiet dance"! A nice surprise was a cover of MJ's "Rock With You" which rocked but was heavily arranged into their jazzy style. As soon as they played the first notes of "fascinated groove", I predicted that it was the last song and that it would include members call, and I was right. :) I think it's always been the closing song every time I've seen them. We went to say hi to the very friendly Watanabe-san and Miura-san before leaving.
---
Then we went to check out the Roppongi Crossing exhibition at the Mori Art Museum. Works of all kinds by over 30 artists are exhibited. Here are some of our highlights:
- a huge futuristic city made of metal scraps by Enoki Chū. It's possible to climb to the center to have a close look.
- super precise hand-drawn copies of old newspaper by Yoshimura Yoshio. Must be seen to be believed! I bought a copy of an old page from the Japan Times, sold at the shop for the cheap price of the newspaper back in the day: ¥90(+tax).
- two video-controlling drum kits by d.v.d., which anyone can play as they do in their live shows.
- giant prints of photos by Uchiyama Hideaki, who takes dark shots of strange places which all look out-of-this-world. His photos have been used as cover artwork for Ishino Takkyū's "Title" albums.
One of the most crowded corners was the one by funny artist Tanaka Iichirō, who had all kinds of hilarious installations, from sashimi stamped with ink on a sheet the way fishermen do to keep proof of their catches, to video showing pigeons running around and pausing on the face of one with fake Japanese cast names as if it was an action movie. Hahaha! Also very funny was a photo book showing the artist in places where he found a broken wall or other stuff, him in a pose like if he'd be breaking it himself. Must see!
Last but not least was visual artist Ukawa Naohiro, recently featured on Pingmag, a space inspired by a hurricane in which powerful fans blow real money around! There's lots and lots of cash there, from all countries, and visitors are even allowed inside for just 2 minutes. That's only a few times a day though, and only 21 people each time (7 groups of 3). We were lucky to be there about at the right time, we reserved our places at 18:30 for the 19:00 slot. We wore rubber boots and white allover hooded outfits, so that money can't be stolen. I sure had fun grasping handsful of cash and throwing it around! Talk about a unique chance. :)
"Roppongi Crossing 2007: Future Beats in Japanese Contemporary Art" Exhibition
Venue: Mori Art Museum
Schedule: until January 14, 2008
Open from 10:00 until 22:00, except Tuesdays until 17:00 (until 22:00 on December 25 and January 1st)
Address: Roppongi Hills Mori Tower (53F), 6-10-1 Roppongi, Minato-ku, Tokyo 106-6150
Phone: 03-5777-8600
---
Last, we checked out the city view on the 52th floor of Roppongi Hills where I took these photos of Tokyo Tower. I could have got some better angles using my GorillaPod tripod, but I had to forget it today..! These are best viewed large.
Larger sizes and more photos at Flickr
Posted on November 4, 2007 at 01:04 | Permalink | Trackback (0) | Comments (6) | Tweet |
---
November 3, 2007
Future vol.2: live report
On Friday I headed to haretara sora ni mame maite (translates to "when it's sunny, sow beans at the sky"), a live house in Daikanyama that doubles as a café serving some very good food, all focusing on beans. I was hungry so I ordered a chili con carne plate with gokokumai (5 types of rice mixed together) and some vegetables, which was quite good! The place has a somewhat LOHAS atmosphere, even the drink "ticket" is a small stone.
The event "Future vol.2" featured bands from Too Young Records. All were good-feeling acoustic sets with talented musicians, which all have songs appear on the label's "Dukes and Birds" compilation.
My main reason to go there was not for the main acts though, but for arcorhyme (MySpace), the new unit of Takanami K-tarō (ex-Pizzicato Five) and Nishimura Ikuyo.
First was Shindō Yuka, a girl from Osaka who used to be in a band called The Fox. Now she plays ukulele and sings. It seemed like she hadn't played in Tokyo for a while. She was accompanied by BANK's musicians which was to play a set later. She began with a cover of "Java Jive" and her set included the great "Tiki Tiki Bamboo" which can be heard at her MySpace.
Next was KIdOIES, a band of 4 guys that played folkish rock. The pianist and guitarist alternated on vocals. They were good! The drummer played a "beat box", that is a box that makes sounds similar to a bass drum and snare. I've seen that type of instrument before but don't know what it's called, so if anyone can fill me in... :)
Last was BANK, a band led by Nakamura Dai, who seems to run Too Young Records, and features Hirami Fumio who used to play in Love Tambourines. They played pop songs and I had a good time.
Best of all though was when arcorhyme came on stage for the short time of two songs. They played a cover of The Kinks' "You Really Got Me" and the title track of their first iTunes EP, "amai hibi ~la douce vie~". Both can also be heard on their MySpace. For the cover, Ikuyo played bits on the flute, which she has only been learning for a few weeks. K-taro played the guitar and sang chorus. The original song was just delightful, it's been on heavy rotation on my iPod ever since it was released on iTunes. Though short, I was very pleased and will be looking forward to seeing them again in December!
They also made some announcements, mainly that their two debut albums will be released on January 23 on K-taro's new label called Arcotone! It's distributed by Vivid Sound, so no worries about availability. Arcotone is also likely to be releasing some compilations in the future.
Oh, and I got to chat briefly with the two of them!! I could tell them that I'm the proud owner of their limited CD-R's #001, and Ikuyo was quick at offering me a special prize. :)
When I was ready to leave, a very friendly staff member of TYR accompanied me to the door and said "merci!!" for goodbye. A very memorable evening!
Larger sizes and more photos at Flickr
Posted on November 3, 2007 at 23:59 | Permalink | Trackback (0) | Comments (0) | Tweet |
---