Blog - April 2004 Archives
April 2004 Archives
Index


.28 Where's Peko?




.25 Sasebo Burger


.25 ISHINO Takkyū




.25 Tokyo Fun Party


.24 Sleepy Bunny T-shirt


.24 Les invasions barbares


.21 Give-and-take


.18 Honey Flash!


.14 Québec City


.13 Y neige!


.09 Cabane à sucre


.07 Room number 1313




.02 Sakura #5: Itabashi back alleys

---
April 28, 2004
Where's Peko?
This morning on the news was a special report about Peko-chan being stolen from storefronts lately.
Peko-chan is the popular mascot of Fujiya (a bakery/restaurant chain) since 1950. There are big collectors of all sorts of Peko-chan figures and other collectibles, and now some people are trying to hit the jackpot by stealing the huge store-front figures (110cm, 10Kg) and selling them on auction sites!
So far 31 have been stolen in the Kantō area.
This photo was taken at the depachika below MyCity (Shinjuku). Between her feet appears to be some kidnapping prevention device.
- Yahoo! News article from this morning.
- Shocking auction trying to sell one of them for ¥250,000!!
Posted on April 28, 2004 at 00:29 | Permalink | Trackback (0) | Comments (0) | Tweet |
---
April 25, 2004
Sasebo Burger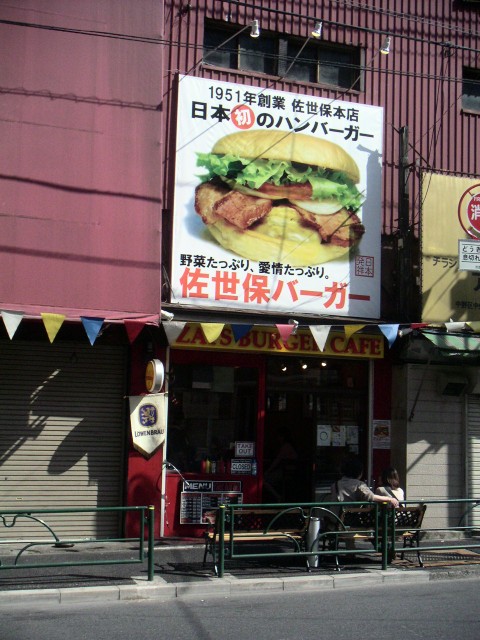 Today for lunch (well around 3pm) I went to eat at Zats Burger Cafe, which is a Sasebo Burger location. Sasebo Burger is the first "handmade" burger chain in Japan, since 1951!... and man, that's no McDonald's! We're talking about big juicy delicious tasty stuff! And it can't quite be called fast food cause it takes a good 10 minutes to prepare your burger.
I had a regular (vs "jumbo") bacon cheeseburger (¥550+tx) and onion rings (¥400+tx). A jumbo burger is twice the size for ¥100 cheaper (so the jumbo bacon chesseburger is ¥1100!)!
The onion rings were equally delicious, they had some extra taste that I can't quite put my finger on. Mmmm.
The Zats Burger Cafe location I went to, in Nakano on the corner of Ōkubo-dōri and Nakano-dōri (right about here), only has 3 tables for a total of 6 seats (plus two benches on the sidewalk) and it's usually full. Because of its "slow" reputation I never took the time to try them out, but today was the day and was it worth it!
Posted on April 25, 2004 at 18:29 | Permalink | Trackback (0) | Comments (3) | Tweet |
---
ISHINO Takkyū


Lately I'm listening a lot to ISHINO Takkyū's two new albums! That's right, he released two albums in two months, and one of them even has 2 CDs! That makes for a lot of great music!
Takkyū is the mastermind behind the techno unit Denki Groove which also features Pierre TAKI. While Denki Groove is a very vocal unit, with a lot of funny lyrics, Takkyū's solo music is mostly instrumental and therefore sounds more like serious techno. (Because of that difference I thought for a long time that the main singer in Denki Groove was Pierre TAKI, but it's actually Takkyū!)
The new albums are called Title#1 and Title#2+#3. Title#1 features a bit of dub sounds, which remind me of Pole (German electronic dub), though the rest of the two albums is mostly danceable techno.
Title#1 opens with a song that says something in German which my friend Peter translated to "I'm sorry, I'm too late" or similar, surely because it took him 3 years to come back after his previous great full-length album Karaoke Jack.
The first single is The Rising Suns. I love the promotional video, included on Title#2+#3, which shows bursts of people running in streets in sync with the music, seen from above. I wonder if the people are all CG or what!
A 30-second clip can be seen here (though it's pretty small so you may not see much at all).
Posted on April 25, 2004 at 17:55 | Permalink | Trackback (0) | Comments (2) | Tweet |
---
Tokyo Fun Party
Tokyo Fun Party was really fun last night! It was the first time I went to this regular event (this was the 5th edition), and also the first time I went to Uplink Factory, a tiny theatre located on a 5th floor.
I liked the concept of making a live event in a small theatre like that. People could sit in comfortable seats at the back (and still be close to the front), or stand near the front. The screen was used for projections for some of the bands.
I went there with Boris, a guy from Montréal (check out his moblog of his current adventures in Tokyo, I'm jealous that he got to meet Cornelius!) and my friend Miwa. There, I also met Trevor from Music Related (label in New York releasing indie Japanese artists), David (Young Alive in Love), Jens (Swedish guy currently studying Japanese here, he DJs on May 1st at Edge End in Shibuya), Mike (Canadian from Toronto, also making music as Mikemi Tablets with his girlfriend Emi), and last but not least the event's organizer Takashi who said he had seen this entry at jeansnow.net.

First, チミドロ (chimidoro) started the show. These guys were hilarious, singing rather non-sense stuff while one of their friends was playing old Famicom games on the screen. I bought their CD "Sexy Dynamite Remixes" for ¥700.

Next was the Aprils with a lively set. They said that they're recording a new album which should be out this summer!

Then, Trevor, the secret guest of the event, DJ'd using his iBook. Trevor's DJing reminded me of Digiki, since they they both move quite a bit when at work! (however Digiki may have to sit or at least stand still from now on when operating his Kaos Pad).
I bought a Japan-only promo CD-R of pandatone, Trevor's solo unit.
Next, there was a strange set by mondo coffee. I wouldn't quite know how to describe them but they had electronic beats and sort of psychedelic rock guitar. To me, the funny visuals (video scratch featuring scary metal-style gaijin misbehaving), operated by event organizer Takashi, were most interesting.
They're one of the bands who remixed Cornelius on "PM".

Last was Micro Mach Machine, with the girls from K.S.C.C. (I think, don't quote me on that though). This was fun but perhaps a bit short, since only 2-3 songs were played.
Back near home I went to eat some ramen and then went to sleep.
Posted on April 25, 2004 at 11:29 | Permalink | Trackback (3) | Comments (3) | Tweet |
---
April 24, 2004
Sleepy Bunny T-shirt

This week I received in the mail this T-shirt called Sleepy Bunny made by Fluffy Noodle. My girlfriend had found it in a magazine while we were travelling, and I couldn't resist ordering it. :)
Today I'm wearing it to a live event organized by Tokyo Fun Party at Uplink Factory in Shibuya, which will feature (among others) two great bands from Usagi-chang Records which I had seen a little while ago: Aprils and Micro Mach Machine.
Usagi-chang sort of translates to "Bunny". :)
Posted on April 24, 2004 at 12:38 | Permalink | Trackback (0) | Comments (1) | Tweet |
---
Les invasions barbares
The excellent Québec film Les invasions barbares by Denys Arcand, which we saw two weeks ago in Montréal, starts in Japan this weekend! The Japanese title is
みなさん、さようなら ("minasan, sayōnara.", "Farewell, everyone.").
Now I hope that Les triplettes de Belleville will also be coming out soon!

Posted on April 24, 2004 at 00:58 | Permalink | Trackback (0) | Comments (3) | Tweet |
---
April 21, 2004
Give-and-take
While I was on vacation, my bicycle which always stays in the bike parking at work had its gears messed up. The gear wire was like fully pulled out the shifter. I blame the big mess of bikes falling over each other in that parking.
So, today I went to a small bicycle shop to get it fixed. The man at the shop asked me if I had a bit of time, and I thought he meant because it would take a little while to fix it.
He was done in 5 minutes though, and then he asked me if I would help him leave a message to his wife at a hotel in Australia because he couldn't get through the front desk since he can't speak any English at all.
So I was able to help him through this and I got my speed box fixed for free! :)
He said "'Give-and-take', ね!" and told me to come back anytime I needed something.
Now I just hope that his wife checks her voice mail...!
Posted on April 21, 2004 at 14:00 | Permalink | Trackback (0) | Comments (7) | Tweet |
---
April 18, 2004
Honey Flash!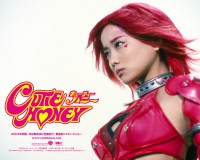 Female superhero Cutie Honey will revive next month as a live action movie! I had enjoyed watching the 90's anime series (released in North America as "Cutey Honey") and am looking forward to see this!
The theme song sounds good too so the movie may well have a groovy soundtrack. I had loved the version for the anime series performed by Les 5-4-3-2-1.
Check out the official site which contains wallpapers and trailers.
By the way, I'm now back in Tokyo, therefore this blog's time is now in Japan Standard Time again.
Posted on April 18, 2004 at 18:32 | Permalink | Trackback (0) | Comments (0) | Tweet |
---
April 14, 2004
Québec City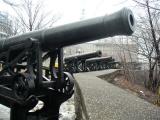 We spent yesterday and today in Québec City, mostly checking out some of the main touristic attractions. We didn't get much rain except last night, though it was cloudy the whole time. We stayed at a friendly B&B close to Château Frontenac.
We sure had some great dining, notably at L'Astral, a spinning restaurant sitting at the top of Loews Hotel.
Tomorrow is our last full day here before going back to Tokyo.
Posted on April 14, 2004 at 22:29 | Permalink | Trackback (0) | Comments (1) | Tweet |
---
April 13, 2004
Y neige!
I woke up a few minutes ago and this is what I first saw out the window: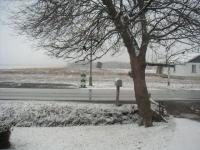 I didn't think or hope we'd see any snow during this trip, but there's plenty of it and more is falling! They say it will change into rain though.
Today we're off to Québec City for a 2-day trip, and with a bit of luck we'll be able to appreciate the city under a thin layer of snow. If it rains though we'll have to spend the whole time in museums.
This weekend we were in Montréal just for a few days and we kept ourselves quite busy! We did a bit of shopping on Ste-Catherine, St-Laurent and St-Denis, and saw a few movies (Michel Gondry's Eternal Sunshine of the Spotless Mind, Sofia Coppola's Lost in Translation and Denys Arcand's Les invasions barbares (English site). We also went to see Stereolab.
Well, gotta go! I hope you had a Happy Easter (where applicable)!
Posted on April 13, 2004 at 08:23 | Permalink | Trackback (0) | Comments (6) | Tweet |
---
April 9, 2004
Cabane à sucre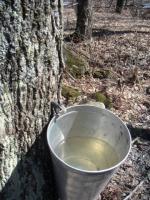 Yesterday we went to eat lunch at a cabane à sucre ("sugar shack"/"sap house", a place where they make maple syrup and where you can eat the freshest stuff) with the family. It had been years since I had been there. The place we went to is in Saint-Alexis (in Lanaudière) and called Osias.
We were greeted by enthusiastic staff who were honored to have a Japanese visitor (not too common in the area)!
We enjoyed a great traditional Québec big meal containing (but not limited to) oreilles de crisse, pea soup, omelet, pork in maple syrup, beans, sausage in maple syrup, roasted and boiled potatoes, sugar pie and crêpes with maple syrup. All of this served in "all you can eat" fashion at the pace you want, and only $13 per person. Now that's a deal!
Here are a few more pictures of the process to make maple syrup. The place we went to does it the traditional way, hanging buckets to the trees (nowadays many places use some tubing system between the trees which collects and brings back maple sap), then people go to fetch the sap and put it in a large tank pulled by a tractor through the snow-wet trails, and last the sap is boiled and transformed into the sweet and tasty syrup that we love!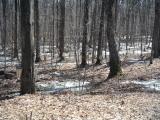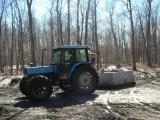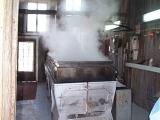 Click the thumbnails for larger images.
Posted on April 9, 2004 at 11:14 | Permalink | Trackback (0) | Comments (3) | Tweet |
---
April 7, 2004
Room number 1313
Well we've made it to Canada two days ago!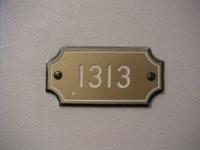 We did a 2-night stay in New York on our way, since we had to transit there anyway, but it didn't go as well as we hoped. We stayed at Hotel Pennsylvania, right next to Penn station. It was an alright large hotel at a cheap price, however we were given this less from reassuring room number: 1313. (For some reason I always thought there were no 13th floors in the US?)
I was hopeful not let this jinx it, but although there was no big problem with the room or the hotel itself... on the first night we had some hot dogs at a small crammy joint and I think that's where we got food intoxication. We had to spend the whole next day in bed, sleeping about 20 hours straight (with countless toilet breaks), completely wasting our only whole day in the city. Damn.
Anyway, one of the nice things we could experience in New York (while I thought I had recovered, yeah right) was the great pancakes and friendly staff at Good Enough To Eat (483 Amsterdam).
Now we're at my parents place and taking it easy, having some good fresh air. Even though the temperature is about 0 to 5°C, it doesn't feel too cold and we're having a nice time!
(The time on this blog is now in Eastern Standard Time.)
Posted on April 7, 2004 at 09:45 | Permalink | Trackback (0) | Comments (5) | Tweet |
---
April 2, 2004
Sakura #5: Itabashi back alleys
Today was windy and sakura was tumbling down and a lot of it was covering the ground. They say that hanami season will be over within a day or two.
I took most of today's pictures in park-like back alleys around Itabashi-ku Sakashita 3-chōme.
Click images for a larger version.
These are also the last sakura pictures you'll see here this year, not only because hanami season is almost over but also because we're leaving to visit friends and my family in Québec, Canada. Therefore I will probably be quiet for a little while. :)
Posted on April 2, 2004 at 23:32 | Permalink | Trackback (0) | Comments (0) | Tweet |
---