Blog - March 2004 Archives
March 2004 Archives
Index



.31 Sakura #4: Jōhoku-kōen



.31 Pizzicatomania in Ikebukuro



.29 Cornelius' sakura pictures



.28 Meeting Peter in Shibuya




.28 Sakura #3: Inokashira-kōen




.26 Sakura #2: Shingashi-gawa




.26 Sakura #1: Maenochō


.24 FOGA




.23 Dentist




.21 Nakame rainy afternoon


.20 Karaoke Jack


.11 8-ban Portable Player


.06 Every Burger



.03 Chappie

---
March 31, 2004
Sakura #4: Jōhoku-kōen
Today during lunch time I went to take pictures at Jōhoku-kōen, located in Itabashi-ku Sakashita.
Click images for a larger version.
Posted on March 31, 2004 at 22:46 | Permalink | Trackback (0) | Comments (0) | Tweet |
---
Pizzicatomania in Ikebukuro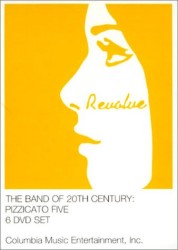 Today was a great day for Pizzicato Five fans!
A boxed set of 6 DVDs (plus alpha), titled "The Band of 20th Century", has been released.
The set contains 5 DVDs that are re-releases of older VHS releases (except for Readymade TV vol.3 which was already available on DVD), plus one which is a 16:9 release of the 2001 "last live" that aired on TV channel BS Fuji, and an extra DVD containing TV commercials and appearences (including a hilarious one mimicking Kraftwerk!), the complete "Sunny Side of the Street video ep" and other rare footage!
When buying the set at HMV or Tower Records, you get yet one more DVD which seems to contain shaky unedited off-stage amateur footage of a tour in the U.S. We didn't watch this one completely yet though so I can't tell if there's any live parts or other surprises.
The release happening during Peter's visit, Jean invited us two over to celebrate the release over tasty sukiyaki!
It was great fun to open our boxed sets just like if it was Christmas, while sharing anecdotes and memories of our band of the 20th century!
Update March 31 23:04
Peter has posted more about our evening yesterday and also a picture of us two opening our presents. :)
Posted on March 31, 2004 at 00:37 | Permalink | Trackback (0) | Comments (4) | Tweet |
---
March 29, 2004
Cornelius' sakura pictures
Cornelius has been posting pictures of the evolution of sakura over Meguro river on his photo blog.
(For those reading this from the future (!), this is the current last sakura entry.)

Posted on March 29, 2004 at 21:26 | Permalink | Trackback (0) | Comments (2) | Tweet |
---
March 28, 2004
Meeting Peter in Shibuya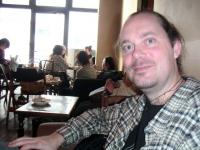 Today I met long time online friend and fellow P5MLer Peter Nacken, in visit from Fiji!
We shopped around in Shibuya for this recent digital video camera which he'll probably end up getting very soon!
He also treated me a drink at Café Après-midi.
We're planning to meet again this week to celebrate the release of the Pizzicato Five 6 DVD boxed set titled "The Band of 20th Century"!

At Shibuya Parco was going on this Halcali promotion.
I didn't check though what it was all about. The song playing was "Strawberry Chips".
Posted on March 28, 2004 at 19:27 | Permalink | Trackback (0) | Comments (1) | Tweet |
---
Sakura #3: Inokashira-kōen
Yesterday we went to Inokashira-kōen close to Kichijōji in Musashino-shi (Tokyo). The park was full of sakura and crowded with people doing hanami!
Click images for a larger version.
Posted on March 28, 2004 at 12:16 | Permalink | Trackback (0) | Comments (0) | Tweet |
---
March 26, 2004
Sakura #2: Shingashi-gawa
Today's sakura pictures were taken in a park along Shingashi river in Itabashi-ku.
Click images for a larger version.
Posted on March 26, 2004 at 23:57 | Permalink | Trackback (0) | Comments (0) | Tweet |
---
Sakura #1: Maenochō
Spring is here and sakura is out!
I took this picture during lunch time at a park in Maenochō, Itabashi-ku.
Click image for a larger version.
Posted on March 26, 2004 at 00:24 | Permalink | Trackback (0) | Comments (0) | Tweet |
---
March 24, 2004
FOGA
Whew, I was close to not being able to get a copy of FOGA's first CD single.

FOGA (also the name of a Swedish furniture maker) is MATSUDA "Chabe" Gakuji (Cubismo Grafico)'s new solo unit. According to Escalator's Web site, with the new year beginning he felt like starting something new.
The release date was today, and since usually in Japan CDs tend to be on the shelves a day early, I went to look for it yesterday but it was nowhere to be found at Tower Records and HMV in Shinjuku. Today I was checking their Web sites' and HMV had removed the listing completely while Tower had put up a notice saying that it would take 4-6 weeks. Usually Escalator's releases are well distributed so I thought something was up.
So today I emailed Escalator Shop and asked them to put aside a copy for me if there were still any, and I got a reply saying that my copy was safe. So tonight I went to Escalator Shop in Harajuku, and as I was paying for my copy, the girl at the counter told me with a low voice "I think there's no more at all!".
There was another client, who was already there when I arrived, looking around the shop and apparently waiting for an answer, the clerk then talked on the phone briefly and went to the client to apologize.
So I think that was it, I got one of the last copies! I'm glad I thought of emailing today otherwise I'd have had no luck.
The single is pretty good and includes two tracks, both are quasi-instrumental. "Sunday Nite Club" is electro/disco/house with Chabe singing with a very distorted voice, and "Real Rock Plantation Dub" is electro/dub/disco/breaks with some reggae feel. Chabe said on his diary that he wrote nearly enough songs to release an album and that they will be released little by little.
If you're looking for a copy, all is probably not lost because there should be some more available later I guess (maybe not the limited edition spray-painted jacket though), and also there's a 12" edition planned for early April.
Posted on March 24, 2004 at 21:27 | Permalink | Trackback (0) | Comments (4) | Tweet |
---
March 23, 2004
Dentist
Today I went to the dentist...! for the first time since I'm in Japan... and for the first time in about 7 years (if I remember right)!
I was a bit scared since I thought I'd most likely be told that I have a bunch of cavities, since I eat a lot of chocolate, cake and other sweet stuff. I also had heard not so reassuring stories about dentists in Japan, notably this one by fellow Nakano resident Gregg.
The reason why I decided to go wasn't that I wanted to make sure I didn't have cavities, but since a few days ago I had noticed a black spot between a tooth and gum, which I wasn't sure if it was stuck food (like fish bone or tail) or an injury or what.
So today I wasn't feeling so well because of a cold, this morning my throat was hurting and I kept sneezing so I decided to sleep in. In the afternoon I felt a bit better so I decided to confront the dreaded dentist. I went to a clinic close-by to which my girlfriend usually goes. I got an appointment for 16:45.
When I went back there for my appointment, I first had to fill a form regarding the purpose of my visit, which I could manage pretty well even though it was all in Japanese.
After a few minutes I was called and the dentist had a look at what I was worried about, and also found similar symptoms elsewhere. He told me that it was little bits of clotted blood and that it could be cleaned within a few minutes. His assistant also did a general brushing and checked for cavities, and turns out that even though I've eaten so much sugary stuff over the years, I still have perfect teeth! (as far as cavities go anyway)
So I'm very happy to say that it went remarkably well! The staff was nice and professional and they didn't hesitate to use some stuff to prevent bleeding during the clean-up. The place was clean and they used recent-looking equipment, and there was some soothing repetitive muzak on.
Now I can relax a bit about my teeth's condition and I'll be sure to go every 6 months or so! (anyway I'll try)
Today we're having gyūdon ("beef bowl", though I don't like this English term which excludes the rice)! I didn't have any since the gyūdon chains all turned towards pork because of the mad cow frenzy last month.
itadakimasu!
Posted on March 23, 2004 at 18:33 | Permalink | Trackback (0) | Comments (5) | Tweet |
---
March 21, 2004
Nakame rainy afternoon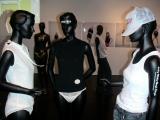 Yesterday, we woke up early (earlier than we usually do on a weekend anyway), excited to go to the trendy hotel Claska in Meguro for a charity event organized by Commons & Sense (a fashion magazine). The goal of the event was to collect old T-shirts people don't need anymore, and send them to poor countries.
The appeal was that there were 43 designers involved in designing brand new cool T-shirts, and anyone who gave 5 of their T-shirts or more could get a free new designer T-shirt! For each 5 T-shirts you brought you had to pay ¥500 to afford shipping and handling.
The disappointment
The "Clothes Exchange" event was starting at 12:00 and was supposed to last until 17:00. We got there around 12:30, and despite the rain there were at least a hundred people lining up with bags of old T-shirts. However, just a few minutes after we got there, a guy came out and told everyone that they had ran out of designer T-shirts. You could still give your T-shirts, but you still had to pay ¥500... AND wait a long while in the rain (the pace seemed very slow). Sadly, we gave up.
People were invited anyway to visit the exhibition inside, featuring all of the cool T-shirts we had missed getting for free. It was also nice to see Claska's classy interior!





Click the thumbnails for larger images
Naka-meguro
We then walked to Gakugei-Daigaku station and took the train to the next station, Naka-meguro. We first rushed to Organic Café to eat lunch. It was perhaps about 13:30 already and I was really hungry! I had my much needed triple-decker sandwich I had been wanting for a while. Organic Café's triple-decker is a generous and delicious combination of toasted bread, salad and meat (chicken, pork and bacon). It costs ¥1000 and should be enough to get you full!
It had been a while since I had been to Organic Café. It hadn't changed since, Chappie still had her doorgirl position and the music was very good!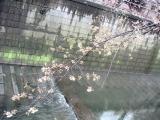 Walking along Meguro river, I could see my first sakura of the season! Within a few sunny days the trees along the river should all turn pink! There were signs and lanterns up for the upcoming hanami festival. Spring is here!, or anyway it will soon be!
On our way through Nakame, we stopped at Opatoca, a small bakery that makes delicious breads and cakes. All cakes seemed to be named after classic children's stories, for example 不思議の国のアリス (Alice in Wonderland), 白雪姫 (Snow White), etc.
There's also a cafe attached to the bakery, which we didn't have a chance to try this time.
Posted on March 21, 2004 at 20:44 | Permalink | Trackback (0) | Comments (0) | Tweet |
---
March 20, 2004
Karaoke Jack
Sorry for not having written for about a week. I haven't had much new to talk about. I'm waiting impatiently to see some sakura appear, hopefully within the next few days!
Tonight we went to karaoke and here's some of what I sang:
- Les 5-4-3-2-1 "Non! Non! Non!"
- Pizzicato Five "Cleopatra 2001"
- Modern Choki Chokies "suteki na ma-na"
- Cornelius "The Sun Is My Enemy"
- Prince "1999"
and, last but not least, a shameful interpretation of:
- Stevie Wonder "Part-Time Lover"
The system at our local karaoke had changed since last time (at least in the room we were using) and a few of my karaoke favorites had disappeared from the catalog, notably Modern Choki Chokies "hebi IS SNAKE", and also a cheesy 80's song, The Romantics "Talking In Your Sleep". :)
However there were some good Les 5-4-3-2-1 songs which used to not be in there!
Posted on March 20, 2004 at 02:14 | Permalink | Trackback (0) | Comments (3) | Tweet |
---
March 11, 2004
8-ban Portable Player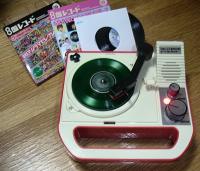 First of all, thanks to my friend Antonin for pointing this out on his blog (via Mr. Motokick), because I had no clue that such a thing was out!
This is the portable player for 8-ban records by Bandai. It's a miniature player for 8cm analog records (same size as the small CD singles that were popular in Japan in the 90's), a special format designed by Bandai and called "8-ban" ("8-record").
The player's controls consist of an off/on/volume button, and a pitch button! Get two and you're ready to DJ! The big down side however is that there's no output of any kind, so the only way to listen to the records are through the player's tiny speaker.
Other cool features include that the needle can be replaced when it gets old (it's also sold separately from the player) and the turntable can be removed to reveal its strap. The player's retail price is 2980yen but I got mine for 2380yen at Sofmap.
The record is real vinyl, about 1mm thick, can contain up to 4 minutes of mono sound (A-side only), and — I had to count them to believe it — it spins at 331/3rpm!
This being just a toy for collectors, all the available music will be what Bandai releases on its label EightBanRecord. So far there are two series, "Asahi Sonorama Selection Part 1" (total of 16 plus 3 secret) and "Onyanko Club Single Memories Part 1" (16 plus 2 secret).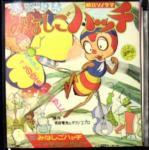 The Asahi Sonorama Selection consists of anime songs that used to be released as sonosheets. Out of the ones I got so far, there's Hutchi! (昆虫物語みなしごハッチ, "konchū monogatari minashigo hacchi"), a tragic anime series I used to watch as a little kid but which I had completely forgotten about until I saw the single's cover!
Do you know him?
Something that sucked is that when I first bought the player, it was broken... when placing the arm on the record, it seemed that the arm's weight was stopping the record from spinning. I had to go back to the store to exchange it for a new one, but this new one is fine! By the look on the guy's face at the store, it didn't seem like it was the first time someone was exchanging one of these.
Posted on March 11, 2004 at 22:20 | Permalink | Trackback (1) | Comments (21) | Tweet |
---
March 6, 2004
Every Burger
This morning for breakfast I'm having a "nama-choco chou pie" from Sunpierrot (a bakery in Shinjuku station, where I drop by sometimes on my way back home) and Every Burger!
Every Burger consists of tiny burger-shaped snacks, white and milk chocolate sandwiched between cookies. The top and bottom look well grilled and there's sesame seed imitation on top. There's even a bit of a sesame taste. Yum!
Hey I don't eat chocolate for breakfast every morning, today's an exception. :)
Posted on March 6, 2004 at 10:57 | Permalink | Trackback (0) | Comments (8) | Tweet |
---
March 3, 2004
Chappie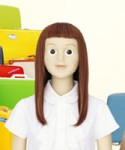 Groovisions' Chappie is back!, on new advertisements for JTB (travel agency) in trains and subways!
I'll have to drop by one of their locations to see if there's any pamphlets to grab.
There's also apparently a TV commercial but I haven't seen it yet (I do listen to TV more than I watch it). :)
Posted on March 3, 2004 at 22:25 | Permalink | Trackback (0) | Comments (4) | Tweet |
---