Blog - November 2017 Archives
November 2017 Archives
Index
.25 Weekly revue: 2017 week #46 (November 11 to 17)
.23 Weekly revue: 2017 weeks #44-45 (October 28 to November 10)

---
November 25, 2017
Weekly revue: 2017 week #46 (November 11 to 17)

Food: - Oden at Tapir, Shin-Ōkubo
- Roasted pork and apple pie at Saint-Jean-Pied-de-Port, Shibuya

Music event: I went to café event "Swing Avenue autumn 2017" at Weekend Garage Tokyo, which featured shows by Yume to Cosme and Milli Milli Bar!

It had been too long since I last saw Yume to Cosme. They gave a great show of new and old songs, and even two "self-covers" of songs that Hase Yasuhiro wrote for Negicco ("Canal no madobe") and Wakita Monari ("inori no kotoba")! Hase and singer Yumi were accompanied by violinist Tanaka Yūichi.

Yume to Cosme set list: Yume to Cosme / Kiss toka kirai toka / Baroque & Rouge / inori no kotoba (Wakita Monari cover) / Canal no madobe (Negicco cover) / zettai Love Motion / New York walk on fame

There was also a lot of expectations and curiousness about the other band, Milli Milli Bar, a new band led by pianist and songwriter Yafune Tetsurō (who has written songs for Hoshino Michiru), and featuring singer Mia Nascimento (ex-Especia)! They played a total of about 8-9 songs, several originals that Yafune wrote especially for this band (including "My Sweet Seventeen" that he wrote for Mia), a few covers of his solo songs ("nete mo samete mo", "aenai toki wa itsu datte") and, being that Mia is Brazilian, a cover of bossa nova song "Sandalia Dela" (with new lyrics translated to Japanese). They have a very cool sound and great songs, and this show proved that Mia has a very nice voice and stage presence, which can be many times better enjoyed in this band than when she was in a group of three. Can't wait for more! Meanwhile some videos have been posted on YouTube (see below).

Milli Milli Bar set list: Miyuki dōri / nete mo samete mo / unmeiron / Sandalia Dela / Dance in the moonlight / aenai toki wa itsu datte / My Sweet Seventeen / asobi hanbun / Surprise You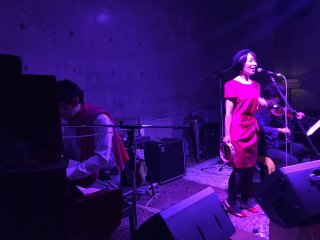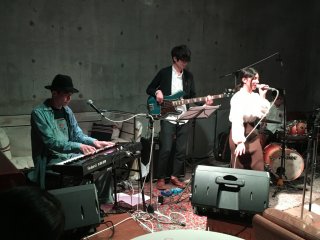 Yume to Cosme, Milli Milli Bar
Music release news: Studio 75, Francis avec Haruko
This week's videos:
Milli Milli Bar "asobi hanbun" live
Milli Milli Bar "Sandalia Dela (Japanese version)" live
Yume to Cosme "Baroque & Rouge"
Posted on November 25, 2017 at 01:36 | Permalink | Trackback (0) | Comments (0) | Tweet |
---
November 23, 2017
Weekly revue: 2017 weeks #44-45 (October 28 to November 10)

Earlier this month was a little trip to Québec, Canada!

Food: - Lanaudière delicacies: cheese from Fromagerie Domaine Féodal, wine from Vignoble Lano d'Or, and many goodies from Abbaye Val-Notre Dame
- Delicious and impressive dinner course at Le Mousso, Montréal
- Evening at Le Vin Papillon, Montréal
- Poutine and more great local food!

Exhibitions: - Abigail Goldman "Sweet Dreams" exhibition of miniature murder scenes at Station 16, Montréal. Also got to see many works by other artists.

- Exhibition of works by Taiwan artists (Zishi Art, Mister Ogay, ...) at Artgang St-Laurent, Montréal.

- More art in the streets

New music: I could grab Félix Dyotte's new album "Politesses" which is great! I was happy to see large ads in metro stations too. Hear two songs in the videos below.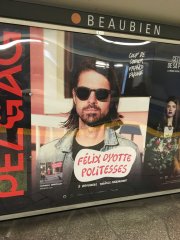 This week's videos: Félix Dyotte "Je cours (feat. Evelyne Brochu)"
Félix Dyotte "Station balnéaire"
Posted on November 23, 2017 at 23:09 | Permalink | Trackback (0) | Comments (0) | Tweet |
---