Blog - December 2012 Archives
December 2012 Archives
Index
.30 Weekly revue: 2012 week #52 (December 22 to 28)
.22 Weekly revue: 2012 week #51 (December 15 to 21)
.15 Weekly revue: 2012 week #50 (December 8 to 14)
.08 Weekly revue: 2012 week #49 (December 1 to 7)
.01 Weekly revue: 2012 week #48 (November 24 to 30)

---
December 30, 2012
Weekly revue: 2012 week #52 (December 22 to 28)

Last weekend was a long one thanks to the Emperor's birthday that made Monday a holiday (his birthday was on Sunday actually). During the weekend we went for a walk around an illuminated Ginza/Marunouchi, unfortunately missing the Tokyo Michiterasu 3D mapping show (canceled because too many people turned up!). But we were lucky to run into a collaboration of Okamoto Taro and Comme des garçons at Dover Street Market.

Food: - Homemade black forest bûche de Nöel!
- Chicken and cranberry jelly sandwich at Rose Bakery, Ginza
- 3 last gingerbread lattes at Starbucks for this year
- Black forest cake and Christmas cupcake at Sunday Bake Shop
- Kiritanpo nabe and sashimi at Akita Dining Namahage in Ginza with P5MLer Peter & family. Namahage even came to disturb! See video evidence of that encounter here.

Parties: - "Merry X'mas with The Scooters", on Christmas day at Shibuya WWW! Fantastic show! My report and photos are up here.
- Boxing day party at Sunday Bake Shop, had lots of fun with great friends and also met exciting new people!
- Year end party at work on the last day! Now everyone gets some well deserved rest. See you next year! :)

New music: Received my package from Teenbeat Records with the new Cotton Candy album! Short but fun! And I always love getting a package from Teenbeat!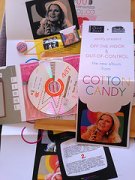 Music release news: MimiCof, Kyary Pamyu Pamyu, Kushibiki Sayaka Trio
Playlist: Kahimi Karie, The Scooters, Tarte Tatin, Kyary Pamyu Pamyu, frenesi, hitomitoi, Hosaka Akane, ...
Internet: Flickr users, you can get 3 free months of Flickr Pro by going here. I got mine! :)
This week's video: Kushibiki Sayaka Trio "kimi to boku"
I wish you all a restful and peaceful end of year! See you in 2013!
Posted on December 30, 2012 at 01:50 | Permalink | Trackback (0) | Comments (0) | Tweet |
---
December 22, 2012
Weekly revue: 2012 week #51 (December 15 to 21)

Food: Last weekend was a fun early Christmas home party at a friend's place. We had lots of great food including 3 whole chickens, lasagna, homemade pizza, fish biriyani, cake, and much more. :)

Stuff: I received this letter and postcard from Konishi Yasuharu's monthly NHK-FM show, sent to people who made a song request. Thanks! :)
Movies: Rented and watched these movies:
- Thermae Romae (2012) (Japan): A really funny comedy about an Ancient Roman who ends up repeatedly in modern Japan, feat. actor Abe Hiroshi that I like.
- Saitama no Rapper 3 (aka Roadside Fugitive) (2012) (Japan): After having really enjoyed the first two movies, comedies about rappers living in the countryside, I had high hopes about this latest one, but unfortunately it was darker and less funny than the others.
- Robo-G (2012) (Japan): A comedy about failed scientists in charge of making a robot, who end up hiring an old man to wear the robot suit at any occasion they need to show off their work. Has some lengths but still a lot of fun!
- The Robot (aka Enthiran) (India): A S.F. film about a robot so perfect that it ends up gaining feelings, causing a lot of trouble. A bit lengthy but fun!
Music release news: Muro, LAMA, lyrical school, Chocolat, TV soundtrack by Konishi Yasuharu
Playlist: Dorian, Vanilla Beans, hitomitoi, Chromeo, Scooters, Pizzicato Five, Nosa Reina, Kahimi Karie, ...
This week's videos:
Old Monk "More Peat Moss, Please (2012 Holiday Version)"
Christmas Animation 2012 by GwaGwa
Posted on December 22, 2012 at 20:08 | Permalink | Trackback (0) | Comments (0) | Tweet |
---
December 15, 2012
Weekly revue: 2012 week #50 (December 8 to 14)

Outing: Last Sunday we spent the day with a friend's friend's girlfriend who was visiting Japan for the first time. We mainly walked around Harajuku/Omotesando, and also went up the gov't building in Shinjuku. Once in a while it's refreshing to see your city through a visitor's eyes!

Food: Last weekend we went to curry izakaya Yaruki, of which the friendly Indian chef was featured on Tamori Club tonight! All what we had was very good! We'll be going back, hoping that it won't get too crowded after being on TV. :)

New music: - hitomitoi "YOUR TIME Route #1": A cover album of 80's city pops songs, arranged by Cunimondo Takiguchi and sung by hitomitoi. Very enjoyable and refreshing album! It might also hopefully add to my karaoke repertory. :)

- Various Artists "The Beat Goes On ~Salsoul Classics Mixed By Towa Tei~": Doesn't really have much of a Towa Tei feel, though I like to imagine he must have enjoyed and played some of this in NY clubs back in his Deee-Lite days. This is his first ever mix CD, and he chose to do no stretching or manipulation, and just play these dance classics straight. Good stuff!

Gig reports: Nosa Reina's release party at Shinjuku Loft, a truly wonderful evening!

Music release news: Fujisawa Shiho (Christmas 7"!), Polysics, Sekitova

Playlist: Vanilla Beans, Scooters, Nosa Reina, The Aprils, Denki Groove, Chiroline vol.2

Posted on December 15, 2012 at 02:04 | Permalink | Trackback (0) | Comments (0) | Tweet |
---
December 8, 2012
Weekly revue: 2012 week #49 (December 1 to 7)

This week I went to a teammate's wedding reception, and also went to karaoke with co-workers. :) On Friday afternoon there was a shaky earthquake, nothing broken though.

Food: Filet katsu, cheese gyudon at Sukiya, and gingerbread latte from Starbucks

Music release news: Round Table featuring Nino, "Dancing After 1AM", World Order, Chocolat & Akito, LAMA, Kinoco Hotel, Iga-Bang BB, "The Beat Goes On ~Salsoul Classics Mixed By Towa Tei~"

Playlist: Pizzicato Five, Sketch Show, Vanilla Beans, Aira Mitsuki, Dahlia, Hosaka Akane, Sally Soul Stew, The Suzan, Kyary Pamyu Pamyu, Perfume, Chromeo, frenesi, ...

This week's videos: Vanilla Beans' Lisa is re-taught to play "Für Elise" by Pia-no-jaC! :)

Also, Vanilla Beans were in France last weekend for Toulouse Game Show! I'm having a great time watching these clips about their stay. More here.

Posted on December 8, 2012 at 11:34 | Permalink | Trackback (0) | Comments (0) | Tweet |
---
December 1, 2012
Weekly revue: 2012 week #48 (November 24 to 30)

Tech: After over 11 years with DoCoMo, and almost 6 years with Sony feature-phone SO902i, I ditched all of this and got an iPhone 5 (with phone company au)! Let me be the first to say "it was about time"!!! :)

Food: Nepal-style curry at Shiva Cafe, Kichijōji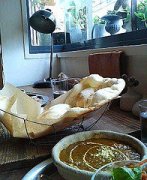 Music events: - On Sunday we went to event "Rallye shijan" organized by the Kanazawa label Rallye at Kichimu (café and event space in Kichijōji). We got to see Chocolat & Akito perform a free live set, accompanied for a few songs by Miyauchi Yūri. The event also had Sunday Bake Shop set up in a corner, and I enjoyed a delicious sticky toffee pudding while watching the show.
- And on Friday I went to an awesome show by Nosa Reina, a newcomer singer produced by Takanami K-tarō. The event also featured Portable Rock, of which both musicians are part of Reina's band. All songs from her album were played live backed by an all-star band with K-taro, Portable Rock and many more! Of course Portable Rock means Nomiya Maki!... and Maki & K-taro means... Pizzicato Five! We got to hear rare P5 gems performed live... "They All Laughed", "Eclipse", "Peace Music", and "Sweet Soul Revue" (yes, 3 songs from "Bossa Nova 2001")! Reina was of course very cute and has a beautiful voice!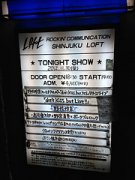 New music: - At Nosa Reina's show, I got her 7" that had sold out in shops before I noticed its release. The B-side is a different version of "Scat" with bonus K-taro scats and a special appearance by Kinoco Hotel's Marianne (who also duets on A-side "Lambrusco ni koi shite").
- Another 7", Fujisawa Shiho is back with a transparent red pressing of breakbeat covers of Paul McCartney's "Wonderful Christmas Time", and "Ave Maria". Great stuff! Get yours at Jet Set while it's the right time. :)


Music release news: Original Love, DadaD, TGMX
Playlist: Teams, Denki Groove, FPM, Nosa Reina, "Crue-L Café"
This week's video: Kinoco Hotel "sono toki nani ga okotta no?" (short ver.) from upcoming album "Marianne no yūwaku"
Posted on December 1, 2012 at 21:55 | Permalink | Trackback (0) | Comments (0) | Tweet |
---