Blog - July 2004 Archives
July 2004 Archives
Index

.31 End of Windows trouble!


.30 Gopher


.30 New computer!


.29 Nomoto Karia "Karly"


.29 Barebone cube PC


.29 Apple refund campaign


.29 Package from Readymade


.29 When 宅急便 is not 急



.27 Matsuri in Shin-Nakano


.26 The Electronic Tomato


.25 Wonder Mall in Kichijōji



.24 Capsule live at Aoyama Cay


.21 Chevrolet bicycle


.21 Damn hot!



.20 Nomiya Maki moblogging!


.18 Dr. NakaMats' floppy disk


.18 Dessert Company


.18 Wah! Mikey Returns


.17 Visit to Tokyo Metropolitan Buildings


.15 Les 5-4-3-2-1 "la ronde" REMIX


.14 DNS to propagate in minutes!


.06 Tetsuhime



.04 Nomoto Karia live at Lounge O



.02 Kinbara Chieko live at Spiral Cafe

---
July 31, 2004
End of Windows trouble!
Finally I've got rid of my Windows trouble. Here's a summary for my own later reference and also for anyone who may encounter the same problem. It wasn't easy to find the correct solution to my specific situation, and I ended up using a bunch of solutions together.
Situation:
I bought a barebone PC (AOpen XC Cube EX65) intending to move my previous hard drives and keep my current Windows 2000 installation. After setting up the hardware, Windows gave a STOP 0x0000007B INACCESSIBLE_BOOT_DEVICE error during its startup.
Solution:
Do a parallel Windows install in the c:\winnt2\ folder, and boot up.
266465 - HOW TO: Perform a Parallel Installation of Windows 2000 or Windows 2003
Run regedt32.exe, go to the HKEY_LOCAL_MACHINE window and do Registry/Load Hive. Select the file c:\winnt\system32\config\system (from your old Windows install), click Open and call the hive "test". Close regedt32.
Go to the following KB article, and create a mergeide.reg file as explained.
How to troubleshoot "Stop 0x0000007B" error messages in Windows 2000
A "Stop 0x0000007B" error message occurs after you move the system disk to another computer
Make two copies of mergeide.reg, called mergeide1.reg and mergeide2.reg, open each of them in NotePad and find & replace "SYSTEM\CurrentControlSet" to "test\ControlSet001" in the first file and "test\ControlSet002" in the second file.
Double-click both mergeide1.reg and mergeide2.reg to import them in your registry. This updates your original Windows install's registry.
Reboot with original Windows install.
Windows then started normally with no more problem, and found all of my new hardware as expected. Whew!!
Posted on July 31, 2004 at 16:05 | Permalink | Trackback (0) | Comments (0) | Tweet |
---
July 30, 2004
Gopher

I sometimes (ok, often) get nostalgic of old technologies.
About a year ago I felt nostalgic of browsing library data using Gopher, back in my early Internet days, when your ISP still provided you with Gopher software.
Even though Gopher sites can still be browsed with Mozilla, I decided to learn a bit about the protocol by making a simple Gopher client using PHP, and at the same time try to make it a slight bit cuter than Mozilla's. Most of the protocol is in fact so simple that I think it took me less than an hour to complete it.
Today I came across that small client again, and after a bit of testing I decided to make it available to all, so here it is!
The start URL is gopher://gopher.quux.org/ - the main Gopher starting point on today's Internet, containing historic data, old text files, Color Computer games, and links to a few other working Gopher sites.
PHP Gopher Proxy (Current version 1.0β)
Posted on July 30, 2004 at 17:50 | Permalink | Trackback (0) | Comments (2) | Tweet |
---
New computer!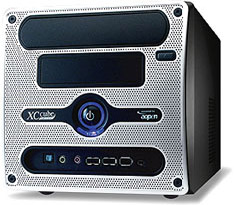 Following my impulse of the last week or so, yesterday I went and bought a new PC! After having checked reviews online, and also getting some advice (thanks rumael and also grey!), I got this nice-looking AOpen XC Cube EX65 (aka Sporty) (specs) which seemed to fit my requirements best.
It has room for 2 HDs (they don't recommend stacking two HDs together, but this one has some space between the two 3.5" slots, so I may even be able to fit a fan in there), and it even has a 6-pin IEEE-1394 (Firewire) port so I should be able to charge my iPod while having it plugged into my computer (instead of using the charger).
Although good looking the way it is, I sort of wish I could rip away that door for the CD drive. The thing is that it seems like either my drive or the case has its screws about a millimeter off, and therefore I can't screw-in the drive chassis to the case's main chassis while still having the fake front button working. And the drive chassis not being screwed, it risks being pushed back when I push the button to open it (making the button unusable until the case is opened and the drive chassis moved)... A bit hard to explain but anyway. :)
One of the main reasons I wanted to switch is that the old motherboard had its graphics card embedded, and lately the video output was constantly shaking for hours after turning on the computer. I had diagnosed that it wasn't a problem with the monitor since its settings menu was clear and stable over the fuzzy screen.
It had been years since I had built my own PC (perhaps around 1998), and I'm glad this time I could do without putting in the motherboard myself which I always thought was a pain. The hardware part went smooth.
However, Windows is giving me a bit of trouble that still has to be sorted out. The thing seems to be that I moved my hard drives containing an existing Windows 2000 installation, and Windows doesn't seem to like having all its hardware changed like this without being told anything. Windows was giving me a blue screen saying STOP 0x0000007B INACCESSIBLE_BOOT_DEVICE .
So I installed a second instance of Win2K, which went fine, in order to be able to at least use the thing... And that's where it's now at.
Next I'll have to follow this Microsoft knowledge base article to try to fix the original installation (I'd sure like to avoid having to reinstall all my programs).
How to troubleshoot "Stop 0x0000007B" error messages in Windows 2000
One annoyance that seems like it will persist is that my hard drives' order has changed. I had one drive with 2 partitions and a second drive with one partition, and it used to strangely be mapped this way:
- C: 1st drive, boot partition
- D: 2nd drive (odd)
- E: 1st drive, second partition
No clue why... Now they're back in a more logical order, but it will take some getting used to.
- C: 1st drive, boot partition
- D: 1st drive, second partition
- E: 2nd drive
Maybe I'll try to use some software to swap them.
And that's it! Hopefully everything should be sorted out within a few days!
Last, here's my approximate invoice, for the record:
- AOpen XC Cube EX65, ¥31000
- Celeron Northwood 2.8GHz CPU, ¥9000 (¥13000 minus ¥4000 of discount because I bought a barebone of over ¥30000)
- 512MB of P2700 (333MHz) RAM, ¥7000
Total: about ¥47000 + 5% tax = just below my estimate of ¥50000!
Posted on July 30, 2004 at 11:24 | Permalink | Trackback (3) | Comments (3) | Tweet |
---
July 29, 2004

Nomoto

Karia "Karly"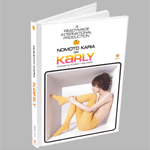 Last night I received the new Nomoto Karia album "Karly", and this morning I had my first listen on the train.
Her first full-length album includes 4 songs from the previous "Aria, Karia, Maria ep" (available only on vinyl), and 4 short spoken tracks (Karly 1 - 4, featuring not herself but other people giving her love advices and such, e.g. "Hey, see that rich playboy over there?"), plus 9 brand new songs!
Out of my favorites so far, the three successive songs "Amsterdam", "Napoleon Bonaparte" and "kinō no tsuzuki" ("tomorrow is just another day") towards the end really sound like Pizzicato Five to me, I guess mostly reminding me of the self-titled ("TM") 1999 album.
I also love "Rock Steady" and "jiyūdōri no gogo" ("freedom street afternoon"), the latter which is an Ai George cover with really great synth.
At this very moment, my favorite song is "Amsterdam", for its groovy bass line, synths, brass and the funky snare sound.
♪ 14時発のフランクフルト経由、アムステルダム行きのチケット ♬
The high quality hard cover book is also quite something. It contains pretty much nothing but full-page pictures (except for the album's liner notes), about half of them of Karia topless (though not letting anything show) in sexy poses, and the rest being very nice fashion shots.
By the way, there will be an Ai George greatest hits album coming out on 9/1, and I wish "jiyūdōri no gogo" will be included. I'll have to check that out anyway since similar gems may be included. It will probably be added to my agenda once the track list is available.
Posted on July 29, 2004 at 12:00 | Permalink | Trackback (0) | Comments (0) | Tweet |
---
Barebone cube PC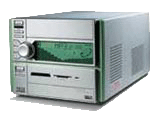 Lately I'm contemplating to buy a new PC. My old IBM Aptiva 850MHz has been giving signs of aging and it's getting about time to replace it.
I was thinking of just getting a new case, motherboard, CPU, graphics and audio cards, memory, etc. separately, and fitting in my current HD, DVD+RW and other stuff I can reuse, however last weekend I went to the Sofmap used store in Shinjuku and found some rather good-priced barebone PCs that seem like they may be my best option. I would then avoid choosing motherboard, graphics and audio cards, and I could still buy my CPU (there were some good prices on used ones) and memory separately.
I should be able to get away with spending only about ¥50,000 for what feels (and most importantly: speeds!) like a brand new PC.
Requirements checklist for barebone PC:
- IEEE-1394/Firewire built-in port for my iPod
- Room for 2 HDs (a third slot wouldn't hurt so that I could fit in a floppy drive, but I don't even own a floppy disk so this isn't a requirement)
Other stuff I need to buy:
- Used CPU 2GHz+ (probably Celeron since I don't care so much for speed)
- Memory 512MB (or more if I find a good deal)
Now I'm not so much into buying used CPUs, but they have a one month warranty and prices are considerably lower. Also I believe that if it's not already broken, it's not more likely to break than one out of the box.
Some barebones at Sofmap (pictured is the MSI Mega 400, about ¥25,000)
Barebone rankings at Kakaku.com
Posted on July 29, 2004 at 11:17 | Permalink | Trackback (1) | Comments (6) | Tweet |
---
Apple refund campaign
Apple is offering a refund if you buy a new iPod and give them back your old one. Same goes for a lot of other Apple products.
Details at apple.co.jp
Refund site
Price list
Seems like I can get ¥6000 for my old 5GB 2nd gen Windows iPod! Not bad but could be better. :) I sure am tempted...!
Thanks to Brent @ Chopstick Sensei for pointing this out in the first place.
Posted on July 29, 2004 at 10:25 | Permalink | Trackback (0) | Comments (3) | Tweet |
---
Package from Readymade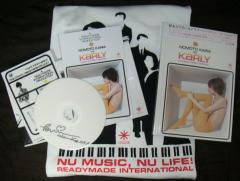 The goods have come (around 12:35)!! Better a bit late than later! :)
In the envelope:
- Nomoto Karia "Karly", the album and photo book
- bonus DVD autographed by Karia
- sticker
- postcard
- "Nu Music Nu Life" T-shirt
I've watched the bonus DVD which features a very nice video for "ADIEU wa kanashii kotoba", but I'm keeping the CD for tomorrow. I'll listen to it on my morning train ride. :)
The album is programmed by Yoshida Tetsuto and features Ai SATŌ (spelt "Ai Satteaux"(!)) of Hair amongst others.
The book is truly high quality stuff, hard cover and mostly color.
Also came an announcement of the upcoming stuff, including:
Sept.: ECD book "ECDIARY" and "Readymade Magazine no.3"
Sept. 19: Readymade Featival at Roppongi Club Spiral, Live: Nomoto Karia and Natsuki Mari
Nov.: Natsuki Mari new album!

There's also a new Web site for mobile phones at http://mobile-readymade.com/ (i-Mode/ezWeb/au only) where it should be possible to download Nomoto Karia ring tones and other stuff.
Posted on July 29, 2004 at 00:54 | Permalink | Trackback (0) | Comments (5) | Tweet |
---
When
宅急便

is not

急

I'm impatiently waiting for a package from Readymade International containing notably the new Nomoto Karia album.

The package is being delivered by Sagawa Express and requires C.O.D. payment. It came once today around noon while it couldn't be received, and was rescheduled for between 21:00 and 24:00, but just earlier I received a call from the delivery ossan saying that "because the streets are crowded he will run late and only arrive at 1:30-2:00am"...
Now I'd sure like to know what streets are crowded around here at this time, and also what kind of express service it is to arrive not only 2 hours late but 2 hours past midnight.

I called back and told him that I could wait until 1:00 and he said that he may be able to make it and that he'll call back... So now I'm drumming my fingers, waiting.

Posted on July 29, 2004 at 00:00 | Permalink | Trackback (1) | Comments (0) | Tweet |
---
July 27, 2004
Matsuri in Shin-Nakano
Last weekend was the small yearly summer festival at a shrine close to Shin-Nakano station. We went on Friday night briefly, I ate yakisoba, takoyaki and took a few pictures.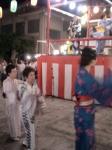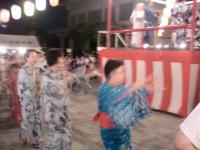 Click the thumbnails for larger images.
Next up is at Nabeyoko, next Saturday and Sunday.
Posted on July 27, 2004 at 22:37 | Permalink | Trackback (0) | Comments (2) | Tweet |
---
July 26, 2004
The Electronic Tomato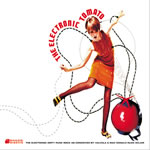 The Electronic Tomato, a side-project of macdonald duck eclair and Italian unit Valvola, has a self-titled album out on S.H.A.D.O. Records in Italy. The electro/disco/punk album includes new versions of MDDE songs, and also covers of Iggy Pop, Kylie Minogue and Le Forbici di Manitu' and remixes.
MDDE's Web site announce it as coming out in September, but it seems available already at SonicRocket (Italy) for only €12.90, so I've just placed an order! :)
SonicRocket's review:
" THE ELECTRONIC TOMATO is the debut album of the great Japanese girl-band moved to London, real agitators of the Elettronica Electro/Disco Punk scene, a mixture between underground rock and dancefloor rhythms, upward trend of the last years. The album is composed of ten Electro Punk Rock songs of a rare beauty, rhythmically perfect, a synth-rock album of our-days influenced by the '80s sound and by the re-discover of the best Underground Italo-Disco, a new style that we'll soon hear. The foaming punk trio of girls propose, among the songs, a dreamy cover-version of the famous Kilye Minogue's hit "Can't Get You Out Of My Head", "Amoreux Solitaires" by Lio - the Pop Queen from the '80s at the first places in all the charts in that time - and the abrasive "Funtime" of the rock icon Iggy Pop, here in a Cold-Wave Electro-Punk version, perfectly in rule with the sound of the European dancefloors. The Electronic Tomato is the antidote to win the dislike that is pervading the contemporary electronic scene, and let us hope for the future!!!! IT' S ONLY ROCK'N ROLL, BUT WE LOVE IT! "
Posted on July 26, 2004 at 11:32 | Permalink | Trackback (0) | Comments (2) | Tweet |
---
July 25, 2004
Wonder Mall in Kichijōji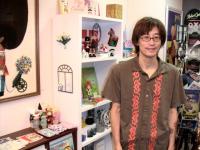 Today we finally had a chance to go check out my friend Chisari's shop Wonder Mall.
Wonder Mall is an online shop that she has been running since a year or two, selling all kinds of stuff imported from all over Europe. Only recently part of the shop's goods are displayed at the zakka shop Caramill in Kichijōji, ran by ever-so-friendly owner Ōba-san.
Being in a Pippi mood lately because I'll be seeing the musical very soon, I bought a cute Pippi doll key chain from Denmark.
Next time you're in the area have a look. The shop is located down the street to the right of Book Off south of Kichijōji station. Caramill also offers some coffee for as cheap as ¥200!
Caramill and Wonder Mall
2-13-4 Kichijōji-minamichō B01, Musashino-shi, Tokyo (map)
Tel/fax: 0422-76-5495
Open everyday from 12:30
Posted on July 25, 2004 at 22:10 | Permalink | Trackback (0) | Comments (3) | Tweet |
---
July 24, 2004
Capsule live at Aoyama Cay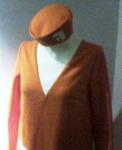 Last night I went to see capsule's release party for their recent album "S.F. sound furniture", held at Aoyama Cay. Also live were COPTER4016882 and Nagisa Cosmetic, and there were also many DJs and special guests.
It took a while to get in, but while going downstairs we were entertained by capsule costumes on display. Momus standing in line a bit ahead of us, and I also saw Imai-kun from the Aprils entering as guest!
Once inside, the place was really packed and it was so hot. It was almost hard to imagine spending about 4 hours in there, but I guess we survived. :)
Yuppa and Wanda from Hazel Nuts Chocolate (aka Henachoco) were serving ice cream at the entrance.
First played COPTER4016882. I can now confirm that the numbers are read as numbers (i.e. yon-maru-ichi-roku-hachi-hachi-ni). Ukai (the band's guy) who presented themselves didn't even remember the numbers right. (Do they expect fans to?)
The three main members (Ukai, Mikiko and Miwa) were accompanied by a keyboardist, a guitarist (some guy who apparently plays with Halcali and Rip Slyme) and a drummer (from the Spoozys I think), and were pretty good and energetic as a live band. Their songs being very short they were talking a lot so that their show would last more than 10 minutes. :)
Ukai seems to have hurt himself at some point playing guitar, and one of the two girls said "また血出た!" (mata chi deta!, "you're bleeding again!") as if it happened regularly.
After a lot of DJing (Yuppa, Kaori (Dahlia), Zest's Nakamura-san,...) Nagisa Cosmetic came on stage, with Nakata Yasutaka sitting at the back DJing. A few songs from the first mini-album were played.
At the end of the performance was played a surprise Nakata-produced "Happy Birthday", and capsule's Koshijima Toshiko came on stage bringing a cake. Nagisa is turning 20 this month.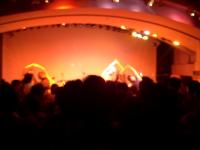 Up last was capsule, Nakata always at the back DJing and beautiful Toshiko singing, accompanied by special guests Henachoco, Sonic Coaster Pop's Furukawa Chinatsu, PINE*am's Tsugumi, and EeL (who came from Osaka especially for the event) who came on stage in turn.
Played were "Idol Fancy" (with Henachoco), "Super Scooter Happy" (with SoCoPo's Chinatsu), "宇宙エレベーター" (uchū Elevator) among others.
(The picture shows from left to right: two girls from Henachoco, capsule's Toshiko and SoCoPo's Chinatsu, while performing "Super Scooter Happy".)
Also present was the director of the video for "ポータブル空港" (Portable kūkō, "Portable Airport"), Momose Yoshiyuki from Studio Ghibli, and also the producer (Suzuki Toshio?). "tonari no Totoro" was playing on TV at the time the show was being held, and the first thing Momose-san said was "Ok everyone, it's now time to go home and watch Totoro!", he was very funny and seemed like a very nice guy! The cool video was shown on the big [slightly dark-ish] screen.
Fun but exhaustingly hot evening!
Posted on July 24, 2004 at 12:35 | Permalink | Trackback (0) | Comments (1) | Tweet |
---
July 21, 2004
Chevrolet bicycle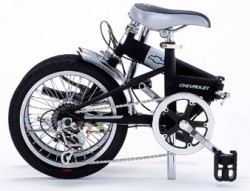 Last weekend I saw Chevrolet bicycles at a shop and I'm thinking of maybe getting a 6-speed 20" (FDB20-6) folding type, to replace our old 16" bike with no gears which has become a pain to ride.
I love the looks of the black 6-speed 16" (FDB16-6) (pictured), but I think I'm wanting to get a bike with slightly bigger wheels this time.
Since all my searches lead to pages in Japanese, I believe that these are only sold in Japan!
Posted on July 21, 2004 at 23:57 | Permalink | Trackback (1) | Comments (29) | Tweet |
---
Damn hot!

Yesterday was truly damn hot! Not only did meteorologists record an all-time Tokyo top high of 39.5ºC (103ºF) (the previous maximum having been 39.1ºC in 1994), but that's only what was measured at the place where they record that stuff.
This morning on the news, they were showing how a thermometer reacted in more popular locations, such as Shibuya where it was actually 44ºC (111ºF)!
Today is still very hot, but hopefully temperatures should fall back to around 31ºC (89ºF) for the following days.
Tokyo weather (Yahoo! Japan)
Posted on July 21, 2004 at 09:35 | Permalink | Trackback (0) | Comments (3) | Tweet |
---
July 20, 2004

Nomiya

Maki moblogging!

Nomiya Maki (ex-Pizzicato Five) has started moblogging on her official Web site!

Posted on July 20, 2004 at 15:32 | Permalink | Trackback (0) | Comments (0) | Tweet |
---
July 18, 2004
Dr. NakaMats' floppy disk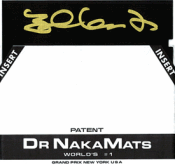 I just found out that Japan's wacky inventor Dr. NakaMats (aka Nakamatsu Yoshirō), who I thought only ever invented crazy stuff, is the inventor of the floppy disk!
Well, I hate floppies for being slow and ending up corrupted sooner or later, and don't even have a floppy drive in my current computer at home (it had one but I removed it to fit an extra hard drive), but I certainly used hundreds (if not thousands) of the things ever since we had our first computer with a floppy drive at home in the early 80's.
I'm a bit tempted to buy an autographed 5¼ floppy from his online shop!
Update (2004/7/19 09:25):
Taro writes about how Dr. NakaMats's claim to have invented the floppy is false (ABC News story). Too bad, Dr. NakaMats falls back to the rank of crazy inventor, but now I just saved ¥1000! :)
Posted on July 18, 2004 at 23:02 | Permalink | Trackback (0) | Comments (6) | Tweet |
---
Dessert Company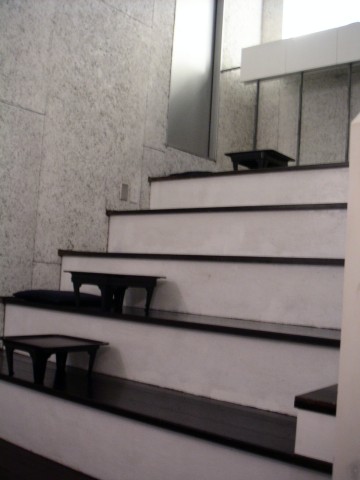 After checking out Wah! Mikey Returns, we walked to Harajuku and went through the tiny backstreets to find Dessert Company which I had been wanting to go to for a while!
The desserts and chinese teas we had were all delicious, and the ambiance was very nice. The small room with a very high ceiling has pratically no furniture or decorations, making it look very zen, and mainly consists of a large stairway on which are located two of the four tables. Calm piano music (probably Museum of Plate's) could be heard from speakers we weren't able to find.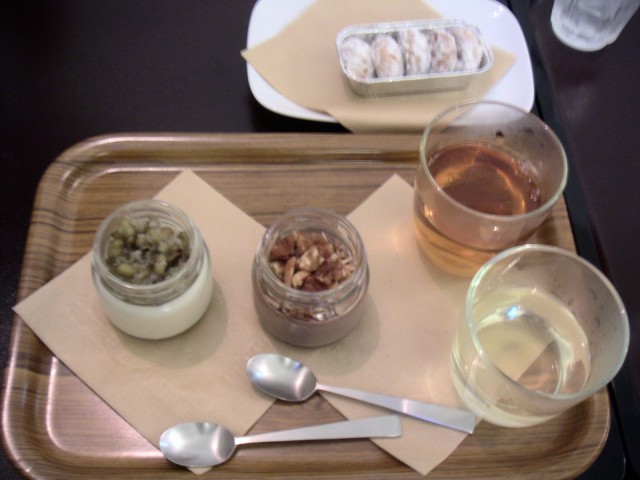 Our desserts:
- Peanut cookies
- tōfufa / ryokutō sirop
- Chinese five spices chocolate mousse
Posted on July 18, 2004 at 22:16 | Permalink | Trackback (0) | Comments (2) | Tweet |
---
Wah! Mikey Returns
Today we went to see Wah! Mikey Returns, an exhibition of the characters from "Oh! Mikey" and also a screening of over 20 new episodes!
The new episodes were hilarious. My favorite was perhaps one where Mikey decides to eat a シュークリーム (chou à la crème) he found on the street, despite his parents having warned him that what's found on the ground is dirty, and then suffering the consequences...!
Posted on July 18, 2004 at 21:36 | Permalink | Trackback (0) | Comments (0) | Tweet |
---
July 17, 2004
Visit to Tokyo Metropolitan Buildings
Today we rode our bikes around west-Shinjuku to check out a few flea markets and also a big Agnès b. sale.
On our way back, we stopped at the Tokyo Metropolitan Buildings and went up to the South building's observatory on the 45th floor. This is completely free and it's at 202m, higher than Tokyo Tower's main observatory (150m (¥820), though its special observatory is at 250m (¥1420)).
I had passed by many times but it was the first time I went up. I like the buildings' architecture a lot.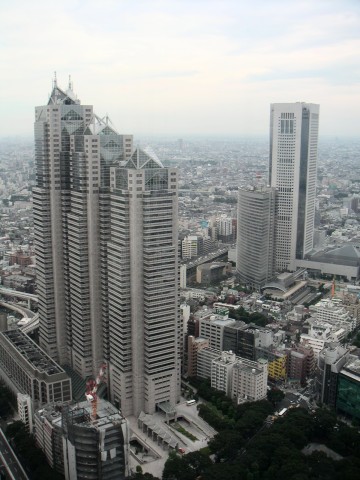 Click the thumbnails to see larger images.
#1: Tokyo Metropolitan Buildings, going downstairs to take the elevator to the observatory
#2: The buildings' impressive architecture includes a walkway above the street connecting the assembly building
#3: Same buildings as seen on #2 now seen from above
#4: Heliport on a nearby roof
#5: Shinjuku Park Tower, of which the Park Hyatt hotel was made famous in the film "Lost in Translation"
#6: View towards the west, Nakano can be seen towards the top right (Nakano Sun Plaza is a large white triangle-shaped building)
Posted on July 17, 2004 at 20:17 | Permalink | Trackback (0) | Comments (0) | Tweet |
---
July 15, 2004
Les 5-4-3-2-1 "la ronde" REMIX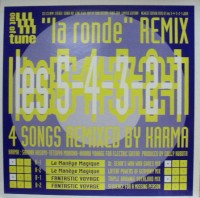 I had been looking for this limited edition remix 12" of Les 5-4-3-2-1 for quite a long time. I had had a glimpse of it on Yahoo! Auctions about two years ago but had missed it back then, and I kept looking for it ever since.
Finally a few days ago I found another one at the same place and it's now mine!!
I'm a collector when it comes to Les 5-4-3-2-1, and now I think that all what's missing from my collection is the 7" of Cutie Honey's theme song from the 90's anime series. :)
I was especially looking for this 12" though since it contains remixes of "Le Manège Magique" and "Fantastic Voyage", songs I love from their album "La Ronde".
The release's details weren't anywhere else on the Web, so now they are:
Les 5-4-3-2-1 "la ronde" REMIX
4 songs remixed by Karma
Out of Tune, GHAD-004, 1995
A1. Le Manège Magique (Dr. Sekin's Wah Wah Shoes Mix)
A2. Le Manège Magique (Latent Powers of Germany Mix)
B1. Fantastic Voyage (Triple Brownie Overlord Mix)
B2. Fantastic Voyage (Sequence For A Missing Person)
Posted on July 15, 2004 at 22:47 | Permalink | Trackback (0) | Comments (1) | Tweet |
---
July 14, 2004
DNS to propagate in minutes!
Great news today from The Register!
Starting September 8, updated DNS records will propagate within about 5 minutes for .com and .net domains, instead of the hours/days wait we've been used to since the Internet began.
This means that putting a new Web site live will become more of a real-time process, and also down time generated when switching servers (like when moving to another hosting company) will be greatly reduced.
Working in the Web industry, I can't count the number of times that I had to wait until the next morning to check if a DNS record had propagated correctly, or that I had to put up a maintenance page telling users to come back in a few days because of a site moving to another server.
Thanks to VeriSign's software update, soon these scenarios will be a thing of the past.
More at The Reg: DNS changes to take minutes (instead of hours)
Posted on July 14, 2004 at 11:51 | Permalink | Trackback (0) | Comments (3) | Tweet |
---
July 6, 2004
Tetsuhime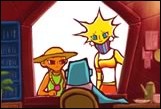 The Aprils have produced the music for an online animated series called 鉄姫 (tetsuhime, "Iron princess") produced by Yamaguchi Hidemi.
There are even English subtitles!
There will be a total of 6 episodes, a new one released every week I guess.
It seems like a trailer for the series will appear on the Aprils' upcoming album Pan·da out on 8/4, which will be a CD/VD (one two-faced disc containing both a standard CD and DVD). More info on the release at the agenda.
Posted on July 6, 2004 at 23:46 | Permalink | Trackback (0) | Comments (2) | Tweet |
---
July 4, 2004

Nomoto

Karia live at Lounge O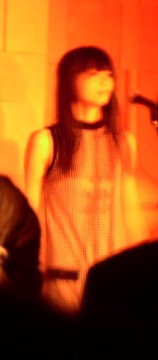 Last night, Jens and I went to see Nomoto Karia live at Lounge O. DJs were Konishi Yasuharu, who produced Karia's new album "Karly" coming out at the end of the month, and also Iwamura Manabu and Hirabayashi Shinichi (Moodsville Records).
Karia sang about 6 songs from the new album and the latest EPs, including "ADIEU wa kanashii kotoba", "watashi no kuroi koneko wa itazura dakedo himitsu wa mamoru.", "Rock Steady", "jiyūdōri no gogo". Also a bunch of introduction and interlude tracks were played.
All songs were great, and of the ones I heard "jiyūdōri no gogo" is my favorite new song, featuring a catchy bass line and synth leads with a good club beat.
Karia must have changed clothes about 5 times during the evening, most being cute one-piece dresses.
Konishi-san's set was great as usual. It was the first time I saw Iwamura Manabu spinning I think, and I was looking forward to it, but I ended up a bit disappointed. I was expecting some cool Italian-style lounge similar to his albums, but he rather played mostly club tracks, a lot of which I didn't care for.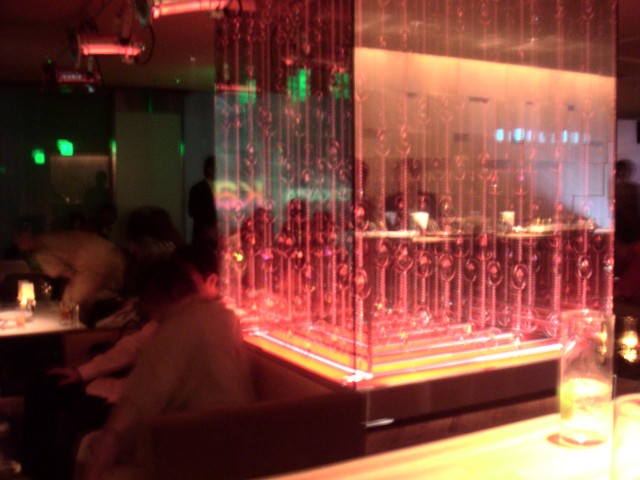 The event was also I think the first public event at Lounge O, which just opened 2 days before. It was very attractive visually, with a lot of couches and large decorative stuff. That's probably the classiest club I've been to. A lot of people were also dressed up for going out (though there was no dress code), something not common in clubs where I usually go (e.g. Organ b.), but I guess it must be common in Aoyama and Roppongi. There were actually a large number of foreigners, though many didn't seem to be there to celebrate Karia's new release.
The staff was alright (except for some dude who told me to stop taking pictures, and who later scarily jumped through the crowd in front of another guy who was doing the same) but there seemed to be way too many of them.
Entering the place was quite confusing. I don't know if we were supposed to be charged to enter, but we weren't charged anything. That was either because A) the event was free (though there was no mention of that anywhere on the Web site), B) the large amount of useless staff were confused themselves in their wicked system, or C) we're foreigners.
Despite how classy the place was, drinks were surprisingly cheap at ¥500, and there was also some food sold ¥500 for a choice of three small appetizers or desserts.
A nice evening!
Posted on July 4, 2004 at 13:29 | Permalink | Trackback (0) | Comments (4) | Tweet |
---
July 2, 2004

Kinbara

Chieko live at Spiral Cafe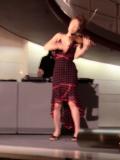 Tonight we went to see violinist Kinbara Chieko who was doing a free release party at the classy Spiral Cafe (part of the Spiral complex in Aoyama), promoting her new album "Paradise".
She was accompanied by Ide Yasushi who produced all of her solo albums so far, and played the songs "Fascination" (produced by Fantastic Plastic Machine), "How Insensitive" (Antonio Carlos Jobim cover), "Your Eyes" and "Try A Little Love" (featuring Blaze). She was beautiful and gave a great performance.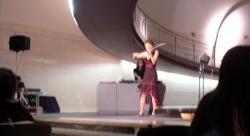 After the show I had the chance to speak to her and get an autograph! She was very kind.
Posted on July 2, 2004 at 23:34 | Permalink | Trackback (0) | Comments (0) | Tweet |
---