Blog - December 2013 Archives
December 2013 Archives
Index
.28 Weekly revue: 2013 week #52 (December 21 to 27)
.21 Weekly revue: 2013 week #51 (December 14 to 20)
.15 Weekly revue: 2013 week #50 (December 7 to 13)
.07 Weekly revue: 2013 week #49 (November 30 to December 6)

---
December 28, 2013
Weekly revue: 2013 week #52 (December 21 to 27)

Food: - Chicken curry and sambar at Indo Fuji, Higashi-Koganei
- Bread from Unicorn Bakery (Facebook page), Kunitachi. First time there, and I noticed a violin-like skateboard object that I had seen before at a hand-shaped skateboard exhibition at The Ghetto (my photo). Turns out the bakery owner's husband makes these.
- Pakora on rice at Gopinatha, Nakano
- Christmas home party
- Christmas dinner at Bespoque, Higashi-Nakano. Turkey! I ate way too much. :)
- Boxing Day party with friends from Sunday Bake Shop. Two people happened to be carrying music instruments, so we got to hear some violin and shamisen!

Exhibitions: - Postcard exhibition at INVADE3, Kōenji. There were works by ESSU, Maruoka Kazumichi and many more. We ended up getting a framed postcard by WOF. This exhibition has ended already (it was until December 23).

- CHO-CHAN + ESOW exhibition at Fūraidō, Asakusa-chikagai. This one is on until January 12, 2014.

Music event: On Sunday December 22, I went to Chiroline ver.2's Christmas party at Shichōshitsu in Jinbōchō. That was a very nice event with also CTO LAB., Genius and Kitamura Sakiko. All were great! At the end there was even a part where the four girls of Chiroline gave presents to the audience, though I wasn't that lucky.

CTO LAB. set list: Bon Hi-Bon / otoko to onna / itoko dōshi / Go Spiral Go / Space Arcadia (space disco new song) / Elements song / Crash Bandicoot

Chiroline ver.2 set list: Chiroline-zaka, eien ni / haru odoru / natsu no ii wake / tochū ni shite ne / uwa no sora mitsuketa / Strawberry Army / B-612 ni koi o shite / sharara Snowed In / sonna Banana
Encore w/ CTO LAB.: Rudolph The Red Nosed Reindeer

Playlist: Vanilla Beans, frenesi, Tarte Tatin, Chiroline ver.2, Pizzicato Five

This week's videos:

Especia "Aventure wa giniro ni"

Genius "Born To Die"

Posted on December 28, 2013 at 21:33 | Permalink | Trackback (0) | Comments (0) | Tweet |
---
December 21, 2013
Weekly revue: 2013 week #51 (December 14 to 20)

It's got quite a bit colder over the past week, but it's still fall in Tokyo.
Food: - Beef curry at Ethiopia, Ochanomizu
- Weiner Coffee at Ladrio, Jinbōchō
- Fish & chips at Bespoque, Higashi-Nakano
- Vietnam-style pork & ham stew okowa (steamed sticky rice) at Tsubame Okowa, Kōenji
Exhibition: - Went see KATOPE's exhibition at café Ladrio in Jinbōchō (already over). Lots of great paintings. I like KATOPE's mysterious imagery, and the way some parts of his works have a shiny metallic texture.
- Also went to check out QP's "813/9" solo exhibition at Sekiel Berg Café in Jiyūgaoka. Photos weren't allowed inside. The show is all on the 2nd floor above the small café, with QP's latest paintings displayed everywhere. Some huge and impressive works too, with lots of "Q-chan"! This is on until Tuesday December 24.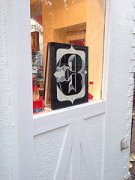 Music event: - Last Sunday I went to see Shimizu-san "Shimmy" Hirotaka & Maika Leboutet together with colleagues who are fans of Shimizu-san (guitarist from The Cornelius Group, ex-Bridge, etc.). The venue was tiny café Tabiraco near Shōin-jinja-mae station on Setagaya line. Shimizu-san played guitar and Maika-chan played keyboards and toy pianos, sometimes with the help of a Tenorion. The place being so small, most of the audience was less than a meter away from the artists, making it a very intimate show. Shimizu-san did some talking between each song, explaining what they're about or when he wrote them, and he was so kind to often ask me (the only foreigner) if I understood. A really friendly guy and great guitarist! I'll be sure to catch the two again sometime next year.
- I wrote a report of The Scooters' show from the other day at Shibuya WWW. Check it out here!
New music: - Free holiday mix tape from Eenie Meenie Records! Includes a new song by Old Monk, a cover of Wham's "Last Christmas" by From Bubblegum To Sky, and more. The closing track by Twisty seems to be a new solo side-project of Takashi Tsugumi (Old Monk, ex-PINE*am)!
- Also free Season's Greetings mixes from Kit Gallery (Matsuda "Chabe" Gakuji (cubismo grafico) & friends) here.
Music release news: sugar me

Playlist: Chiroline ver.2, Towa Tei, Nullpyon, Tarte Tatin, Negicco, Les 5-4-3-2-1, hitomitoi, Sunahara Yoshinori, Perfume
This week's video: cero "Yellow Magus"
Posted on December 21, 2013 at 21:49 | Permalink | Trackback (0) | Comments (0) | Tweet |
---
December 15, 2013
Weekly revue: 2013 week #50 (December 7 to 13)

Food: - Poulet yassa, at Los Barbados, Shibuya
- Monami's curry, at Magali (at Café Monami), Nishi-Ogikubo
- Bagels from Pochicoro Bagels, Nishi-Ogikubo
- Christmas cookies from a small shop, Nishi-Ogikubo

Exhibition: We went to see Picaro Taro's solo exhibition "TARO DOG with Cats@Parkside" at Gallery Mu (Facebook) in Shibuya. Picaro Taro paints dogs (and sometimes cats) in his fun, colorful and pop ways. Gallery Mu is a small counter bar located just across from NHK. The exhibition goes on until December 28. Tarō-san DJs whenever he's there, and you can bring your own records to spin too, as I did. :)

New music: - After having half-forgotten about its release, I finally got blue marble's "full color" album. The whole album is great, but I was especially impressed by almost-16-minute gem "INTROIT", a complex and beautiful pop-oriented song that goes through bars of 7/4, 4/4, 11/8, 3/4, and some I can't even count. It's the song I listened to the most all week! I wish I can hear this live someday.

- Oh and I got frenesi's "Dolphino" too (although I already had "Landmark Theater"). This is great too of course! It includes several new and rare tracks! (By the way, blue marble is on frenesi's label.)

- Check out this free holidays compilation from Eenie Meenie Records, with songs by Old Monk and more, and also one track by Twisty which seems to be a new side project of Tsugumi (Old Monk, ex-PINE*am)!

Gig report: The Scooters, Juicy Fruits, Kotaro & The Bizarremen at Shibuya WWW

Music release news: mishmash* Julie Watai, Taketatsu Ayana, CANDLES, fox capture plan

Playlist: frenesi, blue marble, YMCK

This week's videos:

Cibo Matto "MFN"

Especia "umibe no Satie (Vexation Edit)"

Posted on December 15, 2013 at 01:03 | Permalink | Trackback (0) | Comments (0) | Tweet |
---
December 7, 2013
Weekly revue: 2013 week #49 (November 30 to December 6)

Food: - Galette at comme des journaux, Ogikubo
- Banana muffin at Café Monami, Ogikubo, and lemon cake from Magali (at Café Monami)
- Black forest cake from Sunday Bake Shop, Hatsudai
- Mahimahi burger at L&L Hawaiian Dining, Shibuya

Music event: I went to see The Scooters at Shibuya WWW! Awesome show as always, every time filling me with happiness. I should write a full report shortly (if I can get to it), meanwhile here's the set list. All of the Scooters' members are such nice people, I'm a huge fan forever!

The Scooters set list: Motown medley / Heat Wave / kanashii uwasa / L-O-V-E / namida no Break Away / The Beatles medley / koi no Fortune Cookie / Shout / Tokyo Disco Night

Other bands playing were Juicy Fruits and Kotaro And The Bizarremen. Juicy Fruits are also back on stage since around 2009 after a long 25+ year hiatus. The current band features two original members (and two younger recruits of a neo-GS background), including singer/guitarist Iria who plays most guitar solos herself. Awesome!

Playlist: Stereolab, (((sssurrounddd))), Tarte Tatin, Scooters, the fascinations, CAPSULE, EeL, Juicy Fruits

This week's videos:

The Scooters "Heat Wave" live at Shibuya WWW

mishmash* Julie Watai "maware migi, nigerunda"

Posted on December 7, 2013 at 23:42 | Permalink | Trackback (0) | Comments (0) | Tweet |
---