Blog - April 2008 Archives
April 2008 Archives
Index

.29 C-Ya Doopees?



.27 Pure Pop Fes vol.1: report


.25 Bonsai Girl


.25 Movable Type NotifyReplyee plugin




.23 Kewpie meets Kamen Rider


.22 Fujisawa Shiho first album "Happy Hour"



.20 arcorhyme afternoon live at Grand Cru (vol.2): report


.19 Limited editions are limited (Perfume)


.16 Miyajima Tatsuo "Art In You"



.14 fukuwauchi by Shindō Mitsuo



.13 koinobori



.10 Nomiya Maki Recital vol.2 ~Eleganceholic~: report



.10 Go Kung Fu kun!



.09 KAMI exhibition in Ebisu



.07 Hasebe Novko w/ Isoda Osamu live report


.07 Email trouble



.06 Sakura #5: Inokashira-kōen



.02 Sakura #4: Mitsugi-kōen

---
April 29, 2008
C-Ya Doopees?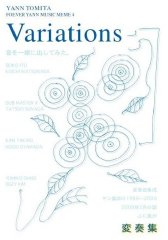 Last week I picked up Yann Tomita's new release, "Music Meme 4 Variations", who's is a thick DVD-sized box containing a CD, a DVD, and a book. Also striking my attention was a "Doopee Time 2" sticker! Surely it meant good things to come... or so I first thought.
What I decided to enjoy first was the CD, on my train commute (the place where I listen to music the most). I found it to be very much along the album's title, as a series of 4 chords finds its way into all of the songs, no matter if they're pop (Kahimi Karie, Koizumi Kyōko (1988!), Yamamoto Linda (1991)) or hip-hop (Naives) or electronic tracks. The whole makes for a very nice compilation of his various works, not going too much into his abstract side. The new Doopees track ("C-Ya! C-Ya!") is short and with some Hawaiian feel, fun!
I must say that I appreciate and feel sympathy for Yann's obsession with a sequence of chords, as I've mostly been playing the same 3 or 4 chords (not the same as Yann's) on my keyboards for the last 5 years.
Later I checked out the DVD, which is a recording of a concert at a temple in Kamakura, featuring Ohno Yumiko (Doopees, Buffalo Daughter), Takagi Kan, Itō Seikō and Mokuren. The 3 songs are stringed together. Yann sits at a large table of electronic stuff that only he can understand. The video quality is amateur, the cameraman even coughing at some point, but it feels like sitting in the grass and watching Yann's concert in the nature which is quite nice.
While watching the DVD I was leafing through the book and reading bits, and a chapter towards the end caught my attention, titled something like "Why Doopee Time 2 was canceled twice"... Written by Yann, he explains that he had worked on the album for about half a year everyday without seeing the end of it, and he realized that he wouldn't make it for the original release date (July 2006). Around then he became sick, perhaps from working too much, and he was hospitalized for 2 months. This and other events made him decide to cancel the release altogether, even though it seems like it was pretty much completed, even down to artwork and liners.
That Doopee Time 2 sticker is not an announcement for an album, it IS Doopee Time 2, in the only form Yann is planning to release... I would sure like to hear the nice music too, but he apologizes and asks for his fans to understand his decision.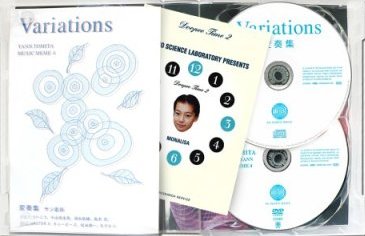 So I just hope that Yann keeps well, and that he will keep making nice music, whether Doopees or not, as I've really been enjoying his releases of the past few years.
元気 de yanns!
Posted on April 29, 2008 at 00:47 | Permalink | Trackback (0) | Comments (4) | Tweet |
---
April 27, 2008
Pure Pop Fes vol.1: report
Tonight was Pure Pop Fes vol.1 at Basement Bar in Shimokitazawa, a fun event focusing on pico-pico and techno-pop. I went there on my own but ended up meeting friends Craig, Hase-san (who played keys for Aprils) and Yumi-chan, Akiko-chan, and even making a new friend who seems to be a big fan of Arcorhyme.
The place was really packed from start to finish! A bigger venue would have been better, but it was a good time though.
First on stage was Furil, a girl-boy "dreamy pop" unit who I saw for the first time. They sang and he played guitar over a backtrack. The girl was cute and I liked her voice, but overall it wasn't quite my thing.
Next up was Hazel Nuts Chocolate with a very energetic set! Yuppa looked younger than I remembered her, perhaps because she changed her hairstyle. She was accompanied with Motocompo's Dr.Usui who played distorted guitar, that really rocked! Yuppa no only sang but she also played keyboards over her backtrack. She opened with "Love + Piece + Icecream", and also sang "Hello", "koi wa kyurukyuru", and some 3 or 4 others. Awesome set! Maybe there was one song that I didn't remember hearing before, so perhaps that was a new one. When someone in the audience asked when her album would be released, she said "it's a secret!"... Let's hope it will be soon.
---
Next on stage was relatively new techno-pop vocoder idol Aira Mitsuki, who I was really looking forward to. I hadn't really heard her songs yet, but I knew her style was very much like capsule and Perfume who she says she loves. She was a pro, the robot dances and the smile. For most songs she was accompanied by two cute girl dancers. The 2nd song was her latest single "China Discotica", and during that segment the dancers wore red Chinese-style dresses, with those rectangle sunglasses like on the single jacket.
Then there was a part with Aira (...still can't figure out which is her first name) alone on stage, standing behind a Korg synth where she sang her cover of Cornelius' "Star Fruits Surf Rider", that was good! She deserves some credit for actually playing some of her vocoder chords on the synth live (not all of it though). She then sat on a chair and sang the calmer "Darling Wondering Staring", both songs will be released on a Tower Records-only single limited to 2000 copies.
The two dancers then came back on stage, this time wearing different long dresses and holding huge lollipops, again very cute. Aira sang "Candy Light Mode" (from first single "Colorful Tokyo Sounds No.9") and another song, and that was it.
Unfortunately I couldn't take photos of her set, I was getting cold looks from some people around me when I was going to grab my camera and I chickened out... I hope Craig will post his!
---
Last up were Aprils, always giving a great show! I have seen them a few times meanwhile, but it had been almost 2 years since I saw a full show with their full band. They played a full set with their regulars, and also the theme song from "kaede New Town". The big surprise this time was their Perfume parody song "Stainless Girl" that appeared on the web site for April Fool's! The show was complete with an encore (Yano Akiko's "Metropolitan Museum").
On my way out, I couldn't resist buying Aira's two first singles, and I got a free signed poster! Yay! Here's her clip for "China Discotica".
Larger sizes and more photos at Flickr
---
Update (2008/5/2): Craig has posted his review of the show, with some good photos!
Posted on April 27, 2008 at 02:30 | Permalink | Trackback (0) | Comments (4) | Tweet |
---
April 25, 2008
Bonsai Girl
Last night we went to Lumine the Yoshimoto in Shinjuku to catch "Bonsai Girl", a 30-minute film directed by Paradise Yamamoto (Tokyo Panorama Mambo Boys), part of a series of 100 short films directed by various comedians. It was our first time going there, and the place was full of hundreds of people coming out of the previous comedy show. The film screening was delayed a bit, and we entered the large room that felt very empty with only about 8 spectators.
The movie was very nicely done. Sure, the story line isn't deep, but Paradise's love for manbonsai (his art of putting miniature figures of people around a bonsai to make it look like a large tree) and mambo shined throughout, as well as his desire to tell the whole world about it. Indeed the movie even had English subtitles!
The story is about a girl who likes flowers and discovers accidentally about manbonsai, of which she buys a book randomly. At first she doesn't quite get what it's about, but a nice foreign guy (very fluent in Japanese) explains her what's so great about manbonsai, and soon they're making their own. The film had some funny twists and was entertaining to the end. A very nice introduction to the world of manbonsai.
This was presented together with a strange and funny film by comedian Takewaka Motohiro (of Buffalo Gorō), titled "Golden Atmosphere" about a guy who wanders around his neighborhood and sees little things in unbelievable ways.
The last screenings in Shinjuku and Shibuya are tonight (in just 2 hours or so), so... make it if you can(?). Hopefully "Bonsai Girl" will get shown elsewhere in the world too, or released in DVD for more people to see it.
Posted on April 25, 2008 at 19:08 | Permalink | Trackback (0) | Comments (0) | Tweet |
---
Movable Type NotifyReplyee plugin
In Movable Type 4, there's a new way to easily reply to user comments by using the "Reply" links in comment listings in the content manager, or the "Reply to this comment" link when editing a comment. Doing so shows a dialog where the author can write their reply.
This plugin, NotifyReplyee, allows automatically sending an email to the person being replied to ("replyee"). The "Reply" dialog shows an "email notification" option which sends an email when checked. This can be useful when replying to someone who might not be likely to check back (e.g. a one-time visitor or your aunt maybe?).
The reply comment's text can optionally be included in the email.
Posted on April 25, 2008 at 11:21 | Permalink | Trackback (2) | Comments (5) | Tweet |
---
April 23, 2008
Kewpie meets Kamen Rider
Today I found this Kewpie and Kamen Rider collaboration toy at the conbini. Pretty neat! Plus the head rests on a spring and wobbles.
One is about ¥300, and it's a series of 7 + one secret. I'm fine with just this one though. :)
Larger sizes and more photos at Flickr
Posted on April 23, 2008 at 23:59 | Permalink | Trackback (0) | Comments (1) | Tweet |
---
April 22, 2008

Fujisawa

Shiho first album "Happy Hour"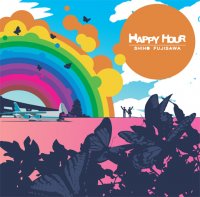 Tokyo's indies club scene is at its best lately, and one to prove it is girl DJ and trackmaker Fujisawa Shiho, whose first full-length album "Happy Hour" is out just now, and I'm very excited about it.
Included are a bunch of original vocal songs featuring various female singers, a Pizzicato Five cover with Pecombo ("Drinking Wine", a favorite of mine!), and also a few club-jazz breakbeats instrumental tracks that show her skills.
Watch the album artwork come to life in the video below for title track "Happy Hour", done by VJ unit Superposition.
For more details about the album, check the agenda. There will be a release party in Shibuya on May 4.
Posted on April 22, 2008 at 00:18 | Permalink | Trackback (0) | Comments (0) | Tweet |
---
April 20, 2008
arcorhyme afternoon live at Grand Cru (vol.2): report
Today I went to have lunch at Café Après-midi Grand Cru for the 2nd edition of arcorhyme's afternoon free acoustic live show. Once again I got there early and got an excellent seat just near them and the small live space! Yay! Also there were my friends Hase-san and Yumi-chan (both of solange et delphine), and also Chisari-chan (Wonder Mall) who I had invited.
This time, arcorhyme were accompanied for a few songs by a young bassist (only 16) friend of theirs, he was good. The sets went like this:
Set #1 (from 13:00): arcorhyme's Rough Sketch / Call Me / The Kinks' You Really Got Me / Southern All Stars' Never fall in love again / Kamayatsu Hiroshi (aka Monsieur Kamayatsu)'s hatachi no koro
Set #2 (from 14:00): arcorhyme's aoi neko / hatachi no koro / Never fall in love again / You really got me / Yano Akiko's hitotsu dake / arcorhyme's amai hibi ~la douce vie~
Last time I had requested Rough Sketch from their album "amai hibi ~la douce vie~" and even though they said that it was difficult to play acoustically (it's a rather upbeat song), they were very kind to open their first set with it! I also loved the cover of Yano Akiko. I'll have to check out the original (here's a live version on YouTube).
Takanami-san had also brought some records from his collection (that he has double or triple copies of), which he was selling in a flea-market theme. All were non-Japanese, 60's-ish music. I grabbed The Shocking Blue's "Venus" (7"), Bay City Rollers' "I Only Want To Be With You" (7") and Quincy Jones and his Orchestra "At Newport '61" (12"), all Japanese editions, total ¥1000!
It seems like this afternoon show is going to be a regular monthly thing, as it will repeat again next month on May 18th (Sunday). That one will feature Hase-san accompanying on piano! And next will be their big show on May 24th at Star Pine's Cafe. Can't wait!
Posted on April 20, 2008 at 21:10 | Permalink | Trackback (0) | Comments (0) | Tweet |
---
April 19, 2008
Limited editions are limited (Perfume)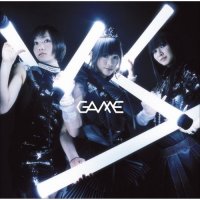 Two days ago, Perfume's "Game" album was released, in two editions: limited and regular. Lately there are often limited editions including a bonus DVD, for a few extra hundred yen it gives fans a reason to get the album and get it early. I had seen lots of people lining up to buy it on release day, but at that time I had kind of renounced. So far I hadn't bought any Perfume, even though I love capsule (I have most albums) and all of Nakata Yasutaka's works (including Perfume). But for Perfume so far I had been happy with the videos I saw on YouTube, and I felt like I had missed the boat with previous releases most of which have gone rare.
Today I got an email from someone (you know who you are!) asking for help getting the limited edition of Denki Groove's "J-POP" album. The album came out at the beginning of the month, and I'm not surprised that the limited edition is already gone from major online retailers, and it's probably about nowhere to be found in shops too.
So that reminded me of Perfume, and I looked up the online shops and the limited edition was already gone everywhere! It was also being sold at a higher price at Amazon Marketplace and Yahoo Auctions..! Two days after release! Well that was enough to make me crave for it, and I went "hunting" tonight. While some shops I checked were already sold out of the limited edition, I was lucky to find a shop where there were still several dozens of it (Tower Records Ikebukuro).
I could have saved a bit more by pre-ordering it at Amazon, but I'm happy to have found my copy for retail price. So this teaches a lesson: always pre-order those limited editions!
Oh, and I haven't even yet listened to the album, but I've watched the DVD and I'm impressed with the girls' tight choreography at their Liquid Room live show! If you don't know yet, it's official that Perfume are really the big thing in techno-pop right now.
Enough talk, here's Perfume's video for "Secret Secret", a tie-up with Pino ice cream!
Posted on April 19, 2008 at 00:19 | Permalink | Trackback (0) | Comments (0) | Tweet |
---
April 16, 2008

Miyajima

Tatsuo "Art In You"
On Saturday we got up early and headed to Mito, Ibaraki, where we checked out Art Tower Mito in the morning. While outside of Tokyo, this modern art museum often has great shows, and we try to catch as many as possible.
Currently showing is LED digits artist Miyajima Tatsuo's "Art In You" exhibition. I had seen his works before a few times at other museums, and there's also an outdoor wall with huge digits called "Counter Void" that can be seen outside TV Asahi near Roppongi Hills.
This time, the most important new work displayed is "HOTO", a tower of mirrors with thousands of colored digits stuck on them. There are several levels of all heights and sizes, all stacked up to a total of 6 meters! As with other of his works, all digits keep counting up or down at different speeds, and some digits reflect in mirrors from other levels. I just wished each level would spin individually. :)
Also taking prominent space in the gallery is a collection of large photos of people in different places, each with a digit on their body, under the title "Counter Skin". According to the pamphlet, each person picked their favorite number.
Aside from that, there is an impressive dark room with linked counting red digits around it, titled "Death of Time", various paintings by the artist, and "Death Clock" computer installations which show photos of participants and a clock that counts down to their death time in the future (a moment chosen by each of them).
On the way out was a room promoting nattō (fermented soy beans Mito is famous for), a whole publicity campaign complete with original song and music video, that looks like it's straight out of a kids' TV show, and a corner to sit and watch... Only it's not a real campaign but the works of artist Iida Yoshino. That was truly a lot of fun as we were tricked about whether the nattō packages are real and for sale,.. well at least her DVD was. :)
Here's her fake talent agency. (All of these girls are the artist herself.) There are a few YouTube links to be found there, but not yet of the nattō song.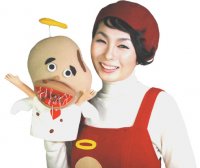 ---
Miyajima Tatsuo's "Art in You" exhibition
At Contemporary Art Center, Art Tower Mito (Mito, Ibaraki pref.)
Until May 11
More details at Tokyo Art Beat
Larger sizes and more photos at Flickr
Posted on April 16, 2008 at 23:16 | Permalink | Trackback (0) | Comments (1) | Tweet |
---
April 14, 2008
fukuwauchi by
Shindō

Mitsuo

Shindō

Mitsuo's calligraphy exhibition, titled

"fukuwauchi"

(福は内, from the "oni wa soto, fuku wa uchi" phrase used at

Setsubun

). It's held in a small space on the 8th floor's Femme Maison part.

I followed various large flower bouquets to the entrance, and carefully looked at each artwork, doing my best to read what I could and then completing by reading the cards beneath each (which had both kanji and rōmaji text). Most have a touch of humor, like the one from the title, 「福は内」 (luck goes inside), where he placed the 福 character inside of 内. It was a funny surprise to find one in English, saying "the world must change".

I made my way to the merchandise counter where square postcards were sold. I got a set of 3, but when I ordered these in Japanese I was met with surprise, and a person at the counter asked me "You understand Japanese? Do you know Shindō-san? He's here!" I said that I'm a big fan and would love to say hi! I was truly surprised and excited. "Wait a minute", the girl told me. It turned out that she's one of his designers at CTPP, and she soon came back together with the man who greeted me kindly and asked me if I'd have coffee with him!! You bet!!

Soon we were all at the small café across. He quickly asked me my name (why did I run out of business cards!), and proceeded to transform it in kanji: 巴都陸 (巴 from Paris, 都 = capital, 陸 = land). I like it! Quite different than what I had got most of the time until now.

For near an hour (not too sure, as I had lost track of time a bit) we talked about all kinds of topics like design, music, Konishi-san, Nomiya Maki's recital, Japanese language, calligraphy, etc. He said that he thinks too many recent designs feel dark and negative, and especially that being that our Earth is deteriorating, he says that we need a lot of happier designs and that's what he tries to do with his work.

He also took time to explain me some of his calligraphy artworks. Like 大福 (daifuku, a Japanese sweet of rice cake filled with red beans paste), for which he stuffed 福 (means "luck") inside of 大 (means "big"), as if the red beans would represent luck. He also said that it was his first time trying this kind of calligraphy, a sort of one-time new experiment. Oh, and I had the good idea to get his autograph while at it!!

About Konishi-san he said that while many people praise mostly his music, he thinks he's Japan's best lyricist. I sure can relate to often having very strong feelings after finally understanding the meaning of P5 lyrics. (Oh and speaking of music, I heard some really amazing music news for this summer, but I'll keep these secret until official press releases come... Patience!)

Well that was a really great time with these very nice people. I'm so happy that I was at the right place at the right time! Thank you so much Shindō-san and A.-san!
---
Shindō Mitsuo's "fukuwauchi" exhibition is open until tomorrow Tuesday at 18:30!
Make it if you can!
All details over at my agenda
Larger sizes and more photos at Flickr
Posted on April 14, 2008 at 23:59 | Permalink | Trackback (0) | Comments (4) | Tweet |
---
April 13, 2008
koinobori
We spent the weekend in Ibaraki. There were already traces of koinobori (Wikipedia), fish-shaped wind socks that are put up to celebrate Children's Day (May 5). These tend to be much bigger in the countryside than the ones we see in Tokyo.
Posted on April 13, 2008 at 23:47 | Permalink | Trackback (0) | Comments (0) | Tweet |
---
April 10, 2008

Nomiya

Maki Recital vol.2 ~Eleganceholic~: report

On Saturday evening, I went to see Nomiya Maki's recital "Eleganceholic" at Spiral Hall in Aoyama.

This entry is FULL OF SPOILERS about a great show that maybe you will get to see someday (tour? DVD?).
Read on only if you don't mind.
ネタばれ注意!

Posted on April 10, 2008 at 21:36 | Permalink | Trackback (0) | Comments (6) | Tweet |
---
Go Kung Fu kun!
The other day I happened to catch Zhang Zhuang, a youngster who fights à la Jackie Chan, promoting his movie "Kung Fu kun" ("Kung-Fu Kid") on a weekend afternoon TV variety show. The kid did a quite impressive demonstration where he dodged and defeated men in black.
Everything was alright until he got back together with the other guests. His head was bleeding and the people around him did little to help him. The obasan next to him, who also acts in the same movie, has her hand full of blood and is still telling him "He's alright! It's nothing!" and going on with promotion talk. What!!!? His head is dripping blood!
Thanks to YouTube, here it is for you to see for yourself!
Whoa.....! But don't worry, he came back towards the end of the show and he seemed ok! Whew! :)
The movie "Kung Fu kun" (Japan, 2008, directed by Oda Issei) is playing all over the country, ending this week in most places. It will be at Shibuya Amuse CQN until the end of the month. I'm tempted to go check it out!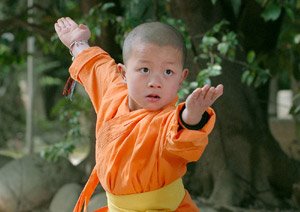 Kung Fu kun official site
Details in English at Eigapedia
Posted on April 10, 2008 at 00:15 | Permalink | Trackback (0) | Comments (0) | Tweet |
---
April 9, 2008
KAMI exhibition in Ebisu
Saturday was a wonderful day. Very nice weather! It looked like sakura season will be ending in a few days, and in many places there were petals falling constantly. It's the nicest time for hanami.
We started by heading to Ebisu. Our first stop was at taiyaki shop Hiiragi. They only serve traditional taiyaki (red beans inside fish-shaped paste). Those were really delicious, just the right crispiness, and not too hot or too cold. Great taste! No wonder there was a line of people waiting, but the wait was short and definitely worth it. The shop is located just nearby Tako-kōen.
We then went to check out street artist KAMI's exhibition at Gallery Point, located nearby the Peacock supermarket, an area with quite a bit of graffiti. Exhibited are some very recent works from this year, paintings and some wood works. My favorite was a wood piece consisting of 8 triangles, which I believe one could arrange as they wish. The background was light-colored wood, with KAMI's curved lines cut in dark-colored wood stuck over it. That one wasn't for sale, not that we'd have the means to buy it (or proper space to display it). :) Also, at our surprise the artist was even there and we could tell him how much we like his works. Photos weren't allowed, but you can find one here at Flickr.
Then we walked towards Hiroo, near where is located Tenement, the café of fender rhodes player Ino Hidefumi. It was the first time I went there, although I had been curious about it for a long time. A few years ago Konishi Yasuharu had a monthly event there in the afternoon where he would DJ. I regret I've never been to it.
Anyway the café was very nice, cool interior, good music, and good food!.. if maybe a bit pricey. The front was open and we could feel a nice breeze. I had Japanese-style dry beef curry. It was my lunch time at about 3pm, because dinner was going to be a bit late...
Then we walked through Azabu-Juban, stopping at Naniwa-ya which claims to be the originator of taiyaki, and next Roppongi Hills, where we checked out an Okinawan food fair.
Soon after, I arrived at Aoyama Spiral where I was going to see Nomiya Maki's recital!! (To be continued...)
KAMI exhibition
Gallery Point (1-4-7 Ebisu-nishi)
Until April 13, from 12:00 until 20:00
Free!
Larger sizes and more photos at Flickr
Posted on April 9, 2008 at 12:17 | Permalink | Trackback (0) | Comments (0) | Tweet |
---
April 7, 2008

Hasebe

Novko w/

Isoda

Osamu live report

Yesterday afternoon I went to Kichijōji with friend Peter, visiting from Australia, and we went to check out a day-time show at Manda-La2. It was Modern Choki Chokies' Hasebe Novko with husband Isoda Osamu. It was their first show in about three years! They were opening for a latin/jazz instrumental band in which their friend plays drums.

Novko and Osamu were accompanied by their usual band mates, Buntarō the panda and Koalatarō. They might be a bit quiet but they're essential to the show. :) The show went along the lines of the ones I had seen before, with a backtrack played on CD, Novko singing and dancing eccentrically, and Osamu playing skillful guitar.

The set was mostly songs from Novko's first album "Pandaman" (2000). It was great to see them again after all that time. The fun songs are still stuck in my head. Between the songs they talked quite a bit too. They presented Buntarō and Koalatarō as "over 3000 year old" and "over 500 year old" respectively, wow! :)

Next up was Sekai Chizu, a jazz session band with some latin flavor, with vibraphone, piano, electric bass and drums. They played a selection of covers (some Chick Corea, Sting and Michel Camilo) plus 3 original songs. Instead of an acoustic vibraphone, player Suzuki Chie used a midi controller, it was the first time both of us saw such a thing. Drummer Miura Chizuko was also amazing. The show was fun, very talented musicians playing upbeat jazz.
From left to right:
Morikatsu
Satoshi (piano/keyboards),
Suzuki
Chie (vibraphone),
Umetsu
Shigeharu (bass) and
Miura
Chizuko (drums)
Even though the two sets were of completely different styles, both fit in our interests and we had a great time!
Larger sizes and more photos at Flickr
Posted on April 7, 2008 at 21:57 | Permalink | Trackback (0) | Comments (0) | Tweet |
---
Email trouble
Last night I had some email trouble, so if anyone emailed between 20:00 and 2:00, the email probably bounced and got lost. When in doubt, please resend
Everything is now back to normal, it seems.
---
What happened is that I transferred registrars for this domain name, to something cheaper, and once the transfer kicked in they didn't keep my original name server settings! They set the name servers to their own, effectively preventing email from arriving to destination, and eventually maybe also making my web site become unaccessible.
I'm glad my friend Nick forwarded me a bounce error to another address, which made me realize that I hadn't been receiving anything for a few hours. Then I found the culprit, switched back the name server settings, but it again took about an hour for the change to complete. Whew!
I'll have to make sure somehow that this doesn't happen next time I transfer a domain.
---
On a lighter note, fun posts about the weekend coming soon!!
Posted on April 7, 2008 at 07:15 | Permalink | Comments (0) | Tweet |
---
April 6, 2008
Sakura #5: Inokashira-kōen
Sakura in Inokashira-kōen, Kichijōji, where I went to have a walk with my Australian friend Peter. The season seems quite near its end, so I'm afraid these are the last sakura photos for this year.
Larger sizes and more photos at Flickr
Posted on April 6, 2008 at 20:15 | Permalink | Comments (0) | Tweet |
---
April 2, 2008
Sakura #4: Mitsugi-kōen
Today's sakura is from Mitsugi-kōen in Maenochō, Itabashi-ku. The park contains a large lake where people sometimes fish... I wonder what there's to catch in there.
Larger sizes and geolocation at Flickr
Posted on April 2, 2008 at 20:46 | Permalink | Comments (0) | Tweet |
---