Blog - April 2011 Archives
April 2011 Archives
Index


.23 Farm Party #6 - DJ 810's set list


.10 Sakura in Kunitachi



.03 Hints of sakura, and Okamoto Tarō

---
April 23, 2011
Farm Party #6 - DJ 810's set list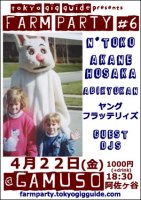 Tonight I had the chance to DJ at event Farm Party #6 held at Asagaya GaMuSo, and organized by Tokyo Gig Guide! This time I was listed as DJ 810 ("DJ Pato"), and played a 30 minute set between Hosaka Akane and Young Fratellis.
Here's my set list:
fushigi na fushigi na mori no naka (from Kurekure Takora)
 不思議な不思議な森の中(クレクレタコラより)
I Love The Rain / Hideki Spaghetti
Caramel kyokugeidan / Pom Pon Dahlia
 キャラメル曲芸団 / ポンポンダリア
Computer obaachan / Frenesi
 コンピュータおばあちゃん / フレネシ
shinkū Kiss / Apogee & Perigee
 真空キッス / アポジー&ペリジー
The Island of Curiosity / Halfby
Disco4.5 (Asyk Mix) / Dorian
Dentaku / Comoestas feat. Baroccorins
 電卓 / Comoestas feat. Baroccorins
I had especially a lot of fun watching all the other bands! I'll write a report with photos shortly at Tokyo's Coolest Sound.
Thanks a lot to Craig for inviting me! That was a really farm party!
Posted on April 23, 2011 at 01:05 | Permalink | Trackback (1) | Comments (1) | Tweet |
---
April 10, 2011
Sakura in Kunitachi
Today we had some great weather, and it's also the peak of the cherry blossoms season so we went to enjoy the sights on the main street south of Kunitachi station (Chuo line).
Then we went to the north side to check out a ceramics gallery and antique furniture shop. The station is the shortest way between the two sides of the tracks, and people wanting to cross with a special card are provided with a special card that allows going from one gate to another without needing a train ticket.
We also dropped by tiny postcard shop Fujikawa Ehagaki where owner Fujikawa-san creates his drawings and paintings in his atelier in the back. Many of his works include trees and birds and other animals. We were intrigued by this small cat that was together with things he had for sale, but turned out it was just a decoration. He suggested I'd take a photo with the camera that hung from my neck. :)
At the end of the afternoon we went back to the south side and headed for a place called "Hiraya Gallery" of which we had picked up a flyer of just earlier. Turned out it's an old house that's set to be torn down soon, and the people who live there have changed it into a small gallery in order to share it with others. It reminded us of Asagaya jūtaku. Hiraya Gallery can still be visited for the last time on April 17, see the official blog for details.
Larger sizes and more photos at Flickr
Posted on April 10, 2011 at 23:39 | Permalink | Trackback (1) | Comments (1) | Tweet |
---
April 3, 2011
Hints of sakura, and
Okamoto

Tarō

Yesterday was some really nice spring weather, though today is a bit colder again. Still we're starting to see hints of sakura here and there, such as these trees seen in Jinbōchō.

We then enjoyed a lunch nearby at Restaurant Shichijō, a restaurant that's been around for 35 years in the underground floor of Shōgakukan building, before heading to The National Museum of Modern Art to see the Okamoto Tarō exhibition celebrating the artist's 100th birth anniversary (see this site to see more of his works).

Tarō was an influential artist who made many statues and paintings that are still very impressive today. He was against the thought of selling his art, which conceals the art for only one person's enjoyment, and rather prefered to make art that can be seen publicly. That's why many of his statues can be seen around Tokyo, as well as the huge mural painting that was retrieved from Mexico a few years ago and is now displayed inside Shibuya station. His most notable work is the great "Tower of the Sun" statue that was made for Expo '70 in Osaka and can still be seen in the Expo Park (see my post about my trip there). The exhibition was really nice, and very crowded too! We ended up getting these small toy figures sold in gacha-gacha vending machines, and also some small plates and post-it bookmarks.
Next we walked down to Kasuga for a drink at Corb, a small café/gallery that has some great scones and bread! We've been there almost everytime we pass in the area. Unfortunately it will be closing at the end of April.
Last, here are a few random photos: Dr. Nakamats' political campaign truck, a Pipo-kun family poster promoting cycling rules, and a poster at supermarket Ozeki showing off its brand new staff uniforms.
Larger sizes and more photos at Flickr
Posted on April 3, 2011 at 23:26 | Permalink | Trackback (0) | Comments (1) | Tweet |
---