Blog - April 2005 Archives
April 2005 Archives
Index

.30 YMCK for free



.29 Sakura #3: Itabashi


.26 Help! IE ate Firefox


.14 MeroMero #6


.13 Ikea Kōhoku



.11 Sakura #2: Tsukishima and Hamarikyū gardens



.07 Traffic robot


.05 Canada Post bouncing frenzy




.04 Sakura #1: Shinjuku Chūō-kōen


.02 Groove Room


.01 Princess Tomato

---
April 30, 2005
YMCK for free

Today I went with friend Miwa to see the free YMCK show at the new KDDI Designing Studio.
YMCK played songs from Family Music and also about 3 new songs, including one called something like "??? Radio Reaction" (I couldn't see the first word because of a head — see below), and a sort of new theme song that went "YMCK, let's go!" and had some fun clapping crowd interaction.
The big inconvenient about the space used for the show is that the stage is located "below", and those who couldn't get one of the 40 reserved seats (given to the first arrived, out of 150) had to watch standing at a flat upper level, meaning that anyone who's not right at the front probably couldn't see much at all, if anything.
This being our case, we could catch occasional glimpses of YMCK's members, and the rest of the time watch the videos and VJ Kodama Yūichi's work. I was actually lucky to have a small gap through which I could watch cute Midori most of the time. I was also surprised to see Nakamura-san without a hat for the first time, he has long hair!
As for the the VJing, it did look good, and I'm sure it was a lot of work to prepare the clips used. However aside of one new song with cool Famicom-like animations (not sure if it was this VJ's work?) I thought that YMCK's usual videos fit their music better since they're all sync'd up.
Since the new songs probably don't yet have video though, I guess it was much better than nothing at all... especially for us on the second floor.
That was a very fun show, and all free!! Thanks KDDI!
Now off to Enban for the last Giragira Night!
Posted on April 30, 2005 at 23:12 | Permalink | Trackback (1) | Comments (6) | Tweet |
---
April 29, 2005
Sakura #3: Itabashi
These come a bit late, as all sakura has fallen down already a while ago, except for a hint of remaining yaezakura (a type that shows up a bit later). I took these on April 7 in Itabashi-ku.
This first set are of Jōhoku-kōen, where I had also taken pictures last year.
This second set was taken by Shingashi-gawa, nearby Heisei-bashi. I like the contrast of nature and graffiti on the second one. The bridge seen on the 3rd picture is Shimura-bashi.
That's it for this year!
Posted on April 29, 2005 at 13:42 | Permalink | Trackback (1) | Comments (2) | Tweet |
---
April 26, 2005
Help! IE ate Firefox
Gotta hate when Windows mixes-up my icons, which happens every now and then... but this is the worst I've seen so far.

(Boring post after such a long time. I'll post more soon!)
Posted on April 26, 2005 at 11:49 | Permalink | Trackback (0) | Comments (6) | Tweet |
---
April 14, 2005
MeroMero #6
If you haven't yet, check out Jens' MeroMero #6 (aired on April 7). This time we get a 1-hour Towa Tei special to celebrate the release of his new album "Flash".
MeroMero06: RealAudio
I was initially supposed to make a short appearance on this show, but because of technical problems it didn't make it. Better luck next time!
Here is my bit anyway, separately.
MeroMero06 Annex: Streaming MP3 (1:22)
(Excuse this late announcement. Better late than never...!)
Posted on April 14, 2005 at 00:53 | Permalink | Trackback (0) | Comments (3) | Tweet |
---
April 13, 2005
Ikea Kōhoku
I've been given this tangible proof of the upcoming Ikea Kōhoku to be built in Yokohama, Kanagawa prefecture!
This is a masu (wooden cup for drinking sake) such as used in the ground-breaking ceremony held last week.
Both this second store and the previously announced Funabashi (Chiba prefecture) store are set to open in 2006.
Ikea Japan
Ikea Kōhoku press release (Japanese)
Posted on April 13, 2005 at 00:37 | Permalink | Trackback (0) | Comments (12) | Tweet |
---
April 11, 2005
Sakura #2: Tsukishima and Hamarikyū gardens
These are my sakura pictures from this weekend. We were in the Tsukishima (famous for monja-yaki) and Tsukiji (Tokyo's largest fish market, where we ate delicious fresh sushi), and went to Hama-rikyū gardens, a large park with an entrance fee. The park not being mainly sakura trees I should be posting more pictures of it soon.
Photos: 1. View from Tsukishima bridge, which you can compare with this one from January (1024x768), 2. Sakura tree, in Hamarikyū gardens (1024x768), 3. Sakura over lake, in Hamarikyū gardens (1024x768)
Posted on April 11, 2005 at 08:43 | Permalink | Trackback (0) | Comments (3) | Tweet |
---
April 7, 2005
Traffic robot
Old school flat traffic robot seen last weekend at a construction space on Yamate-dōri around Hatsudai.
Despite the looks, this one's arm does move!
Posted on April 7, 2005 at 08:47 | Permalink | Trackback (0) | Comments (5) | Tweet |
---
April 5, 2005
Canada Post bouncing frenzy
I'm quite disappointed of Canada Post. Since a few weeks ago they seem to be bouncing my packages to Canada because of "no sender name in English or French", or in other words not written in alphabet.
I've always sent packages from here with a return address in Japanese except for the country name, since that's more helpful to the Japanese postal service in the event that the package is returned.
Canada seems to have been getting always stricter lately when it comes to mail. Last year my local post office was telling me to write the exact number of articles on the air mail customs declaration form (detail which isn't required for other countries), and they also require fine precision regarding contents such as explained by Japan Post here (there has been no such notice for any other country).
Anyway I've been doing an effort to always comply to their silly caprices, but this is the first time that something actually bounces, and I'm quite pissed off about the waste of time and money...
Posted on April 5, 2005 at 23:21 | Permalink | Trackback (0) | Comments (16) | Tweet |
---
April 4, 2005
Sakura #1: Shinjuku Chūō-kōen
Finally, spring is here and Tokyo is slowly (but surely) getting pink!
This year again I'm planning to take sakura pictures in a few different locations.
Yesterday we had great weather, and we did a nice bicycle ride through Higashi-Kōenji, Shinjuku and down to Ikejiri-Ōhashi in Meguro-ku. The first place where I found a substantial amount of sakura was Shinjuku Chūō-kōen, of which my best shots are below.
You can see the Shinjuku Park Hyatt hotel, which was featured in "Lost in Translation", in the center of the first picture.
Also a few close-ups in my moblog.
Posted on April 4, 2005 at 14:25 | Permalink | Trackback (0) | Comments (5) | Tweet |
---
April 2, 2005
Groove Room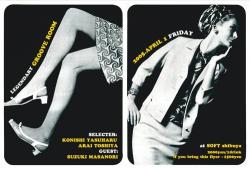 Last night I went out to "Groove Room" with some friends, a recent event featuring DJs Konishi Yasuharu and Arai Toshiya (Kofta), with guest DJ Suzuki Masanori (April Set).
The event is held at Shibuya Soft, a tiny bar with white interior.
I had my share of meeting interesting people, as aside from Arai-san and Konishi-san, Yoshida Tetsuto (Orangers, and also full-time programmer for Konishi Yasuharu), Nakata Yasutaka (capsule) were also there!
Today we're off to Fuji TV in Odaiba to attend a recording of the show Factory, a show that simulates a live house. Artists will include Tei Towa feat. AFRA and Yukalicious, Plastic Sex (the new project of Plastics' Nakanishi Toshio feat. Nomiya Maki on vocals), Dengeki Network (aka Tokyo Shock Boys), and Ram Rider.
It should be fun, but it should also be tiring, if I remember correctly my experience going there to see a Pizzicato Five tribute show in May 2002.
By the way, the new Tei Towa album, "Flash"

, is great!! Check it out.
Posted on April 2, 2005 at 15:22 | Permalink | Trackback (0) | Comments (3) | Tweet |
---
April 1, 2005
Princess Tomato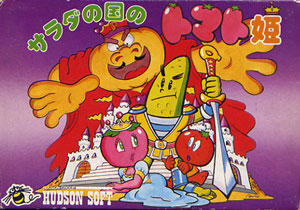 Since a few days I've been playing サラダの国のトマト姫 (Salada no kuni no Tomato hime, or "saratoma", English NES title "Princess Tomato and the Salad Kingdom") on my AdFami. I found it for ¥200! I had played this game a lot a long time ago on NES, and it's a lot of fun to play it once more!
The AdFami has slightly bad rendering when it comes to small text, but since Tomato hime is a text adventure sort of meant for little kids, it has large and clear text, mostly in hiragana too (actually I think most Famicom games are in kana). So far I've been recalling each scene when seeing it again, but I don't remember the story line enough to know what to do next. The great music is also a lot of fun. Oh, and it had been a long time since I had last written down a password from a game screen.
Searching on the Web about this game, I found out that it first was a PC game released in 1984 by Hudson Soft and sold on a tape. It was apparently a hit despite the very bad graphics. This walkthrough page (I am forbidding myself from reading any of it) shows some differences between the old and new graphics. The general does look tougher in the PC version.
The Famicom game released in 1988 was essentially the same but the story was changed a bit to give it more twists, music was added, graphics were all redone and made much cuter.

I also found out that the game was recently redone into a 3-chapter version for keitai. In 2001 it was released for DoCoMo i-Mode (¥300/month, you can use the QR at the right), and last year for au/EZweb Brew (¥99/chapter).
So now I've downloaded the i-Mode version and am planning to play it in parallel with the Famicom game. Although the story may be similar, it's not identical so it should be interesting to see the differences.
The English NES game can also be played on the Web as a Java applet.
Posted on April 1, 2005 at 17:45 | Permalink | Trackback (0) | Comments (3) | Tweet |
---