Blog - May 2013 Archives
May 2013 Archives
Index
.29 Weekly revue: 2013 week #21 (May 18 to 24)
.19 Weekly revue: 2013 week #20 (May 11 to 17)
.11 Weekly revue: 2013 week #19 (May 4 to 10)
.04 Weekly revue: 2013 week #18 (April 27 to May 3)

---
May 29, 2013
Weekly revue: 2013 week #21 (May 18 to 24)

Last week marked the arrival of something I thought was lost, a wonderful care package from our friend Kinga in Poland! It took half a year! See Kinga's original artwork at her online shop.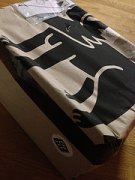 Also I've been rather busy, which is why last week's post comes so late, and I'll have to catch up updating Tokyo's Coolest Sound. See what you might be missing on the release calendar page. (Such as the new Negicco single produced by Konishi Yasuharu! See the video below.)
Food: - Café Arie in Shin-Okubo, reusing an old house (aka Shinjuku White House) that has the oldest stainless kitchen sink in Japan
- Café momo Gärten (Facebook page) in Nakano, which also reuses an old "nagaya" building
- And a visit to Die Katze, a café in Shinjuku where the boss is a cat named König (pictured is another one called Kaiser)
Music event: On Konishi day (5/24), I went to see Konishi Yasuharu spin at department store Isetan. He was accompanied by Taque Miyazato (aka Petit Konishi who toured with Pizzicato Five in 1999) and they did a 2-hour 7"-only back-to-back DJ set!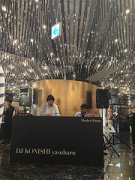 Playlist: bice, InK, Takako Minekawa & Dustin Wong, Scooters, Hosaka Akane, Takanami Keitaro to Playtime Rock meets Shibata Kenichi, Chiroline ver.2, Pizzicato One, Kaji Hideki
This week's video: Negicco "Idol bakari kikanai de" (full version performed live)
Posted on May 29, 2013 at 08:22 | Permalink | Trackback (0) | Comments (0) | Tweet |
---
May 19, 2013
Weekly revue: 2013 week #20 (May 11 to 17)

Food: - Had a nice dinner course at Re:gendo in Nishi-Ogikubo. The restaurant opened in 2011 beautifully reusing a traditional Japanese house (kominka). The food was good and reasonably priced too!
- Macaron et chocolat, Nishi-Ogikubo. It was a rainy day and they gave customers a special tiger macaron rusk.
- Quesadillas, nachos, etc. at mexican restaurant El Quixico, Nishi-Ogikubo

- Also I went to Yoyogi Park at 8:30am on a weekday for a breakfast surprise picnic party for a friend! We all brought some food and had breakfast together before going to work. The weather was just right and it was a great way to start the day! :)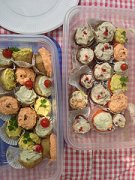 - Not food, but while in Nishi-Ogikubo we visited "a small shop". As the name says, it's a small shop, which sells various things by different craft artists. The owner is a clothes designer (the brand is called "a" (read "small a")) and her works are also displayed and sold at the shop.
Live event: I went to see The Scooters live at mona records, Shimokitazawa, the neighborhood of leader Shindō Mitsuo. The place was packed, and the show was just wonderful! I'm so glad I could see and hear this again: the girls' voices and saxophones, Shindō-san's glockenspiel, Turban's entertaining personality, and Sally Kubota's bass, etc. I'm looking forward for more from The Scooters!
1st set: Intro / Stop! In the Name of Love + Motown medley / Love+Love / L.O.V.E (Nat King Cole cover) (Turban Chana Jr. on lead vocals) / Breakaway (cover of Irma Thomas) (Lucy on lead vocals) / Loveless / Ghost (Jackie on lead vocals) / Theme of The Scooters
2nd set: Heat Wave / kanashii uwasa / Hey girl / kamisama onegai / Remember / You can do that (cover of The Beatles) / Shout
Encore: Tighten Up (cover of Archie Bell & The Drells) / Tokyo Disco Night
(For a full report of another show of theirs, go here.)
Music release news: fox capture plan, lyrical school
Playlist: Maezono Naoki Group, Vanilla Beans, Breakbot, Takako Minekawa & Dustin Wong, Kyary Pamyu Pamyu, Kinoco Hotel, hitomitoi, Nosa Reina, The Scooters
Posted on May 19, 2013 at 12:41 | Permalink | Trackback (0) | Comments (0) | Tweet |
---
May 11, 2013
Weekly revue: 2013 week #19 (May 4 to 10)

Last week was Golden Week! 4 public holidays stuffed in one week, although this year two fell on a weekend (one shifted to a Monday), so there were a total of 3 days off. This year they were separated by 3 normal weekdays, giving for 2 long weekends (3 days and 4 days). Some people take those days off to enjoy a long vacation (so did I last year), hence the Golden Week name. This year I just enjoyed the two longer weekends.

Outing: - We went for a ride on the latest (2nd) boat designed by Matsumoto Leiji (Galaxy Express 999, Captain Harlock (Albator), Interstella 5555, ...)! Its name is Hotaluna, and it's bigger than the previous Himiko. Hotaluna has a feature to let people go on the roof! The route has two legs to choose from, Asakusa-Hinode and Hinode-Odaiba. We went from Hinode to Asakusa, and maybe because of the number of bridges on the way, access to the roof was closed. Still a very nice ride on a cool spacey ship, and it's a fun alternative way of transport. We'll have to go for Odaiba next time. :)

- On the way we got closer and closer to Tokyo Sky Tree, and since we hadn't been nearby since its opening we decided to walk there from Asakusa. This time we only looked at it from below, maybe the best way to enjoy it. We also spent some time looking around its Solamachi mall. All restaurants were crowded so we wended up at a small local Chinese restaurant not far.

Food: - We went again to Tapir. in Shin-Okubo, this time to enjoy the 2nd half of the food trading event. In the 1st half customers gave various kinds of food, and in the 2nd half that food is used to make many different things (the menu changes throughout the day). It was great! We even tried going one more time but it was already closed.
- I can never resist trying a black forest cake. We found this one found at Park Hyatt's Pastry Boutique. Very good (pricey though), though no cherries inside, just jelly.
- Later in the week I had another black forest cake from Sangenjaya's Octobre, it was great!

Music release news: Cold Name, (((sssurrounddd))), Nakatsuka Takeshi, Ino Hidefumi, Kyary Pamyu Pamyu, Perfume

Playlist: Kinoko Hotel, Rcoride, YMCK, MoliquL, Towa Tei

This week's videos:

Vanilla Beans "Muscat Slope Love" (produced by Kaji Hideki!)

Kyary Pamyu Pamyu "Invader Invader"

Posted on May 11, 2013 at 13:36 | Permalink | Trackback (0) | Comments (0) | Tweet |
---
May 4, 2013
Weekly revue: 2013 week #18 (April 27 to May 3)

Food: - Chicken cutlet lunch plate at Newport, Yoyogi
- Lunch at Tapir, Shin-Ōkubo. This weekend is a two-part event, during the first two days customers bring some food (something non-cooked and that doesn't perish too soon) in exchange of a free meal, and during the last two days the restaurant makes a menu from the food that people brought, and the price paid is decided by the customer. A very strange system, especially to people who enter the restaurant without knowing. :)

Photos:

Exhibition: - Went to see suzueri's "recursion piano" installation at Gallery 20202 in Yoyogi. A number of modified toy pianos are chained together in different ways, eventually a key is pressed and a signal of some form is launched towards the next piano, forming an endless loop (if things go well). The artist was there to tune things and explain the system.

Music event: - I went to see Vanilla Beans (with a live band!) and Kaji Hideki! My report is up here.

Music release news: tofubeats, Original Love, Muro, michirurondo, Kinoco Hotel, Sexy-Synthesizer feat. Chihiro, Vanilla Beans

Playlist: Vanilla Beans, Sunahara Yoshinori, FPM, Chromeo, "kimi ni naritai."

Tech: I started using iPhone app TrackRec which is a GPS logger that exports in GPX and other formats. It does just as fine as my good old hardware GPS logger (Sony GPS-CS1), actually it's even better, and it's free! I was able to use the data with my Flickr GPS Geotagger.

This week's videos:

ya-to-i "tonaeru yo"

Shizuoka prefecture promo clip w/ song by Hosono Haruomi & Cornelius, vocals by Pierre Taki (Denki Groove)

Posted on May 4, 2013 at 20:03 | Permalink | Trackback (0) | Comments (0) | Tweet |
---