Blog - October 2009 Archives
October 2009 Archives
Index


.15 Vietnam day 2 (cont'd): Cao Dai mass video



.12 Vietnam day 2: Cao Dai and Cu Chi tunnels


.12 New computer and the won't-boot mystery



.06 Vietnam day 1: Lots of scooters!



.02 One night Taipei: Pizza Cut Five and night market

---
October 15, 2009
Vietnam day 2 (cont'd): Cao Dai mass video
My video of a Cao Dai mass that I mentioned in my previous entry has been recovered thanks to Easy Photo Recovery that I talked about here. At first the software couldn't find the file because it was larger than its limit, but I inquired and they sent me a fix.
So here is that video!
---
The video above is posted using eyeVio, a Japanese online video sharing site ran by the company I work at (Sprasia). It's been debated that eyeVio offers better quality than YouTube!
Posted on October 15, 2009 at 22:02 | Permalink | Trackback (0) | Comments (0) | Tweet |
---
October 12, 2009
Vietnam day 2: Cao Dai and Cu Chi tunnels
On day 2, September 23rd, we had a booked bus tour that started at 8:30 AM. We woke up early and started the day by having breakfast at Hotel Continental's lovely inner garden.
Then we took a taxi to take us to Kim Café. The tour was only 240000 dong (approx. $12 USD or ¥1200) for the bus ride, not including the entrance to Cu Chi tunnels (75000 dong = $4 or ¥400).
The first destination was to be the Cao Dai temple, located some 100km away. Here are some photos taken along the way.
And then we arrived to the Cao Dai temple, located in Tây Ninh. Cao Dai is a religion founded in Vietnam in the 1920's, and takes roots from Confucianism, Taoism, Buddhism, Christianity and others. It has over 2 million adepts within Vietnam, and there are temples in places like Sydney (Australia) and Los Angeles.
The temple is in itself a tourist attraction especially because it's very colorful, and also the religion's God, the Divine Eye, is represented in various places making it very mystic to the uninitiated. Daily masses can be watched by tourists from a balcony in the temple.
First here are photos of the temple's exterior:
And here of the interior, where a session was taking place:
(I have a short video of this too, but it's been eaten by Picasa. Hopefully I can recover it later.)
Next we had a quick stop at a restaurant in the middle of nowhere. The food was alright!
That was on our way to our next attraction, the Cu Chi tunnels. Those tunnels were created by the Vietnamese during the Viet Nam war, to hide from the Americans. They contained pretty much everything necessary to live underground. Entrances were very hard to find, and the lands also contained lots of deadly traps for the unsuspecting intruder.
Now converted into a touristic attraction, this features a tour of the land, with installations showing how the people lived, an old destroyed tank, various traps, and a quick visit of a tunnel. The tunnel, despite having been made twice the size it used to be to accommodate the contemporaries, is still quite tight. Not going back in there..!
This is also the only place in Viet Nam where firearms can be fired. Visitors can pay a fee to shoot some guns from the war days. Some of our group seemed to have went mainly for that, but no thanks for me. :)
The way back home to Ho Chi Minh was rather calm, I just took lots of photos of the scenery... and more scooters! Try to find the one with 5 people!
Back in town, we took a taxi to restaurant Quan 94 (94 Dinh Tien Hoang, District 1) famous for its crab dishes. We had fried soft-shell crabs, fried rice with crab, fried spring rolls (with more crab?). All very delicious!
Back to the hotel, that was it for the day!
View the GPS route from Ho Chi Minh to Tây Ninh and to Cu Chi tunnels (Gmaps Pedometer)
View the GPS route from Cu Chi tunnels back to Ho Chi Minh (Gmaps Pedometer)
Larger sizes and more photos at Flickr
Posted on October 12, 2009 at 23:44 | Permalink | Trackback (1) | Comments (0) | Tweet |
---
New computer and the won't-boot mystery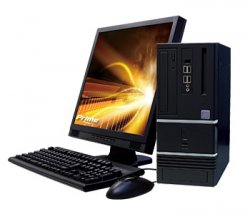 Did I forget to say that I got a new computer? A few months ago, it had already been a while since I was tired of my previous computer being quite slow, and I had related problems like audio recording not functioning properly. So I got a new one with an Intel Quad Core Q9550 2.83GHz CPU, 3GB of RAM, a GeForce 9500GT video card, and a new 1TB hard disk for dessert (as my data drive). :) I bought this for less than ¥80000 at Dospara. For the monitor I still use my Fukasawa Naoto-designed award-winning Mitsubishi that I love.
This new computer has been just super fast since! Boots up in some 20 seconds, and applications fire-up almost with no wait at all.
Anyway, since I got this computer, I've had a strange problem a few times. When booting up it would get to the point where Windows usually starts up (after BIOS doing its thing), but the screen would remain black with the DOS cursor would go down a few lines and blink, and nothing would happen.

It was first blamed on my boot hard disk that might not be spinning properly, and after the problem occurring intermittently, every time opening the computer to check the connectors, it got a bit scary as I didn't want to get to the point where it wouldn't boot anymore at all, so I upgraded my boot hard disk to a new one.
Well this morning it happened again, first time with the new hard drive, and then I found the culprit. Guess what, it was because a memory card was placed in my USB card reader, and for some reason the BIOS was trying to maybe boot from it, without asking anything...? Grrrr.
So that's right, when I opened the computer to look into the problem before, I was also removing the card reader, that's why it always came back to normal after. Ha!
Anyway, mystery solved. And I guess my old hard disk (160GB) can be used again safely too.
Posted on October 12, 2009 at 10:39 | Permalink | Trackback (0) | Comments (0) | Tweet |
---
October 6, 2009
Vietnam day 1: Lots of scooters!
After one quick night in Taipei, on Tuesday September 22nd we arrived in Ho Chi Minh City, Vietnam. At the airport we were after a taxi to get to the city, although I had read in our guide book that it's not so easy to catch one yourself, also because there are fake taxis and ones that won't use their meter. An easy alternative is to get a taxi ticket at a counter for a fixed fare to get to your hotel, beware though, right next to the $8 counter there's the $20 counter. We got our $8 ticket, and someone from the counter took us straight through the crowd to a designated taxi.
In HCMC it seems always possible to get by with U.S. dollars, but the exchange rate is approximate and not very good, and change is always in Vietnam's currency called dong. Currently 200,000 dong is roughly about ¥1000 or $10 USD. It takes a little time to get used to the huge numbers.
So our taxi took us to our hotel for the stay, Hotel Continental Saigon, probably the oldest hotel around, built at the end of th 19th century. We had a junior suite that was very nice and comfortable, the bathroom could have been a bit better. Some staff at the hotel was very nice and helpful, although the front desk wasn't quite so. We got there around 11:00 and our room wasn't yet ready, after waiting for a while and being told that it would take a bit longer, we went to have drinks at the hotel's restaurant.
After dropping our bags we were out. We first exchanged some Japanese yen to Vietnam dong downtown, at a place called "59" on Le Loi street that seems reputed to have good rates. Later we also found another good one at the corner of Mac Thi Buoi and Dong Khoi streets. Money can only be exchanged within Vietnam, as the currency isn't allowed to be traded outside of the country.
Then our first stop was for lunch at Wrap & Roll (62 Hai Ba Trưng St.), a restaurant popular with foreigners, where we had fresh and fried spring rolls.
Most of the day was spent walking around the city, ordering order-made clothes, and getting really tired by crossing streets with non-stop scooters. There aren't many traffic lights, and even when there are it's hard to rely on them. You just have to walk your way slowly through the flow of scooters and some cars. We didn't get used to it the whole time we were there and it was a bit of a stressful experience.
Here's a short video of scooters in Ho Chi Minh City. The traffic never stops!
During the day we had some strawberry and sugar cane juice at a small restaurant in the afternoon. For dinner we had pho at a chain called Pho24, which was clean and easy to understand with an English menu, but it wasn't that good. We also bought a bánh mì (vietnamese sandwich) at Như Lan, delicious but surprisingly spicy!
Another thing we did on Tuesday was to book a bus tour for the next day, at Kim Café (nearby Sinh Café that's very similar and probably as good), to take us to the Cao Dai religion temple and the war time Cu Chi tunnels. Nearby Kim Café was a Highlands Coffee that was quite nice and had free Wi-Fi. Actually there was a lot of free Wi-Fi in many places, more than in Japan.
To be continued...
View a short route that we walked towards the end of the afternoon on this day. (Gmaps Pedometer)
Larger sizes and more photos at Flickr
Posted on October 6, 2009 at 20:12 | Permalink | Trackback (0) | Comments (0) | Tweet |
---
October 2, 2009
One night Taipei: Pizza Cut Five and night market
Our trip to Vietnam last week took us through Taipei, Taiwan, where we stayed for one short night on our way to Vietnam. We arrived in Taipei in the early evening, and booked a room at Dahshin Hotel (also calls itself "Delight Hotel" although there seems to be a bigger hotel of that same name), not far from Jhongshan (中山) station. We then took a bus for 90 TWD (about ¥250) that dropped us not far from the hotel, where we dropped our bags. The staff was very welcoming, and it turned out that the hotel has mostly Japanese guests, and the staff also speaks Japanese very well.
One thing I had been most looking forward to about Taipei, since over a year when my friend William (based in Taiwan) had brought it up, is a T-shirt shop that's totally inspired by Pizzic*to Five!! The name is Pizza Cut Five, and their whole concept is based about selling T-shirts in pizza delivery boxes, plus they borrowed (cough) a bunch of designs from P5 too. Their recent designs have somehow shifted in other directions, but still some of their designs will make any P5 fan happy.
I was lucky to find a shop in a department store by Jhongshan station, and I kept the shop's girl busy until a bit past closing time. The other shops were all ready to close with their staff waiting for the chime, and even someone came to tell us to leave (though our shop's girl told them off). I bought 4 T-shirts at a discount price (the more you buy the cheaper), and got a free hat with that! All the boxes and bags are keepers too!
After another quick stop at the hotel to drop my shopping bags, we walked to a nearby night market with cheap food stalls, where we had been before (Ningxia Road Night Market = 寧夏路夜市). I had already had dinner on the plane, but there's always room for a 4th meal in a country with so much good food, even after having lost one hour from the time difference. :)
Bonus: a strange guy announcing free wi-fi at the airport.
The next morning we caught the first bus to the airport around 4:40, to catch our plane to Ho Chi Minh, Vietnam! To be continued...
Larger sizes and more photos at Flickr
Taiwan/Vietnam 2009 Flickr set
Posted on October 2, 2009 at 00:25 | Permalink | Trackback (0) | Comments (3) | Tweet |
---