Blog - September 2003 Archives
September 2003 Archives
Index

.30 The bike is back!


.29 Japanese lessons


.28 Rice fields


.25 Amstel Botel



.24 Amsterdam


.22 In Hong Kong!


.13 itte kimasu!


.11 Macaroni & Cheez Whiz


.10 Cheez Whiz


.09 Accident in the news


.09 Subway accident


.08 Kabuki


.08 Mothra


.06 Turbo Sonic


.05 Geisha



.04 Bridges


.02 Yamakasi


.01 Top searches for August


.01 All Look Same?

---
September 30, 2003
The bike is back!
On our return from vacation, there was a card in our mailbox saying that our lost bicycle has been seized because it was parked in a prohibited area.
Usually it costs ¥5000 (in Nakano-ku) to retrieve a seized bike, but we were lucky...
According to the police's data, the bike was seized the day after I had reported it as stolen, and it had still its lock on when Tomoko went to pick it up. Which makes me believe that it had been moved by someone, perhaps because it was in the way or something, where I wasn't able to find it.
Because I had reported the bike as stolen before it was seized, we were able to get it back for free.
What sucks is that it took a month and a half before they let us know that they took the bike, and we were sure it was not to be found and bought a new one.
The good news is that we had been thinking of getting a second bike anyway so we could ride together, so this situation just forced us to get this done.
Posted on September 30, 2003 at 10:35 | Permalink | Trackback (1) | Comments (0) | Tweet |
---
September 29, 2003
Japanese lessons
Today I began taking free weekly Japanese lessons at St. Ignatius Church in Yotsuya.
Since I came to Japan three years ago, it's the first time that I take Japanese lessons.
Aside from 8 months of lessons taken before coming to Japan, so far I had been learning Japanese only from talking at home and at work.
This time I've decided to make an effort to learn actively in order to improve my vocabulary and usage. The lessons I'm taking are intended for preparation to the Japanese Language Proficiency Test of Level 2 (the 2nd to highest level, out of 4).
I've created a separate blog for class notes in order to memorize better what I'm learning, and also so that I can review them while at work. :)
Posted on September 29, 2003 at 01:01 | Permalink | Comments (2) | Tweet |
---
September 28, 2003
Rice fields
Yesterday we went to country-side and I took these pictures of rice fields. This time of the year is when rice fields are harvested.
Harvesting machines, which look like small tractors, prepare the rice to then be hung to wooden structures for drying. I also saw some people harvesting manually.





Click the thumbnails for larger images.

Posted on September 28, 2003 at 12:01 | Permalink | Comments (1) | Tweet |
---
September 25, 2003
Amstel Botel
In Amsterdam we stayed at Amstel Botel, a boat-like hotel located on Amstel river, a few minutes of walk from Central Station.
I'm not sure whether it's a real boat though, they claim that it's floating but it seemed to have a solid foundation to the bottom of the river so that it doesn't sway.
We had a "basement"/water-level rather large room on the land side (oppositely to the nicer canal side), which offered us a less than pleasant view of some building in demolition. The staff was nice and helpful, and the included breakfast was a large buffet with a lot of choice. The convenient location made it a good deal at €84/night.




Click the thumbnails for larger images.
Posted on September 25, 2003 at 12:56 | Permalink | Comments (2) | Tweet |
---
September 24, 2003
Amsterdam
We arrived in Amsterdam on September 14 for a two night stay. Central Amsterdam is rather compact and is very enjoyable by foot, so most of the time we just walked through the city. We rode the convenient trams a few times to get to slightly more distant parts.
On our first day we visited Anne Frank House in the Jordaan, the house where the Frank family hid during World War II, and where Anne Frank wrote her famous diary.
We then went shopping on Kalverstraat, notably at Hema. Hema is a chain store from the Netherlands that reminds me a bit of the Japanese Muji chain, both selling good-priced original goods of all kinds, except that Hema's are much more colorful.
We also went to a flea market at Nieuwmarkt where we bought some souvenirs.
At the end of the afternoon, we took a tram to Museumplein hoping to check out Stedelijk Museum but all museums appeared to be closing around 5pm, so we went to take a long walk in the large Vondelpark.
Some of Amsterdam's most beautiful features are its canals. Here are pictures of ones located in the Jordaan area (I think).






Click the thumbnails for larger images.
Posted on September 24, 2003 at 23:06 | Permalink | Comments (8) | Tweet |
---
September 22, 2003
In Hong Kong!
This morning we arrived in Hong Kong where we're spending a night before returning to Tokyo! In the room we've got a dumb terminal on which we can use an old version of Netscape (I think Netscape 3 but I can't check because menus are blocked) to access the Internet. It's a real pain but is still better than nothing. :)
All cities we visited were great, and I've taken about 300 pictures during our trip. I'll be posting the best ones over the next days and weeks, and will tell a bit about what we've been up to!
Overall, the whole trip has been a lot of fun!
Posted on September 22, 2003 at 21:43 | Permalink | Comments (6) | Tweet |
---
September 13, 2003
itte kimasu!
We're off to the airport in a few hours! I'm not planning to be posting much at all for the next 10 days because I won't be anywhere near a computer most of the time. If I am though I may drop a note. :)
I'll be back in Tokyo on September 23 and will post photos from then!
itte kima~su!
Posted on September 13, 2003 at 10:36 | Permalink | Comments (2) | Tweet |
---
September 11, 2003
Macaroni & Cheez Whiz
More Cheez Whiz! For dinner tonight we had Macaroni & Cheez Whiz which Tomoko made according to a vague description of what I remembered of my mom's. :)
It was delicious!
Now we're beginning to prepare our luggage for our 11-day trip to 5 cities (Amsterdam, Antwerpen, Bruxelles, Paris, and Hong Kong)!
Posted on September 11, 2003 at 23:50 | Permalink | Comments (0) | Tweet |
---
September 10, 2003
Cheez Whiz
This morning I'm having Cheez Whiz toasts! Thanks to Jean who brought me this treat from his recent trip to Canada. :)
itadakimasu!

Posted on September 10, 2003 at 08:31 | Permalink | Comments (2) | Tweet |
---
September 9, 2003
Accident in the news
This morning's accident is in the news now (Yahoo News, September 9, 14:47).
Summed up from the news article:
Today about 10am, a man committed suicide on Mita line around Shimura-sakaue station. The train conductor said that he saw a person falling down from above when entering the tunnel. The line was partly immobilized and 250 passengers had to walk 150m in the tunnel to get out at Shimura-sakaue station.
Mita line is one of those with barriers that close when the train is not in station, of which a role is to prevent this kind of incident. The station from which the train was coming is above ground, and enters the tunnel mid-way to the next station.
I have heard many times of suicides on train and subway lines in Japan, but it's the first time that one happens so close.
Shocking.
Posted on September 9, 2003 at 16:04 | Permalink | Comments (2) | Tweet |
---
Subway accident
This morning the subway I was on (Toei Mita line) stopped one station before my destination.
We were told that the train in the opposite direction had an accident (人身事故 (jinshinjiko), an accident with injured/dead) about 100m ahead, and that rescue was coming to help out its passengers. I am wondering whether it was a suicide or some problem with the train.
Our train had its doors closed for about 30 minutes because it wasn't stopped just quite on the platform. Then they moved the train and let passengers out. There were special buses organized for the rest of the way but I chose to walk since I was just going to the next station.
I wonder about the other train though.
Posted on September 9, 2003 at 11:12 | Permalink | Tweet |
---
September 8, 2003
Kabuki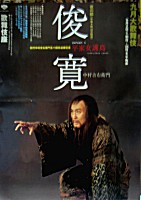 Yesterday we finally made it to see Kabuki at Kabuki-za (after much bad luck on our previous attempts)! :)
The play we saw was called Shunkan, which is the name of the main character. The story was about three men who are some kind of prisoners on a distant island, one of who has got married to a local.
One day a boat comes and the men are offered the chance to go back home, however the boat is only allowed to bring back three people, which means that all four of them (three men plus one's wife) can't board. First the married man gets ready to leave his wife, but then Shunkan (another of the three men) learns that his wife back home has been killed, so he decides to let the couple and the third man go, himself staying on the island forever.
The stage was beautiful, much more complex than I expected Kabuki to be. There were many props and also a hut and a boat moved on and off stage. Also I was surprised that the stage's center is able to spin!
We were seated in the cheapest seats (4th floor!) where you're not allowed to headphones with translation (seats on lower floors cost over twice the price).
I couldn't understand much at all of the old style Japanese, but Tomoko helped me by telling me the synopsis before the play and also kept giving me hints of what was happening, so I was able to enjoy it.
Posted on September 8, 2003 at 20:56 | Permalink | Comments (1) | Tweet |
---
Mothra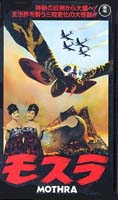 Last night I watched Mothra, which William recommended me a few weeks ago, and I found it quite entertaining! It has its dose of cheap-looking monsters, special effects and destruction (Mothra even crawls on Ōme-kaidō, an important street just by where I live).
Mothra is an invincible giant caterpillar, which later transforms into a moth. Its ultimate goal is to save the tiny twin fairies (played by The Peanuts), kidnapped from their island by an evil foreign producer, and bring them back home.
Posted on September 8, 2003 at 13:01 | Permalink | Comments (3) | Tweet |
---
September 6, 2003
Turbo Sonic
Today I went to check out Turbo Sonic in Kōenji, a small shop specialized in vintage tape decks, stereos, video games and other electronic gear.
Some of the ones I found most impressive were what seemed to be large stereos but were in fact record players, such as the red one seen on the first picture below in the top-right corner. This one could apparently play side A and B without having to flip the record!
Also, in a stack of "under repair" stuff, what seemed to be a small but full-featured synthesizer caught my attention. When I asked the helpful clerk about it, I was told that it's actually part of a tape deck stereo which can be seen on the 5th picture. Who would have thought of a stereo+synthesizer combo!? I didn't dare asking the price.






Click the thumbnails for larger images.
You can see an article about the shop here, with a picture of its owner. It's apparently when his collection reached 1000 pieces, around April this year, that he decided to open a shop!
Turbo Sonic
4-23-5, ACP building 7F, Kōenji-minami, Suginami-ku, Tokyo
Tel: 03-3313-5717
Posted on September 6, 2003 at 23:02 | Permalink | Comments (0) | Tweet |
---
September 5, 2003
Geisha
Today I received two bars of "Geisha", delicious Swedish chocolate! They came from my friend Larry at NitaNaldi (his shop located in Varberg, Sweden). What you see here is just the wrapping of the first one, which was eaten very quickly! The second won't last much longer... :)
I was first introduced to "Geisha" chocolates by Kristofer, writer for the Swedish fan-zine Twisterella (also in English), who had brought me a bunch of the smaller individually wrapped chocolates when he came to visit Tokyo!
Yum!
Posted on September 5, 2003 at 22:49 | Permalink | Comments (19) | Tweet |
---
September 4, 2003
Bridges
Today at lunch I felt a bit like doing thematic photography, so I rode my bike to Shingashi-gawa (Shingashi river) and took pictures of bridges I found along it.
It didn't end up being much of a theme since I only took pictures of two bridges, Shingashi-bashi (Shingashi bridge) and Shingashi-oohashi (Shingashi large bridge).





Click the thumbnails for a larger view.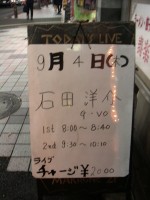 Tonight I was walking in Shinjuku and was surprised to see this sign outside Music House Marone (a live house), announcing a concert tonight by ISHIDA Yōsuke, a workmate of mine who's Web designer at day and indies singer-songwriter-performer (vocals and guitar) at night.
You can check out his personal Web site. You'll find some sound samples of his project ISHIDA Yōsuke Trio, towards the bottom of the products page.

Posted on September 4, 2003 at 22:05 | Permalink | Comments (0) | Tweet |
---
September 2, 2003
Yamakasi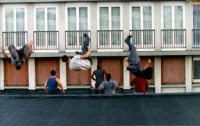 Last night we watched Yamakasi, a French film by Luc Besson, about which I didn't know much at first.
The film is about 7 guys, les Yamakasis, who climb buildings in Paris as a hobby, and end up in trouble because kids thinking they're cool try to imitate them and one of them hurts himself and gets close to dying. The Yamakasis, being good guys, decide to assume the situation that they caused.
The film is fantastic and focuses on the Yamakasis' climbing and jumping skills.
After seeing the movie, thinking it was all fiction and special effects, I looked up the official Web site (in French) and realized that the Yamakasis are real and they are the actual actors in the movie, and that no stuntmen were used in their place. Having the climbing skills but no actor skills, they had to learn about acting before shooting the movie.
A particular scene with two dogs running after them, in a large museum-style room with a mezzanine, was filmed in only 4 takes with no special effect! Keep that in mind if you watch the movie.
I sure wouldn't mind a Yamakasi 2!
Posted on September 2, 2003 at 10:44 | Permalink | Comments (27) | Tweet |
---
September 1, 2003
Top searches for August
I'm going to copy Jean Snow's great formula of the top search strings that lead people to his blog.
So here are the top search strings related to my blog in August, and links to my entries they referred to.
1. interstella 5555 pictures (Related entry)
2. interstella 5555 buy
3. space invader anniversary japanese (Related entry)
4. usagi-chang all stars cd (Related entry)
5. blog obon japan (Related entry)
6. cheap ping-pong rackets (Related entry)
Aside from these, I also get a lot of searches related to features of the DX7 (Yamaha analog synthesizer) since I host a HTML version of its users' manual which I created in 1998.
I think that the manual isn't available anywhere else on the Web.
Posted on September 1, 2003 at 21:45 | Permalink | Comments (0) | Tweet |
---
All Look Same?
Can you tell Asian people apart?
Take the ultimate test at All Look Same?, where your skills are checked by having 18 pictures shown to you and see whether you can correctly tell if the person is Chinese, Japanese or Korean.
I scored a shameful 4/18, "Hopeless: Might as well toss the coin". Lots of work to do before I can tell Asian people apart...
Via Midori.
Posted on September 1, 2003 at 12:18 | Permalink | Comments (7) | Tweet |
---