Blog - May 2009 Archives
May 2009 Archives
Index


.26 les 5-4-3-2-1, Budō÷Grape: live report


.10 Softly! 5th Anniversary: live report


.09 Two rainbows over Rainbow Bridge

---
May 26, 2009
les 5-4-3-2-1, Budō÷Grape: live report
On Saturday I went to Shinjuku Motion where was held an event titled "TOKYO MOR 2nd Stage" organized by Budō÷Grape (ぶどう÷グレープ). They had invited Les 5-4-3-2-1 to do one more show, after their supposed one-time reunion show in Yokohama last March.
Playing first was a new band called THE2, formed of drummer Shirane Kenichi from GREAT3 (the band of Chocolat's husband Katayose Akito) and a French guy named Davy Bergier who played guitar and sang. While their set-up was minimalist, their sound was quite full, using guitar loops to make it sound like 2 or 3 guitars, and with powerful drumming and quite loud energetic singing. Very rock sound as you can guess. They gave a good show!
Next up was Budō÷Grape. I had seen cute singer Quminco just once before at the Sally Soul Stew show, but it was my first time seeing the full band. I was quite looking forward to see them after getting recommendations from several people. They came up on stage all wearing masks, as often seen on the streets here lately because of the swine flu, saying that they're from Nagoya where they have no cases yet and they don't want to catch it here. But since no one in the audience was wearing a mask, they soon got rid of theirs too.
Their sound was quite new wave, a bit pico-pico, and with a rock'n'roll touch. Singer Quminco's performance was really cute and funny, but I was most surprised by keyboardist Midori-chan who proved to be a great musician.
Next up was a surprise short set by The Shockers, a band that Budō÷Grape's guitarist and 2nd vocalist Nagai Hidehiko used to be part of, together with drummer Nakamura Tatsuya of Blankey Jet City. They played two of their old hits, rock'n'roll-ish songs that were quite catchy.
Last on stage was of course Les 5-4-3-2-1! This time they perforrmed as a full 5-piece band. In addition to Nakayama Tsutomu on Hammond and Kaoss Pad, singer Hitomi and bassist Sally Kubota were also accompanied by guitarist Kikuchi Akira (New Rock Syndicate) and girl drummer Ono-rong (from The Pebbles).
They were very tight and gave a fantastic show filled mostly with upbeat tracks!
Set list: Opening 1 / Dance sanka (les 5-4-3-2-1 et leur style de danse) / Non Non Non / Jazz-ru kokoro (le coeur qui jazze) / Bond Street / uchū de Rendez-vous (rendez-vous à l'univers) / Golden Picnic (new song) / Cutey Honey
Encore: Radical Samba / Dance sanka
As you might have noticed, this time they played the theme song to anime series Cutey Honey! This is the first song I heard by Les 5, as I recounted in my previous report. Needless to say I was more than happy to hear this live!
At the end of the show Quminco came back on stage for a reprise of "Dance sanka", as she also sang on the Sally Soul Stew album.
There was also the great news that Les 5 can be seen again live on July 17 at Shibuya's Aoi Heya. Details at Tokyo Gig Guide. You bet I'll be there again. :)
Larger sizes and more photos at Flickr
Posted on May 26, 2009 at 00:18 | Permalink | Trackback (1) | Comments (4) | Tweet |
---
May 10, 2009
Softly! 5th Anniversary: live report
Last Tuesday, towards the end of Golden Week, I went to Shibuya O-nest for an event celebrating label Softly!'s 5th anniversary. I'm just a casual fan of the label, not so familiar with most of their artists, but I was there mainly to see The Aprils and Hazel Nuts Chocolate. The other bands playing were first announced as Melting Holidays, who I was really looking forward to, and Sugimoto Kiyotaka of orangenoise shortcut, who I was also curious about. Unfortunately Melting Holidays canceled and were replaced by a rapper called らっぷびと (Rapbito).
I got there 30 minutes late with a bad surprise waiting, Hazel Nuts Chocolate had gone first and the instant I walked in I heard the last note and saw them walk off stage...! I'll have learned my lesson: shows in Japan start on time. (I've learned that before but sometimes you forget until you get a reminder like this.)
I heard from my friend Naoto there that HNC had played mostly new songs from the upcoming 3rd album still in the works, even skipping regulars like "Love Piece Icecream" and "Hello". Oh well I missed a good show but at least I had seen her not too long ago, and probably will do again in not too long.
Next up was The Aprils who gave a great show in full proportion. They had a bit more gear than usual, especially VJ/dancer Nakama-kun seemed to have more responsibilities than before and had a bit of trouble keeping up, but all ended going fine. He had 4 laptops set up on tall stands at the back, acting as sync'd stroboscopes.
They opened with 2 brand new songs, then a cover of La Casa Azul, and then continuing with regulars. Actually they said it had been 2 years since they played "Time After Time" live, it's one of my karaoke favorites. When the huge panda showed up near the end, Nakama ran to remove a few of the laptops to put them in a safe place. :)
Set list: Drive My Carpet (new song) / Shine x Shine x Shine x Shine (new song) / New Yma Sumac (La Casa Azul cover) / kirameki Moon Diver / Time After Time / Pan-da / kaede New Town
Next up was Rapbito, some of his tracks were actually pretty good. However I couldn't help but think "Why this guy at this event?", and "Why not first?? That way I wouldn't have missed HNC!"
Next was Sugimoto Kiyotaka of orangenoise shortcut. He started his show saying things like "C'mon say HO---HO!", making fun of Rapbito a little, and provoking a lot of laughter. He played solo on his piano and sang. He was really good!
But the best was kept for the end, when he called all 6 other members of orangenoise shortcut (guitar, bass, trombone, trumpet, chorus, drums) for a surprise set! They actually just played one disco-ish song that was really great, and then left the stage to come back for an encore with the song "Number 5". Softly celebrating their 5th anniversary on May 5 (5/5), and being that this single was the label's very first release, they just had to be there and play this song. It was my first time seeing them, but this made me really want to see them again, so I hope they'll get back to being fully active soon. All the guys looked really like nice people too, always smiling and looking like they were having a great time.
Larger sizes and more photos at Flickr
Posted on May 10, 2009 at 02:16 | Permalink | Trackback (0) | Comments (7) | Tweet |
---
May 9, 2009
Two rainbows over Rainbow Bridge
Today just before I was going to leave work, we were treated to some really nice rainbows, even just over Rainbow Bridge! Although I usually always carry my camera, today I had left it so I had to use my mobile phone's camera instead. I got some good results.
Here's a collage of the two:
Of course I couldn't resist but to make a record jacket sized collage. See it in detail here. :)
This reminds me of Takanaka Masayoshi's "The Rainbow Goblins".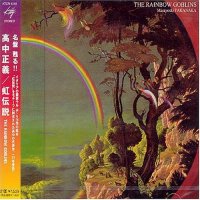 Larger sizes and more photos at Flickr
Posted on May 9, 2009 at 01:04 | Permalink | Trackback (0) | Comments (3) | Tweet |
---