Blog - August 2006 Archives
August 2006 Archives
Index



.29 Manna live report



.29 Uehara, Komazawa, Nakameguro




.27 Usagi-chang Night Fever!! -Chapter01 Final- report


.26 Jet Set Leger



.26 Anzen-tarō


.23 mj-spirit



.21 The Ghetto


.16 Coloris


.12 Colette × Daft Punk party



.12 kuromidori LESS presents "never surrender"



.12 Bomb graffiti




.10 p&art sasanoooha at Fai


.10 Fast Search



.08 Red sky


.07 DialHex completed!


.06 Conran Hotel




.06 Asagaya Tanabata matsuri 2006



.05 Photo review




.04 Rufus in-store live report

---
August 29, 2006
Manna live report
"Manna Plays & Sings vol.4"
, probably after a series of shows that had been on hold since very long ago.
Manna was the pop unit of Kamomiya Ryō ("Couples"-era Pizzicato Five) and Kajiwara Motoko, and was active only from 1991 until 1993. It's hard to believe that they would come back 13 years later! Most of their songs are happy pop tunes. Unsurprisingly a lot of melodies remind me of "Couples", though the orchestration isn't as complex as Pizzicato's. Most songs sound very MIDI, but then again that's how a lot of J-Pop sounded back then (and still sometimes does).
They played a one hour set, including a dozen of their best songs and also sang Pizzicato Five's "7 o'clock news" in duet. The set list went something like this: (with a little help from Mixi)
suiren no hana / wangan Song / Monsieur Dandan / watashi no kokoro wa Papa no mono (Japanese version of Cole Porter's "My Heart Belongs to Daddy") / boku no Marshmallow chan / amai kangae / 7ji no News / aoi sakana / jitensha to natsu to / taiyō kaigan / aozora no mukō e / Happening
Motoko's voice still sounded like on their recordings, if sometimes just a bit shaky from the emotion. Kamomiya-san played some parts on a Yamaha DX-7 over the back track streaming from his iBook. They were all smiles and looked happy to be on stage together again, and it seemed like they couldn't help but sometimes laugh at how strange the situation felt after so long.
They said that the unit never officially broke up, so it's not quite exact to call it a reunion. Now, they're trying to compose again together, but will only do so without forcing things or rushing. Once they'll have accumulated enough good songs that way, who knows, maybe we'll get a new album! Being located in a bit remote locations, her in Karuizawa and him in Kanagawa-ken (I think), they said that they use iChat to compose together.
They also seemed enthusiastic about playing more shows, and the Apple Store sound guy/MC said he's looking forward to hosting "vol.5", whether that was a joke or a plan.
Posted on August 29, 2006 at 19:24 | Permalink | Comments (0) | Tweet |
---
Uehara, Komazawa, Nakameguro
Yesterday, I went for a bike ride that led me to a bunch of interesting places, of which here are a few.
No.12 Gallery in Uehara is currently hosting an exhibition of "hand-shaped" skateboards. Graffiti and other artists have not only put their designs on skateboards, but they've cut the skateboards into original shapes. One of them is graffiti artist KAMI. The free show is sponsored by Nike SB, which provides free shoelaces and stickers to anyone who comes by. It's on until September 10.
Next, it was coffee break time, and I went down to Komazawa to check out Rocketman Cafe. Promoting the new album by Rocketman (aka Fukawa Ryō's club music solo unit), the friendly café plays mixes prepared by Rocketman himself, and there's also a special Rocketman cocktail available. I had a "broken chocolate cake" that was large, very delicious and satisfying. For those who already have Rocketman's great summer album (also sold at the café), there are some related flyers to be picked up. Until August 31 at Rice Cafe.
Last but not least, down in Nakameguro I went to café/restaurant prata to eat some good food and chat with friends while enjoying some easy listening tunes mixed by DJs Yoshida Tetsuto (Readymade) and Hase (solange et delphine). The small space not being quite equipped to accomodate DJing, the mixing was done on portable turntables (including a Pizzicato Five original) in a very "at home" kind of way. Comoesta Yaegashi even dropped by for a while. The "untitled" event is held every month's last Sunday, and could perhaps use a few more patrons who like good music and good food. Give it a try!
Posted on August 29, 2006 at 00:40 | Permalink | Comments (0) | Tweet |
---
August 27, 2006
Usagi-chang Night Fever!! -Chapter01 Final- report
Tonight was Usagi-chang Night Fever!! -Chapter01 Final-, said by the label's owner to be their last yearly event of this format. It was the first time that it was held in the evening rather than all-night, and didn't feature Inocchi who was organizer and MC until last year.
I met up with friends Miwa and Haruna, and there we met Tsugumi, and a lot of other people such as Per (who was there to film the whole event), Jens, Antonin, David, Takashi, ... I also got to finally meet Craig briefly.
We arrived just in time for sono na wa Spade (aka The Lady Spade), who gave a groovy and sexy show wearing 60's-ish dresses. They sang and danced along to some original songs and covers, including a great one of "Break-A-Way". Even their funny DJ did the dance moves along with the girls.
Next up was macdonald duck eclair for a mini-live on the small side-stage. They performed as The Electronic Tomato, pseudonym they used before for an Italian remix album of their works. The show was fun, and much more pop than their recent rock sound. They mostly played older songs, probably ones that had appeared on that Italian release.
Then, back to the main stage, Micro Mach Machine gave a rockish show, with heavy guitars and drums over which a policeman cosplay girl sang in a cute and almost inaudible voice.
After a short break with DJ wantarou, action was back to the main stage with Aprils who performed as Aprilspoko. They had a different drummer than usual, and the band also featured Hase of solange et delphine on piano, with which the band sounded nice and fresh!
Before the show they passed 3D glasses to everyone and opened with their recent song for DoCoMo, for which they have a 3D video. Then they told us to remove the glasses but keep them carefully and give them back afterwards, as they try to reuse them. They then played a good selection of their released songs, including Pan·da for which the large Gloomy panda joined on stage.
After again a short DJ set, Misswonda came on stage and sang a selection from her first album, and also one or two new songs from her upcoming album to be released this winter. Despite the heat she wore a sort of furry hat that she said she bought to cosplay Maetel of Galaxy Express 999, of which she's a big fan.
Then, Hazel Nuts Chocolate got on the small stage for a mini-live. Yuppa was accompanied by a strange so-said French chef who played percussions on kitchen pans and such. She sang a few songs including of course the food-themed "yasai no Soup", and the chef told of his Japanese curry secret tricks.
Last, EeL took the stage, and like last year she gave a loud and crazy show featuring a bunch of her silly "dancers" who kept throwing all sorts of junk at the crowd. I need to remember to watch from far away to avoid broken record pieces and other dangerous stuff.
At the end was the usual closing call, and it was the first time that label boss Aki did it himself. Actually it was the first time that he talked on stage and he said he was a bit nervous. "Usagi-chang Night...?" "FEVER!!!!"
I hope it will continue next year! Summer isn't summer without Usagi-chang Night Fever!
See larger photos and many many more at Flickr
Posted on August 27, 2006 at 01:16 | Permalink | Comments (4) | Tweet |
---
August 26, 2006
Jet Set Leger
Tonight after work, I dropped by the just opened Jet Set Leger in LaForet Harajuku. There I met friend Per who just arrived from Sweden, and together we watched Nomoto Karia DJing a fun set that included anything from electro rock to techno, with some Le Tigre, a "Bizarre Love Triangle" remix, and different versions of her single "Tokyo wa yoru no 7ji". It was fun!
The new shop is rather small. Half of it contains a vast selection of recent vinyl by overseas artists, and a bit of Japanese stuff, and the other half has some CDs. Everything is new, no used. It's my new definite destination when I need just-out vinyl on my way back from work.
This time I picked up Nakatsuka Takeshi's "Groovy Sauce -Arrabbiata-" CD compilation.
Posted on August 26, 2006 at 01:45 | Permalink | Trackback (1) | Comments (0) | Tweet |
---
Anzen-tarō
Always a favorite photo subject, this week I came across this Anzen-tarō by Nakano Sunplaza. I like the arrow stuck below his left arm.
Posted on August 26, 2006 at 01:34 | Permalink | Comments (0) | Tweet |
---
August 23, 2006
mj-spirit
Last weekend was the Azabu-Juban matsuri, and despite feeling a bit bad because of a cold I went there on Saturday to watch a free performance by mj-spirit who I had been wanting to see for a while. mj-spirit is a Michael Jackson tribute dance unit, and at least viewed from a bit far away they give a quite credible performance!
Guns'N'Roses' Slash and Thriller zombies (these can be seen on the 2nd picture, check out the large size on Flickr) were also part of the show!
I stood a bit far and could only take these "bad" pictures, but here's some better video for you.
mj-spirit performing "Another Part Of Me"
mj-spirit featured in Polysics' "I My Me Mine" video
Posted on August 23, 2006 at 08:05 | Permalink | Comments (0) | Tweet |
---
August 21, 2006
The Ghetto
Just yesterday I learnt about The Ghetto, a love hotel in Shin-Ōkubo that's been redone into a skateboarder's dream complex. While keeping the love hotel's rooms, some furniture and even its sign, it's been changed to accomodate a skating ramp, a restaurant, an art gallery and several shops.
Best of all, the building is covered, in and out, with graffiti by some of Tokyo's best artists! My personal favorite, QP, has done huge artworks on the building's outside walls, and even has his own exhibition currently hosted in the art gallery. QP has also decorated the entrance and the skating ramp! Other artists that I like who left their traces include EKYS and Z¥S.
I'll be sure to go back there for lunch sometime!
The Ghetto, which opened just recently, is located near Shin-Ōkubo station (Yamanote line near Shinjuku). The address is 百人町 1-1-10 Hyakuninchō (Yahoo Map).
Posted on August 21, 2006 at 12:10 | Permalink | Trackback (1) | Comments (7) | Tweet |
---
August 16, 2006
Coloris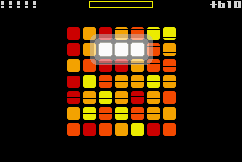 Since I finished Dialhex and also managed over 200 hexes in the endless mode (getting me a "Fantastic!"), I decided to put that one aside and get another bit Generations game. This time I chose Coloris, also a puzzle game that resembles Tetris at first sight. While there's no background music, all sound was done by Oyamada Keigo (Cornelius) and it sounds good!
In this game, each level represents one board of a certain size and of which the "panels" are of a certain number of colors. When three or more panels adjacent horizontally or vertically are of a same color, they disappear and panels on top fall down, and new panels appear from the top so the screen is always full of panels.
A panel's color can be changed by positioning the cursor on it and hitting "A". This shifts the color towards the cursor's color, while this one's color keeps changing as often as everytime you hit "A".
For example, the first level is rather small and only has four colors: yellow, pale orange, dark orange and red. When your cursor is yellow, positioning over a red panel and hitting "A" will change its color to dark orange.
After clearing an unknown number of panels, the level is suddenly cleared. The game is saved at every level, and you can always continue to a level you've cleared before.
Sounds easy enough, but there's a twist. Panels can "die", or turn gray, and when a panel is dead it can't be cleared easily anymore, and it stays at its place without ever falling down. If the screen is filled with gray panels, the game is over.
A panel dies if you don't clear it within a certain amount of time, but also if you try to change it to an unrelated color. For example in some further levels you'll have a set of colors such as [yellow], orange, [red], purple, [blue], green (this series loops back to yellow), and the cursor only turns to colors with brackets (yellow, red, blue). Trying to change the color of an orange panel while having a blue cursor will kill the panel instantly. So as the color sets get complex with a dozen of colors, you have to be very careful while always paying attention to the cursor's current color.
There are a few other twists... A dead panel can be cleared by clearing an adjacent panel twice. Some panels come with a "X" mark, clearing one of those will clear all of the board's panels located diagonally (even gray ones). Other panels come with a square mark, those can clear all panels of the same color found on the board. Those square mark panels keep their square mark even if they turn gray, and they can then be used to zap away all dead panels. Also, the panel lifespan seems to get shorter when you get to higher levels (which are also larger, making it harder to keep clearing panels all over the board).
It may sound like quite a lot of rules, but it's really easier than it sounds. Actually, after only a few hours of play I feel like I've got quite far in the game (13 basic levels cleared), and have yet to lose at all. I'm afraid I'll clear the whole game within a few days, if I keep playing at this pace. Anyway there's also an "advanced" series where panels have odd designs and boards have a background image (gotta love the sakura one!), and there's also a "score mode" which is probably equivalent to DialHex' endless mode. Hopefully I can keep myself busy for a while!
Posted on August 16, 2006 at 12:08 | Permalink | Trackback (1) | Comments (0) | Tweet |
---
August 12, 2006
Colette × Daft Punk party
Jean had received an invitation this week to a Colette × Daft Punk special party held at the Hinode Port, and invited me as his guest! The party started at 21:30, there were free cocktails which at first mostly consisted of juice but later turned half vodka. The dancefloor looked fantastic, made of lit-up squares (reminding me of Michael Jackson's "Billie Jean" video), and was at first being kept for something special. Matsumoto Leiji's boat Himiko was at the port and promised free rides all evening.
After a bit, the dancefloor was opened to only people holding a paper mask that were given at the entrance, and those were forced to take a one-hour dance class from a French teacher who had came for the occasion. It must have been a slightly tiring and hot experience. We watched for a little while and then walked to the port area where we met Audrey (OK Fred).
We really wanted to ride Himiko, which I heard was specially decorated for the event, but we only learnt of the ticket scheme too late and all what was left was tickets for the 0:30 ride, while we were set to leave at about midnight to catch the last train. We had got there pretty early so we could probably have got good tickets if we'd have noticed the booth. Too bad.
It being a party people party, there were plenty of celebrities around! We saw Nomiya Maki up close as she walked past us (I really wish I'd have spoken to her, but I wouldn't have known what to say other than "I'm your #1 fan!"), Matsuda "Chabe" Gakuji (Cubismo Grafico), and even Nigo! Jean also kept pointing out famous models who I couldn't recognize. :) Later we also met Antonin who was with Takashi (Tokyo Fun Party) and Nakanishi Toshio (Plastics).
When the dance class seemed over, we went back to the dancefloor where I think Gildas was DJing very good stuff, including classic hits like "Funkytown" and "Groove Is In The Heart", which had Jean and I going. The best though was when four robotic dancers invaded the space for a one-song performance! I'm quite sure it was two of them I had seen just recently at the Denki Groove live, and it was great to see them up-close!
We then had to leave to catch our train, a slight bit disappointed to not have seen Daft Punk perform, it would have been too good! Still, it was a very fun and free evening at the port! Thanks Jean!!
Posted on August 12, 2006 at 10:42 | Permalink | Comments (10) | Tweet |
---
kuromidori LESS presents "never surrender"
Yesterday I went to a temporary graffiti art gallery held at Tower Records Shibuya's Stage One floor, I had learnt about it a bit late and it was the last day. Artwork by Tokyo graffiti artists such as QP, Ekys, Sasu, Kami and 5.14 was being displayed. I was sure photos weren't allowed, but seems like this guy got permission. Check it out!
QP had a large sheet hung, on which his characteristic symbol (Flickr) was drawn twice! On the back were tags from many other artists. Sasu pasted very cute characters done on plastic cases like those used for food in supermarkets or at matsuri. Kami had apparently stolen a street address sign and tagged it with his curvy designs.
Ekys was funny in his own way. While his tags are usually simple and all look-alike, so you'd expect something similar, but instead he took a blank canvas and broke it, and that was all!
Disclaimer: I'm saying "his" a lot just to make text flow easier, but I don't know for sure the gender of most of these artists.
Posted on August 12, 2006 at 10:10 | Permalink | Comments (0) | Tweet |
---
Bomb graffiti
More of the bomb-like graffiti tag I've been seeing in Itabashi. These are all from Funado.
I wonder if the artist was caught pants-down while tagging that last one?
Posted on August 12, 2006 at 09:48 | Permalink | Comments (0) | Tweet |
---
August 10, 2006
p&art sasanoooha at Fai
Ok, can't see much at all on these photos, and that's because they move a lot, but that's p&art sasanoooha who were doing a DJ set tonight at Aoyama Fai, for the release party of the Watanabe Productions 50th anniversary mix CDs of which one was mixed by themselves. They played parts of their mix CD interleaved with other of their remixes of the same style, all while dancing and singing (into small beany pandas) and spinning more pandas on the turntables.
They wore their self-made furry "panda blousons" that must have felt very hot, Junko had a white shirt and black necktie, and Kubo had a black shirt and white necktie. Very classy pandas!
After their set, I watched okite Porsche (one of the two members of Roman Porsche) with amusement, as he kept screaming and running around while DJing mostly Hello Project stuff. Then I watched a bit of DJ Gee (of GTS) and Gyūzō (Dengeki Network) until I got a bit hungry and headed home. :)
p&art sasanoooha gave me one of their small beany pandas, which they said they bought in New York, and told me that their next album is in the works and that it will be a bomb!! Can't wait! :)
Posted on August 10, 2006 at 23:49 | Permalink | Comments (0) | Tweet |
---
Fast Search
Movable Type's search feature was being very slow lately on my blogs. I think it's because it reads the whole entries table and then matches for text on each row, total non-sense.
It was a matter of time until someone came up with a plugin that does search the right way, it's called Fast Search and it just works the way it should!
To celebrate, I've also added search to my Agenda: Magazine, of which the results also appear on the site-wide search available at the bottom of the top page.
Posted on August 10, 2006 at 12:00 | Permalink | Comments (0) | Tweet |
---
August 8, 2006
Red sky
Tonight the sunset was uncommonly very bright, making clouds look red and the sky purple.
Posted on August 8, 2006 at 23:38 | Permalink | Comments (3) | Tweet |
---
August 7, 2006
DialHex completed!
Today I finally finished DialHex! The last levels were pretty fast and took me a lot of practice, and maybe a bit of luck with the special blinking pieces, but I made it!! It took me about 3 weeks playing once a day (ok, sometimes twice), which is just about right!
Finishing the game shows a great ending with an animated show on the DialHex board and new music, and scrolling credits.
Next I think I want to try Coloris, for which the music (or rather BGM, as I heard some complaints that it's not really music) was done by Cornelius!
Posted on August 7, 2006 at 22:40 | Permalink | Trackback (1) | Comments (3) | Tweet |
---
August 6, 2006
Conran Hotel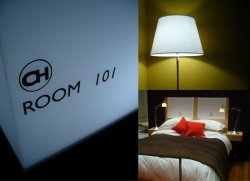 Today I passed by Conran Shop at Park Tower (Shinjuku), and there was a special furniture gallery called "Conran Hotel", where some of their expensive furniture was arranged in hotel-like rooms, from bedrooms to lobbies to a classy bar. Since I like hotels slightly on the luxury side, it was fun to look through these!
One of the small rooms was a relaxation space devoted to the promotion of Polaar (France) skin cosmetics for men, which are only available in Japan since July. There, anyone (not only men) can get a free 15-minute hand massage after taking a reservation at the front desk. I gave it a try and it was very pleasing. I was also given a sample of the brand's after-shaving Dual Action Moisturizer.
Worth a visit! The Conran Hotel is open and free until August 20, from 10:30 until 19:00 (Fri/Sat/Sun until 19:30).
Posted on August 6, 2006 at 20:17 | Permalink | Comments (0) | Tweet |
---
Asagaya Tanabata matsuri 2006
Tonight I went to the Asagaya Tanabata matsuri, as I do every year. This year I took quite a bit of photos! I think I could make some good use of my camera's 1.66:1 ratio.
1. South entrance (near Minami-Asagaya station)
2. Rabbits? (Who are these again?) Gaspard et Lisa
3. Is it a pig? (mouse-over for the answer!)
4. Tanabata decorations
5. Hello Kitty
6. Sponge Bob
7. Tokyo Tower+cocoon+Mothra
8. View from south entrance
9. Anpanman
10. Totoro
11. Little girl waving to a moving Sylvania Family show
12. Decorations
13. North entrance (near Asagaya station's south exit)
Also see these old photos from 2003.
Posted on August 6, 2006 at 01:53 | Permalink | Comments (4) | Tweet |
---
August 5, 2006
Photo review
I've been a bit quiet lately, though I've been posting some photos occasionally to my Flickr account, so let me do a quick recap of my recent photos that hadn't made it here.
I had been noticing lately this pile of rocks in the middle of a small road in Itabashi-ku, but only this week I went nearby to see what it was all about. Turns out some dude decided to make this a "private road", probably because it was getting too much traffic from cars wanting to avoid two traffic lights on the parallel Kanpachi (a highway).
On July 29 I went to ICC, and there was this brass band with 4 saxophones playing in Tokyo Opera City's the semi-outdoor area. They weren't bad, but most interestingly they were wearing constuction worker outfits! Unfortunately, reading the flyers they were giving away, turns out they weren't real construction workers. Too bad.
ICC, which is now free, was full of fun installations! It's mostly aimed at kids, so there's lots of interactive and visual stuff, truly a lot of fun! Definitely go if you can!
And as usual I've been taking occasional graffiti photos...
1. I've been seeing this bomb-like stencil graffiti all over in north-west Itabashi-ku. This week I noticed there's a lot especially in Funado. I might take more of these soon.
2. Large QP tags "hidden" behind a town bulletin board, near Hatagaya, Shibuya-ku, Tokyo.
3. My first found Space Invader! Seen from a pedestrian bridge near the West exit of Shibuya station. Also a huge André tag!!
4. Some graffiti on Nakano-dōri, nearby Marui.
Also I had forgotten to mention it, but on July 19 I went to see Oh! Mikey Night! About half of the episodes shown I had already seen on the "Oh! Mikey Hardcore" DVD, but still it was a fun batch. My favorite new episode was certainly "Mikey the Star Man", which was played last and features six extra-terrestrial Mikeys! The six Mikeys were displayed at the theatre's entrance:
Posted on August 5, 2006 at 22:43 | Permalink | Comments (0) | Tweet |
---
August 4, 2006
Rufus in-store live report
Yesterday I dropped by Tower Records Shinjuku for Rufus' in-store mini-live. Rufus (alias of the solo unit of Ueda Shūhei) played a special acoustic set, accompanied by with the three members of Wednesday, which seems to be his regular live band.
At first the live space was rather empty, and watchers were asked several times to come closer to the small stage where the four guys sat, but as the show progressed the place got a bit crowded.
They played a total of 5 songs, and there was a short interview after the first two. They were very good musicians, and Rufus' soulful vocals are great and his English pronounciation not bad (all of his songs are sung in English). The songs sounded pretty good "unplugged". Before the last song, the lead guitarist broke a string, and there was no time for him to fix it, so he just switched his guitar with Rufus' (who does rhythm).
Set list: ? (song from New Arrival e.p.) / Eddie The Extreme (Remix) / Long Distance / Dance With Me / The Amicable Suit
Once the show was over, I hesitated a bit with the older mini-album "introdufus", and ended up buying the 4-song "New Arrival e.p.". Unfortunately I had already bought the latest album "Long Distance" at HMV a while ago, so I couldn't get an autograph or the sticker being given away.
Rufus will play a full set in Tokyo on September 10 at Shibuya O-Nest, at the Utrecht release party.
After leaving Tower, I went to Takashimaya, and 5 foreigners, who were either models or nuts (I suspect the former), walked out of the 1st floor main entrance wearing sort of jinbei made of newspaper... One person with them had a camera and took pictures of them lined-up. I didn't take a picture but I, and many other amused watchers, wondered what that was about.
Posted on August 4, 2006 at 12:29 | Permalink | Comments (0) | Tweet |
---