Blog - June 2006 Archives
June 2006 Archives
Index


.26 Blue-eyed cat



.24 Yotsuya station



.21 L'œil de Shinjuku


.21 Dental stuff


.19 Movable Type AddComment plugin


.17 Back, but no more comments



.15 Ajisai



.13 Nomoto Karia at Apple Store Shibuya live report



.09 Anzen-tarō



.06 La Querencia Peligrosa "1+1=333"



.05 Golf



.03 Zeppelins and helicopters




.03 Baby Loco and Nakano-sakaue

---
June 26, 2006
Blue-eyed cat
A small blue-eyed black cat guards a garden, in Itabashi, Tokyo.
Posted on June 26, 2006 at 15:01 | Permalink | Comments (5) | Tweet |
---
June 24, 2006
Yotsuya station
Today for lunch I went to have Portuguese food at Manuel in Yotsuya. I had Pastéis de Bacalhau (fried codfish), Couve Roxa com Maçã (salad of red cabbage and apples), Carne de Porco à Alentejana (stir-fried pork and clams) and Gelado de Vinho da Madeira (wine taste ice cream). All very delicious!
And all you get is a photo of the station.
Posted on June 24, 2006 at 19:58 | Permalink | Comments (2) | Tweet |
---
June 21, 2006
L'œil de Shinjuku
I love Shinjuku's hypnotic eye. Since 1969, this artwork by Miyashita Yoshiko is located straight across the rotary facing JR's west exit.
Posted on June 21, 2006 at 21:29 | Permalink | Comments (6) | Tweet |
---
Dental stuff
I have relatively healthy teeth, no cavities and all, but this week I faced some weird-ass dental problem that I feel should be documented. So here goes...
(Nothing gory, but the faint of heart may prefer to stop reading here.)
Posted on June 21, 2006 at 21:21 | Permalink | Comments (4) | Tweet |
---
June 19, 2006
Movable Type AddComment plugin
This is a Movable Type plugin that allows adding comments right from Movable Type's backend. It adds a "Add A Comment" form in the "Comments" tab when editing an entry. As a bonus, it also adds a "Add A Trackback" form in the "TrackBacks" tab too (since version 1.4).
Personally, I used this to add comments to entries on my blog, after having had to disable the comments script because of spam attacks that were beyond any poor spam filter. It can also be useful for replying to user comments from MT's back-end, and also makes it possible to publish the user's comment at the same time as a response.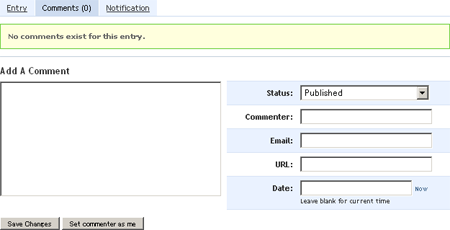 Posted on June 19, 2006 at 14:46 | Permalink | Trackback (0) | Comments (17) | Tweet |
---
June 17, 2006
Back, but no more comments
chipple.net is back from the dead after about 30 hours offline. The problem was apparently a comment spam attack on my blog that took the whole shared server down. My account was then suspended and it took a while to work out terms with my hosting to get the switch flipped back on...
As a result, no more comments, which I find really sad. Thanks to stupid spammers. I had sure been getting a whole lot of comment spam over the last few weeks, about 500 daily, what a pain.
Anyway, comments can always be done over at Flickr (for those who have accounts) on posts with some photos, otherwise emails are always welcome. Back to old-school feedback.
Update (6/19): Comments are now accepted by email and later posted manually. The true end of comment spam.
Posted on June 17, 2006 at 23:29 | Permalink | Comments (0) | Tweet |
---
June 15, 2006
Ajisai
These are Hydrangea Macrophylla (aka Big Leaf Hydrangea, Hortensia, in Japanese アジサイ or 紫陽花), and they're very common around this time of the year. I took these pictures at Dei-no-izumi park (出井の泉公園) in Itabashi-ku, Tokyo, which is famous in the area for having about 2000 of these flowers.
That last one is gakuajisai of the same family. Isn't it somewhat キモかわいい?
Update (18:12): More ajisai photos at Chabe's today blog entry.
Posted on June 15, 2006 at 15:55 | Permalink | Trackback (1) | Comments (0) | Tweet |
---
June 13, 2006

Nomoto

Karia at Apple Store Shibuya live report

Tonight after work, I dropped by Shibuya to see Nomoto Karia's mini-live at Apple Store.

Karly was accompanied by Konishi Yasuharu who looked very cool wearing a white shirt and sunglasses. He first DJ'd 30 minutes for the early comers, playing a mix of 60's stuff, some house, and quite a bit of hip-hop. His set included a Finger 5 cover of Tom Jones' "It's Not Unusual", remixes of "Walk This Way" and Jackson 5, and House of Pain's "Jump Around".

Then he introduced Nomoto Karia who walked down Apple Store's transparent stairway to the small stage. She looked beautiful, wearing a silver dress. Konishi-san played her three songs released for download by columbia*readymade, and a surprise bonus from her first album. Karly danced while singing over the vocal tracks, although her live voice was clearly audible.

1. hitomi no naka ni Mirrorball

2. Bubbly

3. Adieu wa kanashii kotoba

4. Tokyo wa yoru no 7ji (The First Cut)
That was a fun show, at an early time the two can rarely be caught. Konishi-san said that they were off to do some recording tonight, and he also announced a good news, saying that they're planning an album release before the end of the year!
The short event was recorded for NHK Sōgō TV show PopJam DX and will be aired on July 3rd.
Posted on June 13, 2006 at 22:17 | Permalink | Trackback (1) | Comments (4) | Tweet |
---
June 9, 2006
Anzen-tarō
Flat-style orange Anzen-tarō, spotted on Ōmekaidō near Nakano-sakaue.
Posted on June 9, 2006 at 21:33 | Permalink | Trackback (0) | Comments (0) | Tweet |
---
June 6, 2006
La Querencia Peligrosa "1+1=333"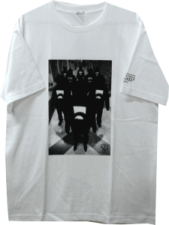 Tonight I went to see a small in-store exhibition by a well-known yet mysterious Tokyo graffiti artist. You've seen his works in Tokyo streets and elsewhere, La Querencia Peligrosa (aka... yes, QP!) is exhibiting some artwork at skater shop Fatbros in Nakano! The exhibition, intriguingly titled "1+1=333", shows some manipulated photographic works and some ¥10,000 bills.
Being a great fan, always on the look-out for QP's tags and graffiti, I couldn't leave without buying one of the high-impact commemorative T-shirts designed by 153 laboratory. This one shows QP-esque figures standing in an empty Nakano Sun Mall!
Also available are free stickers promoting the exhibition!
Go! Now!
Larger sizes at Flickr
FATBROS presents instore exhibition:
La Querencia Peligrosa "1+1=333"
From 5/27 (currently ongoing)
Official exhibition page
At Fatbros
Lion's Plaza #107, 5-60-2 Nakano, Nakano-ku, Tokyo (map)
Tel/Fax: 03-3389-1655
Opening hours: from 11:00 until 21:00
Posted on June 6, 2006 at 22:31 | Permalink | Trackback (1) | Comments (1) | Tweet |
---
June 5, 2006
Golf
This is Golf Plaza Joy Joy Hasune, in Itabashi, Tokyo. In suburbs of Tokyo, people train for golf and baseball batting under huge nets like this one.
Posted on June 5, 2006 at 21:09 | Permalink | Trackback (0) | Comments (1) | Tweet |
---
June 3, 2006
Zeppelins and helicopters
Lots of action in the cloudy skies this morning, not less than two zeppelins and five helicopters! My guess is that the helicopters were escorting the zeppelins, but we often get helicopters without zeppelins around here, so it may have been for another reason.
Posted on June 3, 2006 at 11:14 | Permalink | Trackback (0) | Comments (2) | Tweet |
---
Baby Loco and Nakano-sakaue
Here are a few recent photos. Those who watch my Flickr photostream will have seen them already.
1, 2. German-made mini-SL train named Baby Loco, exhibited at Jōhoku-kōen, Itabashi, Tokyo.
3. Sunbright Twin building, on the south-west corner of the Nakano-sakaue crossing.
Posted on June 3, 2006 at 10:39 | Permalink | Trackback (0) | Comments (0) | Tweet |
---