Blog - April 2013 Archives
April 2013 Archives
Index
.27 Weekly revue: 2013 week #17 (April 20 to 26)
.20 Weekly revue: 2013 week #16 (April 13 to 19)
.13 Weekly revue: 2013 week #15 (April 6 to 12)
.06 Weekly revue: 2013 week #14 (March 30 to April 5)

---
April 27, 2013
Weekly revue: 2013 week #17 (April 20 to 26)

Food: - Saag chicken curry at Café Orchestra, Nishi-Ogikubo
- Coffee float at Renoir
- Malaysian dinner at Malay fūkō bishoku (馬来風光美食), Ogikubo
- Ice cream from Ben & Jerry's, Harajuku (... It had been so crowded since it opened, this was my first time! Love it!)

Music event: On Sunday April 21 I went to a large event titled "KAWAii!! MATSURi" with some friendly colleagues. We got to see Hanae, Nanba Shiho, and... Kyary Pamyu Pamyu!! It was my first time seeing a full show of hers. A very tight show with lots of energy, it made me really happy!

Kyary Pamyu Pamyu set list: Kyary no March / Fashion Monster / minna no uta / Invader Invader / kimi ni 100 Percent / Unite Unite / ninjari Bang Bang / PONPONPON / Kyary ANAN / tsukematsukeru

I won't write a report about this one (though you can read a report of her show in New York the week before), but I did write a report for the "Joy Ride" event I went the previous Friday.

Music release news: Kero Kero Bonito, Muro, Yumiko Morgan Oscillators?

Playlist: Kahimi Karie, Kaji Hideki, Fantastic Plastic Machine, Pizzicato Five, "Groove Catch Limited Edition 2012", CTO LAB., Vanilla Beans, hitomitoi, Nakatsuka Takeshi

This week's video: Frenesi "Pure Shampoo" (full version)

Posted on April 27, 2013 at 02:06 | Permalink | Trackback (0) | Comments (0) | Tweet |
---
April 20, 2013
Weekly revue: 2013 week #16 (April 13 to 19)

Food: - Poulet Yassa at Los Barbados, Shibuya
- Gelato (dates, almond soy sauce, fig, chai) at Far East Bazaar, Hikarie B2F, Shibuya
- Hokkaidō beef burger at Gotham Grill, Ebisu. They changed fries for onion rings with no problem. :)
- Pork and squid lunch at Miniyon, Shibuya
- Chicken pho & vietnamese yakitori at Chopsticks, Kōenji

Exhibition: Street artist ESOW has a solo exhibition that started last weekend inside of 55DSL in Harajuku. A whole room is filled of his paintings and various objects. Definitely worth a check! I also picked up the limited T-shirt. The exhibition goes on until June 30, and different works are shown at the same time at the shops in Nagoya and Kobe.

Music events: - On Monday I went to "Prost!", an event presented by Delicatessen Recordings at Batica, Ebisu. I got to see P.O.P ORCHeSTRA and Dorian! Dorian's technique always amazes me, sequencing his tracks on the fly on his MC-909. There were so many new sounds I hadn't heard before. My guess is that he must have a new album in the works. Crossing my fingers!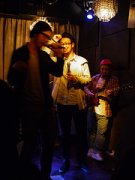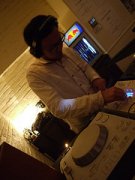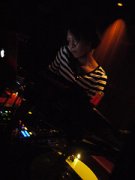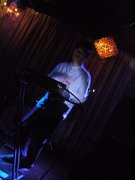 P.O.P ORCHeSTRA, TAKAHASHI Masaru, KAZYANIGHT, DORIAN
- On Tuesday was Takako Minekawa & Dustin Wong's 2nd show! I had seen them just the month before (report), but I went again, and it was great! The show was held at event space Kichimu in Kichijōji. My friend Yuya who went along wrote a great report on his site ICON.jp, with photos and details about all their gear. After the show I got to talk briefly with Takako and Dustin! They were really nice too! :) I'm really looking forward to the album to be released next month.
- And on Friday was event "Joy Ride vol.133" at Koenji High featuring CTO LAB., and also soyuz project and NeoBallad. All acts were great! I'll have to write this up later. Meanwhile here are photos I took of CTO LAB. (More at Flickr)
Playlist: Denki Groove, Vanilla Beans, Buffalo Daughter, Kavinsky, Kero Kero Bonito, frenesi, Rodion
Tech: Facebook seems to have made changes its OAuth flow recently. My app used to be able to obtain the access_token from the authorization code, without specifying the app's redirect_uri, but that stopped working. I had to fix my code to work around that.
This week's video: Hasebe Novko "bunta to watashi"
Posted on April 20, 2013 at 17:14 | Permalink | Trackback (0) | Comments (0) | Tweet |
---
April 13, 2013
Weekly revue: 2013 week #15 (April 6 to 12)

Last weekend the weather was rather bad, and also it remained cold for most of the week. Still on Sunday we went to Shinjuku to meet a couple of friends who had just arrived from Taiwan for vacation. After a bit of window-shopping we went to have kushikatsu. They gave us a box of pineapple cakes of a brand we hadn't tried before. I always love pineapple cakes, but these were delicious! :)
On Thursday I went to karaoke with friends from work, we all sang songs while trying to respect an "idol" theme. Fun! :) On Friday I watched an event held at 2.5D on Ustream, featuring DJs Yoshida Tetsuto (8-bits) and Hase Yasuhiro (Yume to Cosme), MC Edobor (who I had just seen DJ the week before), and a show by idol group t.c. princess (aka Tekupuri) from Sendai. The songs they sang sounded like they borrow from Pizzicato Five, Perfume, Yasuda Toshiyuki, Denpa Gumi, all pretty good.
New music: I got Towa Tei's new single from MachBeat! Two new instrumental tracks, good stuff! This comes ahead of a new album, but no details yet about when it will be released. The 2nd track on here is a special short edit (still over 6 minutes) of a track said to be 15:45..!

Music release news: Yakushimaru Etsuko, Tamaki ROY, Tarte Tatin
Playlist: Breakbot, "Yellow Magic kayōkyoku", Hosokawa Fumie, "Techno Magic kayōkyoku", Perfume, Tomoki Kanda, Dorian
Tech: Last weekend, because of the rain, I decided to clean my computer's CPU fan some more. I did a little mistake though, I removed the fan/heatsink from the the CPU without thinking of the CPU grease that's in between... The grease was all dry which probably didn't help conducting the cooling. So I went to buy "high-density polysynthetic silver thermal compound" (Arctic Silver 5) and a little spatula to spread it. I also got strong wet tissues to clean the surface before applying. As a result, I was able to render video without any tuning (before, the CPU would heat up and the computer would shut down within about 2 minutes of rendering), and also it seems to be more quiet than before (thanks to a close fan cleaning using the vacuum cleaner). All good!
I noticed CPU temperature is still a bit high when rendering video though, so maybe when rendering for a longer time I'll have to watch CPU temperature (with Core Temp) and gauge CPU usage (using BES).
This week's video: Yakushimaru Etsuko "Lonely Planet" (from album "Radio Onsen Eutopia")
Posted on April 13, 2013 at 00:29 | Permalink | Trackback (0) | Comments (0) | Tweet |
---
April 6, 2013
Weekly revue: 2013 week #14 (March 30 to April 5)

Food: - Curry at Tapir (Shin-Ōkubo), Cochin Nivas (Shinjuku), and Pakumori (Shibuya)
- Bread from Kuropanya, Shin-Egota
- Cakes from Sunday Bake Shop
- Galette bretonne at Breizh Café Crêperie, Shinjuku Takashimaya

Art events: - We went to a screening of the first movie by director Matsukage Hiroyuki, short film "sunayama" (18 min., trailer), featuring Aida Makoto. The event also featured MC Yamada Hirono (underground filmmaker who does live narration over his films), who screened a few of his films that featured Matsukage as an actor.
Also shown was another new movie, "ouse" (2013, 37 min.) by director Kaneko Masakazu (who did cameras on "sunayama"). This movie also starred Matsukage as an actor. (Sorry this is getting confusing.)
There was a talk session with Matsukage Hiroyuki, Aida Makoto, and manga artist/columnist Shinsan Nameko.

- Exhibition by graffiti artist "ROUSOKU" (aka Z¥$). Various works and photos can be seen at Tokyo Cultuart by Beams, until April 10 (info).

- We had the opportunity to meet interesting pottery artists Riyoo Kim and Shinozaki Yumiko, who were just back from a group exhibition in New York. Both will have exhibitions in Tokyo in the following months so I'll post details later. Thanks Jiro-san for introducing us!

Music events: - On Wednesday I dropped by Acid Panda Cafe in Shibuya for a DJ event of Fukuta Takeshi (8-bits) and Edobor. Together the two form B2B DJ unit "beach on the S*X". Fukuta Takeshi first played a set of 7" vinyl only, followed by an Edobor set of 8cm (3") CDs only! Then were free sets by the two, but I had to leave not too late. I'm pretty sure they must have done a performance of their fun B2B unit later in the evening.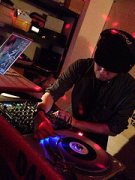 - And on Friday, I went to Tower Records in Shinjuku for an in-store live by Kaji Hideki! He was accompanied just by flutist/saxophonist Nari-san, who is often part of his live band. I really like Kaji-kun's latest album "Sweet Swedish Winter", which he explained is a sort of an acoustic break between bigger albums. He can be caught live on April 18 at Star Pine's Cafe (Kichijoji, info).
Set list: amai koibito / Sweet Swedish Winter / Milk Walk / shitauchi Girl (?, new song for this TV commercial) / anettai Girl
Outing: Went to "cat temple" Jishō-in in Ochiai-Minami-Nagasaki (Shinjuku-ku). The temple contains a large cat statue displayed only once a year on March 2. We'll have to go again next year to see this!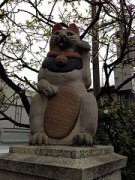 Music release news: RF, Taketatsu Ayana
Playlist: Kaji Hideki, InK, Kaseki Cider, Dorian, Nakatsuka Takeshi, Cotton Candy, Bakubaku Dokin, Buffalo Daughter, Honda Yuka
This week's videos:
Takako Minekawa & Dustin Wong "Party on a Floating Cake" from upcoming album "Toropical Circle"
Yakenohara "CITY LIGHTS" from album "Sunny New Life"
(Dorian @ 03:25 :))
Posted on April 6, 2013 at 14:18 | Permalink | Trackback (0) | Comments (0) | Tweet |
---