Blog - April 2015 Archives
April 2015 Archives
Index
.19 Weekly revue: 2015 week #16 (April 11 to 17)
.14 Weekly revue: 2015 week #15 (April 4 to 10)
.05 Weekly revue: 2015 week #14 (March 28 to April 3)

---
April 19, 2015
Weekly revue: 2015 week #16 (April 11 to 17)

Food: - L.A.'s Menotti's Coffee Stop was in Tokyo for a 1-day pop-up shop at Sunday Bake Shop! That was on Monday. I had the best cappuccino ever! :) We also got to hang out a few times with these great people. We'll definitely drop by if we pass by L.A.
- Also we had some great gyōza at Harbin Gyoza in Horikiri, following a home party at friends'.

Music release news: Record Store Day 2015! That was on April 18, but those great releases can still be found in stores until they sell out.
Playlist: Konishi Yasuharu Tokuma Japan compilations, The Aprils, Flin Flon, Fantastic Explosion
Posted on April 19, 2015 at 16:31 | Permalink | Trackback (0) | Comments (0) | Tweet |
---
April 14, 2015
Weekly revue: 2015 week #15 (April 4 to 10)

I've been a bit busy! Sorry this update comes a bit late. :)

Photo: Cats and sakura at the Somei Reien cemetary in Sugamo.

Food: - White gyoza at Fight Gyoza, Sugamo
- Had a wonderful picnic day under some pretty cherry blossoms (they've all fallen by now)!

Exhibitions: - Went to see an exhibition by UK street artist Vinnie Nylon. Very fresh and colorful works! This is on at Wish Less Gallery until Sunday April 19! Details here.

- Dropped by Isetan where there are some displays of a collaboration with Perfume.

Music release news: Cypress Ueno & Roberto Yoshino, Negicco, fox capture plan, Kit Cat

Playlist: Jintana & Emeralds, Necozawa Emi, Sugar's Campaign, Ice Choir, Aprils, Crue-L Grand Orchestra

This week's video: Have some Negicco :)

Posted on April 14, 2015 at 21:48 | Permalink | Trackback (0) | Comments (0) | Tweet |
---
April 5, 2015
Weekly revue: 2015 week #14 (March 28 to April 3)

This week was full of fun surprises! First I was invited by The Aprils to take part in their annual April Fool activities. This year was a unit called Apry Mokyu Mokyu 25, and there was a video clip that parodied some big names (Ky*ry, Ex*le, Se*ai No Ow*ri,..). I was featured as one of the 25 dancers. :) It has been taken down already, but if you subscribe to their mail magazine you might be lucky?! Also you can still see some photos on music news site Natalie.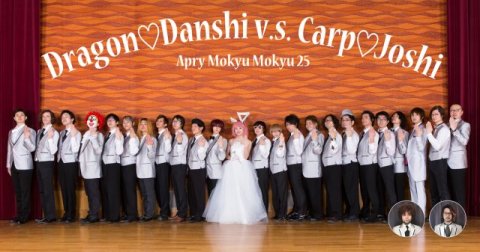 Another wonderful surprise was that I received an autograph board from Vanilla Beans, that I won by participating to a campaign in January! Yay! :)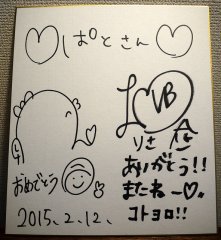 Music event: I went to event "Feelin' Groovy" at UFO Club, organized by neo-GS band The Tramp, and featuring Nosa Reina & The Blue Valentines, yes mama ok? and Wack Wack Rhythm Band! Plus, the main DJ was Comoesta Yaegashi! Among lots of great music, he played Pizzicato Five's "Tokyo mon amour" followed by his version of Nomoto Karia's "Se Você Pensa"!
The Tramp was simply great, with impressive vocals and crazy guitar solos. The band's guitarist is a member of New Castle that I love. I really liked an instrumental jazz-rock cover of The Beatles' "A Day in the Life".
Next was Nosa Reina & The Blue Valentines. It was my first time seeing her with this band started last year. That was a great set! The band will have a first one-man show on April 25 at Shibuya Milkyway.
(Partial set list: hoshi furu oka / Rock'n'Roll Drive / Lambrusco ni koi shite / warui onna / kyō wa sayonara)
Then was a set by yes, mama ok?, in which I was especially happy to hear "Coffee Cup no Rendez-vous tte saikō yo" (YouTube). A greatest hits album will be released this month.
The show ended with a powerful set of Wack Wack Rhythm Band full of their best groovy songs. Every time I see them I'm impressed at how all their songs are absolute classics, even the ones from their recent albums (maybe it's because I listened to the albums so much). And singer Lemon's voice is always wonderful. They closed with their cover of Nina Simone's "Ain't Got No, I Got Life".
More photos here.
Exhibition: Went to see street artist ESSU's solo exhibition at Gallery T.F.T.D (Facebook) in Nakano. This featured many new works, some with new styles that we hadn't seen before. This finishes today April 5.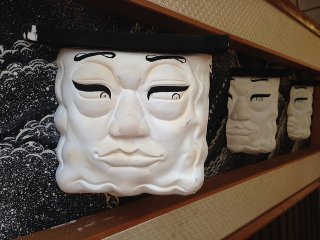 Food: - Chicken & pork curries at Umineko Curry, Nishi-Eifuku
- Spicy maquerel sauté, BBQ spare rib, trifle, etc. at Bespoque, Higashi-Nakano
- "Kapha" lunch plate at Ayurveda restaurant Ayurda, Shibuya
Music release news: Perfume, Cypress Ueno & Roberto Yoshino
Playlist: Maeda Norio / Inagaki Jiro All Stars, Dorian, Hair, The Aprils, (((sssurrounddd))), Flin Flon, Fantastic Explosion, Miho Keitaro & His Group
This week's video: Perfume "Pick Me Up"
Posted on April 5, 2015 at 13:38 | Permalink | Trackback (0) | Comments (0) | Tweet |
---