Blog - September 2016 Archives
September 2016 Archives
Index
.24 Weekly revue: 2016 week #38 (September 17 to 23)
.19 Weekly revue: 2016 week #37 (September 10 to 16)
.11 Weekly revue: 2016 week #36 (September 3 to 9)
.03 Weekly revue: 2016 week #35 (August 27 to September 2)

---
September 24, 2016
Weekly revue: 2016 week #38 (September 17 to 23)

This week had two national holidays, yay!

Food: - Moon cake (& curry too) at Tapir, Shin-Ōkubo
- Soft serve ice cream at Laitier, Sendagaya
- Carrot cake & latte at Sunday Bake Shop, Hatsudai
- Thai style chicken (& more) at Bespoque, Higashi-Nakano
- Chicken curries at newly opened Rainbow Spice Diner, Shinjuku. Actually it just happened to have opened that very day! They offer a quite nice rice & curry plate, with a choice of chicken curries (chicken masala and chicken butter masala, I think), pork vindaloo, and vegetable curry. I assume that the menu may vary. It's located at 2-46-7 Kabukichō 1F, Shinjuku-ku (Google map).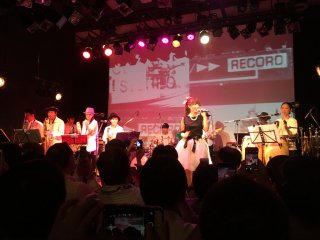 Music event: I went Hoshino Michiru's "tasogare ryūseigun vol.5" event, the release party for her cover album "My Favorite Songs"! I was also excited to see Wakita Monari (ex-Especia) who appeared as the opening act, her debut as a solo singer. She sang both songs from her upcoming single, "In The City" and "ano ne...", and also a cover of ikkubaru's "Cloudless Night". All of that was very good! I'm now really looking forward to the single, expected to be released in November.
I also enjoyed Nishi Erika's show. She has a powerful voice and fun personality. Her songs were very good too! Her set was followed by some funny stage acting featuring Michiru, Erika and the other act Minaminorisa, which ended with throwing loads of "Happy Turn" snacks at the audience. :)
Then was Hoshino Michiru's show! The first half was karaoke style, with older favorites and songs from the new album, and the rest of the show featured back-band Nagareboshi Gakudan (Shooting Star Orchestra) mainly formed of members from Wack Wack Rhythm Band, Sloppy Joe and then some. Three members from The Scooters (Shindō Mitsuo, Ronnie Barry and Beauty) joined for their AKB48 cover, and then Nishi Erika came to sing in duet for two songs. That was really a wonderful show! Oh, and VJing (for all acts from start til end) was by Sally Kubota as usual! Great work! :)
1st set: Interstellar / seikan renrakusen ~Night Voyage~ / watashi wa Schedy / Sweet 19 Blues / natsu nandashi / Summer Candles / i-ji-wa-ru Darling / Wonderland / kono michi / doyō no yoru wa Paradise
2nd set (order may vary): watashi wa obasan ni natte mo / zutto issho sa / You Love Me / Peaberry o mitsuketara / koshinuke danshi ni I Love You / kare no Irish Setter / koi suru Fortune Cookie (w/ The Scooters) / Discotheque ni tsuretette (w/ Nishi Erika) / koi no Fun Fair (w/ Nishi Erika)
Encore : tengoku Kiss / Magic Hour
Music release news: Charan-Po-Rantan, Predawn
Playlist: Nomiya Maki, Hoshino Michiru, Yamashita Tatsurō, Pizzicato Five
This week's videos:
Charan-Po-Rantan "koi to Machinegun (Flipper's Guitar cover)" (Short ver.)
Charan-Po-Rantan "Shangri-La (Denki Groove cover)" (Short ver.)
Posted on September 24, 2016 at 21:46 | Permalink | Trackback (0) | Comments (0) | Tweet |
---
September 19, 2016
Weekly revue: 2016 week #37 (September 10 to 16)

Did some cat watching in the gardens of Hotel New Otani. :)

Food: - Meal at Ahiru Store, Shibuya, feat. Swedish chef Samuel from Beard (recently closed)
- Matcha #3 and hōji-cha ice cream at Nanaya, Shibuya

Movie & event: Went to see a special screening of "Agata Morio yaya Deluxe", a 2008 documentary of singer Agata Morio's 60th birth anniversary tour, following him all across Japan, with a climax show in Tokyo that also featured Yano Akiko and Suzuki Keiichi. That was a lot of great footage! The movie was followed with a talk and live show, where Morio performed his hit song "sekishoku Elegy", and also requests "chiisana kissaten" and "ōsamumachi".

Music release news: (M)otocompo x Kit Cat, Ushio Kensuke (agraph), Dorusen from TPD (produced by Konishi Yasuharu), ShinoVani (Shinohara Tomoe + Vanilla Beans)

Playlist: Denki Groove, Reina & The Blue Valentines, Fujin Club, "Nippon Samba"

This week's videos:

Agata Morio "ōsamumachi"

ShinoVani "onna no ko ☆ otoko no ko"

Dorusen from TPD "sensei no okiniiri"

Larger sizes and more photos at Flickr

Posted on September 19, 2016 at 12:29 | Permalink | Trackback (0) | Comments (0) | Tweet |
---
September 11, 2016
Weekly revue: 2016 week #36 (September 3 to 9)

Outing: I went to Gōtokuji, a temple famous for its many manekineko figures. I didn't think there were so many though! :)

Food: - Beef, sanma (Pacific saury) and eggplant curries at Tapir, Shin-Ōkubo
- Hamburger steak with tomato sauce at Gastro Pub Augustus, Shibuya. Very good and friendly restaurant that opened recently near Shibuya station, taking inspiration from Australia where the chef has worked. The lunch set comes with salad, soup, mini-dessert and drink for just ¥1000.
- Great iced café latte (with demonstration!) at Glaubell Coffee, Daita
- Evening desserts at Neue, Shimokitazawa

Music event: I went to Maika Loubté's release party for new album "Le Zip", at Shibuya O-Nest! At events organized by Maika I'm always impressed at the good bands she picks to share the stage. The event had a busy schedule, using both the main stage and the lounge area. As a band was finishing their set the next was already starting to play, so no time wasted! The other bands playing were: jan and naomi, Yüksen Buyers House, DYGL and Sapphire Slows.

Maika's stage was especially wonderful, backed by Mother Tereco, and with Maika playing live synths a lot as usual! She played many new songs from the new album, and also others such as "Open Me", and 80kidz' "J.M.F" she guested on. The new album is excellent, so be sure to check it out. It should be on iTunes in your country too!

Music release news: Hoshino Michiru, lyrical school, TRI4TH

Playlist: Wack Wack Rhythm Band, Tucker & Emerson Kitamura, The Scooters, Yamashita Tatsuro, dip in the pool, Mark Robinson, Nomiya Maki, Sawada Shungo / Maruoka Takeru All Stars / Pizzicato Five

This week's video: (M)otocompo x Kit Cat "FLASHBACK50"

Posted on September 11, 2016 at 12:19 | Permalink | Trackback (0) | Comments (0) | Tweet |
---
September 3, 2016
Weekly revue: 2016 week #35 (August 27 to September 2)

Food: - Curry at Cochin Nivas, Shinjuku
- Homemade corned beef sandwich with truffle oil & gravy sauce, at Grain Bread and Brew, Shibuya

Music events: - On Sunday August 28 was the World Happiness 2016 festival! It was the last time it's held at Yumenoshima Park, which was a very nice place for it. I got to see Metafive, Denki Groove, Scha Dara Parr, suiyōbi no Campanella, Moonriders, Yano Akiko (feat. Seiho!), Tokyo Ska Paradise Orchestra, and many more! That was a wonderful day! Metafive also announced a new mini-album titled "Metahalf"! The encore was YMO's "kimi ni, mune kyun.", with guest drummer Steve Jansen. Photos and all setlists can be found at Natalie!

- The day before was a matsuri-style event organized by Mixi Group at Miyashita Park in Shibuya, and I got to see DJ Misoshiru & MC Gohan, bird, DJ Kawanabe Hiroshi, and Tonkatsu DJ Agetarō! I also spotted a food truck with artwork by ESOW!

- Early Pizzicato V memorabilia seen at Pied Piper House (Tower Records Shibuya 5F)!

Music release news: Nomiya Maki (new album out now)!

Playlist: Nomiya Maki, Pizzicato Five, Hoshino Michiru, hitomitoi, ...
This week's video: suiyōbi no Campanella "Matsuo Bashō"
Posted on September 3, 2016 at 21:04 | Permalink | Trackback (0) | Comments (0) | Tweet |
---