Blog - July 2014 Archives
July 2014 Archives
Index
.27 Weekly revue: 2014 week #30 (July 19 to 25)
.19 Weekly revue: 2014 week #29 (July 12 to 18)
.12 Weekly revue: 2014 week #28 (July 5 to 11)
.05 Weekly revue: 2014 week #27 (June 28 to July 4)

---
July 27, 2014
Weekly revue: 2014 week #30 (July 19 to 25)

Food: - Chinese lunch at Sen Yō, Higashi-Kōenji
- Pepper beef curry at Tapir, Shin-Ōkubo
- Black forest cake at Sunday Bake Shop, Hatsudai

Music events: - I went to electro trackmaker COR!S' album release event at Strobo Café. There were live performances of Funwari-chan (who did a remix on Buffalo Daughter's new album) and of course COR!S, with a talk session where she explained how she uses Cubase to make her tracks. She then played a full set of most songs from her album "Across Time & Space", and then some, her live keyboards and singing made for a really fun show! The album is great and should please electro fans.

- On Monday was "Marine day" ("umi no hi"), and I went to the release party of JINTANA & EMERALDS, which started at 3pm and went on until 9pm, with also live sets by Dorian, Sugar's Campaign (Avec Avec & Seiho, from Osaka) and Paisley Parks (juke/footwork unit), with DJing in between. I got my CD autographed by all of JINTANA & EMERALDS (Jintana, Kashif and singers Toi (Hitomitoi), Chao (Kuroki Meisa) and Mami). That day really felt like the start of summer. (More photos here.)

- Then on Thursday was event "Joy Ride vol.165" at Koenji High, with Technoboys Pulcraft Green-Fund (band now active for 20 years), NeoBallad (electro+drums+minyō), and CTO LAB.. All of the bands were great! (More photos here.)

- And on Friday night was a solo DJ event by friend Nazo Production at Bar Sangai in Musashi-Koyama (Meguro line). We have many similar tastes, though his are much wider and deeper.

Music release news: Buffalo Daughter, Takahashi Yukihiro & Metafive, Takahashi Yukihiro with In-Phase, Towa Tei, ryo fukawa

Playlist: Hoshino Michiru, (((sssurrounddd))), hitomitoi

This week's video: Buffalo Daughter "Oui Oui"

Posted on July 27, 2014 at 11:27 | Permalink | Trackback (0) | Comments (0) | Tweet |
---
July 19, 2014
Weekly revue: 2014 week #29 (July 12 to 18)

Food: - Lamb Rogan Josh and dam chicken biryani, at Indian-style bistro Momo no mi, Hongō
- Taco rice at Toquio coffee and desserts, Minami-Aoyama
- Nasi goreng at Malay Asian Cuisine, Aoyama

Music release news: lyrical school, Emerson Kitamura, Crazy Ken Band, COR!S, SMAP, Negicco

Playlist: Bakubaku Dokin, COR!S, Especia, Jintana & Emeralds, Dorian, Hoshino Michiru, P.O.P

This week's videos:

Emerson Kitamura "ochikochi ni" album trailer

Negicco "Festival de aimashō"

Posted on July 19, 2014 at 12:28 | Permalink | Trackback (0) | Comments (0) | Tweet |
---
July 12, 2014
Weekly revue: 2014 week #28 (July 5 to 11)

Food: - Bia Bia special ramen at Bia Bia, Koenji
- Black forest cake from Acacier, Saitama (via Isetan)
- Black forest cake from Les années folles, Ebisu (via Isetan)
- And a fun & delicious surprise birthday party (for a friend)!

New music: - P.O.P "tanoshii koto bakari arimasu yō ni" (roughly translates to "for there be only fun things"): Now that's a truly high quality first album from these twin rappers (as in identical twins) I've seen live many times. Actually including a full band with Shibuya-kei-sounding roots, P.O.P feels a mile apart from most of the hip-hop scene, in a wonderful way. A refreshing and fun album in time for summer!

- Kyary Pamyu Pamyu "Pika Pika Fantajin": Quite a fun album with a lot of variety. It's not as easy as the previous ones, which is not necessarily a bad thing though it will need some more listens to fully get into it. I got limited edition B which comes with a world tour documentary DVD with footage from Toronto (yay!), New York, Sydney (Australia) and Hong Kong.

Music release news: Kojima Mayumi, Charan-Po-Rantan, fox capture plan, hitomitoi, POiSON GiRL FRiEND, lyrical school

Playlist: Kyary Pamyu Pamyu, Kaji Hideki, hitomitoi, Scooters, Jintana & Emeralds, P.O.P

This week's video: Charan-Po-Rantan "su-dara bushi"

Posted on July 12, 2014 at 13:15 | Permalink | Trackback (0) | Comments (0) | Tweet |
---
July 5, 2014
Weekly revue: 2014 week #27 (June 28 to July 4)

Food: - Coconut chicken focaccia at Réfectoire, Harajuku
- Fish & chips, quiche, cherry pie, etc. at Bespoque, Higashi-Nakano
- Myanmar (Burma) dinner at Mingalaba, Takadanobaba, with P5ML friend Peter N.!
- Tomato chicken curry and Gobi 65 at Cochin Nivas, Shinjuku
- Cakes from Acacier, at Isetan (Shinjuku) until July 8
- Choco mint drink from FamiliMart. This year again!

Movie: Went to the Festival du film français au Japon 2014 to see "Un plan parfait" ("A Perfect Plan") starring Dany Boon. That was a really good film! And to our surprise it was followed by a talk show featuring Dany Boon himself! I loved the movie "Micmacs" in which he also played the main role.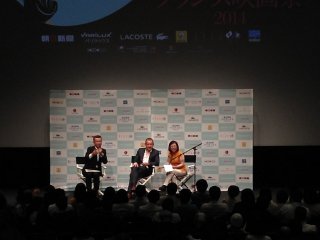 New music: A brand new song by Izumi Ookawara (Qypthone), her debut as a solo singer-songwriter. Wonderful back-band too, with regulars from Nakatsuka Takeshi's live band. Check it our in your country's iTunes store!
Music release news: KANADe, Kyary Pamyu Pamyu, Perfume, risa*risa, Yun*chi
Playlist: Shinohara Tomoe, Modern Choki Chokies, Jintana & Emeralds, Tomoki Kanda, Naka Shigeo, Bakubaku Dokin, Hanae
This week's videos: So many good new clips!
P.O.P "Watch me"
Kyary Pamyu Pamyu "Kira Kira Killer"
Hoshino Michiru "seikan renrakusen ~Night Voyage~"
suiyōbi no Campanella "Kung-fu Lady"
Posted on July 5, 2014 at 15:30 | Permalink | Trackback (0) | Comments (0) | Tweet |
---