Blog - December 2015 Archives
December 2015 Archives
Index
.29 Revue: 2015 week #52+α (December 19 to 28)
.20 Revue: 2015 weeks #47-51 (November 14 to December 18)

---
December 29, 2015
Revue: 2015 week #52+α (December 19 to 28)

Happy Holidays & Happy New Year 2016!

Some Christmas presents: QP and ESSU pouches, a colorful potholder bird, and a nice turquoise plate!

Food: - Deer curry at Tapir, Shin-Okubo
- Sushi & more at Sushi Marufuku, Nishi-Ogikubo
- Christmas day chicken at Bespoque, Higashi-Nakano
- Butamen #2 at Ramen Bakatare, Sengawa w/ Peter N. & family :)
- & much partying with wonderful friends & delicious food! :)

Music events: - On Christmas Eve, I went to see a mini-live of Nomiya Maki at Hachiko, Shibuya. At exactly 7 p.m. she sang "Tokyo wa yoru no 7ji", followed by P5 Christmas classic "24 décembre" (the perfect choice for that day!). The show also ended up being the perfect meet-up with international P5ML friends who happened to be in town: Peter N., Peter V. and Jens J.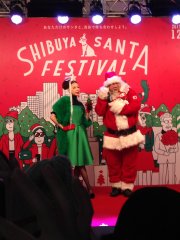 - On December 28 was the last show I see in 2015, and one just perfect for that, Pizzicato One (Konishi Yasuharu) and Sunny Day Service at Liquidroom!
Konishi-san appeared wearing large Mickey Mouse hands, and first sang a cover of traditional new year song "oshōgatsu", instantly putting the audience in party mode. Unlike the September Billboard show, there were no guest vocalists, making this the first time ever that Konishi-san sang a whole show from start til end!
An especially nice surprise was a cover of Negicco's "Idol bakari kikanai de" ("Don't listen just to idols"), a song he said he wrote thinking of himself. He changed the lyrics removing the punctuating "zannen!" ("too bad!") calls, and pointed at the audience singing instead "look more at yourself". He also sang several P5 great songs not on the P1 album: "The Great Invitations", "Love Again", "Message Song" and "To Our Children's Children's Children". He closed his set with a cover about drinking, an upbeat samba that made the audience dance. What a great show! (Full set list below.)
Sunny Day Service played next. It was my first time seeing them since they got back together a few years ago, though I had seen singer Sokabe Keiichi before. They gave a rocking good show full of catchy pop songs. I was impressed how they're truly good musicians and entertainers, and also have great vocal harmonies.
I also had the chance to buy an autographed copy of Konishi-san's latest book, "bokura no Hit Parade" (a collaboration with Kataoka Yoshio), which was missing from my collection.
Pizzicato One set list: oshōgatsu (Taki Rentarō cover) / Tokyo no machi ni yuki ga furu hi, futari no koi wa owatta. / nichiyōbi / Y.O.U. / Idol bakari kikanai de (original: Negicco) / kanashii uwasa (original: The Scooters) / The Great Invitations / Love Again / Stars / Message Song / To Our Children's Children's Children / tōmei na hitotoki o (Hasegawa Kiyoshi cover)
- Not exactly an event, but I went to the theater to see "Denki Groove The Movie"! A full-length documentary film about the whole 25-year history of Denki Groove to this day. The movie is full of rare footage and also has many songs from last year's Fuji Rock filmed in a cinematic way. Difficult to watch while having to remain calmly seated!
Exhibitions: - Checked out the "Shibuya Style vol.9 - pop&street exhibition" at Shibuya Seibu, with works by HITOTZUKI, Invader, KAWS, Aruta Soup, D*FACE and many more. The large HITOTZUKI painting is quite a masterpiece.
- Dropped by Beams T in Harajuku for a Screaming Hand exhibition, with works by many artists including QP and Toshikazu Nozaka.
Music release news: Takanami Keitarō, Learners, Baku Baku Dokin
This week's videos:
Baku Baku Dokin "swingin'"
Learners "I Want You To Be My Baby"
Posted on December 29, 2015 at 19:39 | Permalink | Trackback (0) | Comments (0) | Tweet |
---
December 20, 2015
Revue: 2015 weeks #47-51 (November 14 to December 18)

Time just flew away this past month, and so did I on a very nice trip to Taiwan!

Travel: At the end of November we went for a very nice one week trip to Taiwan! We visited Taichung, Tainan and Taipei, and also did a quick day trip to Houtong Cat Village! I was happy to catch up with my P5ML friend William! We had so much delicious food! Check out trip photos on Flickr.

Music events: - I briefly dropped by an in-store event at HMV Record Shop in Shibuya where Comoesta Yaegashi and Groove Unchant DJ'd to promote Comoestas' new 7" single "Twist & Dodonpa".

- This year again I went to see Nomiya Maki's fantastic Shibuya-kei revue show at Billboard Live Tokyo! Aside from all the great songs as heard on her latest album, Henmi Mari's "Daniel, mon amour" was a great surprise, as well as the trio of French covers including "Contact" (as previously covered by Pizzicato Five) and a moving "Ex fan des sixties". Not to mention the amazing P5 medley encore...!

Set list: Tokyo wa yoru no 7ji (The night is still young) (Pizzicato Five) / What the World Needs Now Is Love (Jackie DeShannon) / ongaku no yō na kaze (EPO) / Friends Again (Flipper's Guitar) / Daniel, mon amour (Henmi Mari) / Le cœur qui jazz (France Gall) / Contact (Brigitte Bardot) / Ex fan des sixties (Jane Birkin) / Paris no koibito/Tokyo no koibito (Mizuki Arisa / Chūō freeway (Arai Yumi (Yuming)) / sekai wa ai o motometeru (What The World Needs Now Is Love) (Japanese lyrics by Konishi Yasuharu)
Encore: Pizzicato Five medley - Tout tout pour ma chérie / London Paris / Mon amour Tokyo / Strawberry Sleighride / 24 décembre / Sweet Soul Revue

- I also got to catch an in-store event with Nomiya Maki and Vanilla Beans, at the new HMV & Books in Shibuya, where they sang together "Tokyo wa yoru no 7ji". The place was super crowded!

- Back from Taiwan, I hurried to buy Vanilla Beans' new single, and I made it to an in-store at Tower Records Shibuya's Stage One. The show was short and sweet, starting with my favorite "Nicola", and including all three songs from the new single, plus "uchōten Girl".

- I went to see U-zhaan and Yoshida Daikiti, playing tabla and sitar, at Moon Romantic (Gaienmae) in an event presented by Salam Unagami. There was an impressive and mesmerizing 1-hour non-stop performance by the two musicians, and a talk show with Salam and the sitarist who taught some patterns in Indian music singing "Pa Ma Ga Re Sa".

- I also went to Chiroline ver.3's Christmas party event at Akasaka Graffiti, also featuring CTO LAB. and singer-songwriter Shizukuda Umi, and a mini-live by Genius (with a nice Japanese cover of "All I Want For Christmas Is You").

Chiroline ver.3 set list: Rudolph the Red Nosed Reindeer (feat. CTO LAB.) / Cowgirl At High Noon / Napolitan no uta / Brand-New Morning / Chocolate sensō / (Chiroline no) hoshi ni negai o / sonna Banana / Sha-la-la Snowed In

CTO LAB. set list: mirai no kioku / 2001: A Space Odyssey / Winter Wonderland / The Elements / Space Arcadian / Go! Spiral! Go! / omocha no Cha Cha Cha / ii Papa ii Mama warui Papa Polka / Crash Bandicoot

Exhibitions: - MIM (Ryokudōkai) solo exhibition at Fūraidō. All three members of Ryokudōkai are doing a weekly exhibition there, and the last is ESOW from December 20 to 26.

- ESSU exhibition at Kōjimachi Gallery.

Music release news: Vanilla Beans, Halfby, sugar me, suiyoubi no Campanella, comoestas, P.O.P

This week's video: Twisty feat. Shione & Yuko "Winter Scene", a new favorite holiday song!

Posted on December 20, 2015 at 01:00 | Permalink | Trackback (0) | Comments (0) | Tweet |
---