Blog - May 2008 Archives
May 2008 Archives
Index

.31 columbia*readymade's jazz-rock reviewed #1, 2, 3


.30 Chika Chika Rock'n'Roll


.28 Movable Type Copy! plugin



.26 KORG DS-10



.26 Plastics Sex Night: report



.18 arcorhyme afternoon live at Grand Cru (vol.3): report




.13 joli maniaque*: report



.12 Enban Jamboree day 3: report



.05 Manbonsai in Nihonbashi

---
May 31, 2008
columbia*readymade's jazz-rock reviewed #1, 2, 3
Slowly but surely, I've been picking up the columbia*readymade re-issues of Japanese jazz-rock albums from 1968-1970. Selected by Konishi Yasuharu, these are mostly rare releases, now available on CD for the very first time. Each is in a mini-LP sleeve with great attention to detail, some even having a jacket of different texture. Liner notes from the sleeve, which in CD size are too small to be read, are included as a separate sheet.
Some would buy the whole lot at once, but I prefer to buy one at a time, on weeks where there's nothing else I want to buy, and take the time to listen to each several times so that I can get a good feel of each artist. If I'd get them all at once, I'd probably listen to each just once and then not remember what each sounded like individually.
As I go through this series, I'm thinking of doing short reviews of each album, hoping to be able to guide you a little bit through this massive volume of music from the past.
Here are the first three of the series (which I'm buying in catalog number order, surely someone thought that it was the best order to enjoy them). Common points in these three are that they contain both originals and covers, all including some Beatles songs, and all are instrumental. Also all three have a 2-pane sleeve.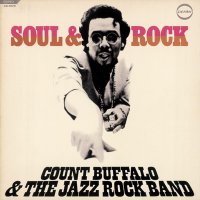 Count Buffalo & The Jazz Rock Band "Soul & Rock" (1969)
カウント・バッファローズとジャズロックバンド 「ソウル・アンド・ロック」
Count Buffalo is drummer Ishikawa Akira, and his band here features Terakawa Masaoki (bass), Satō Masahiko (piano), Suzuki Hiromasa (piano), Sugimoto Kiyoshi (guitar) and Muraoka Takeru (sax).
When I heard the term "jazz-rock", I didn't really know what to think, but hearing this release (first of the series) seemed to make it all clear. Rock songs are performed in a quite normal way, or so you'd think until some improvised jazz solos come up half-way, with sometimes one player keeping his feet on the ground until everyone comes back to the main theme for the end of the song. Not knowing better, the jazz parts reminded me of when I saw Ōtomo Yoshihide New Jazz Ensemble. Being a drummer, I also very much enjoyed leader Count Buffalo's energetic and creative playing. I was especially impressed by a cover of the Beatles' "Michelle", song that I never liked so much, but this cover really made me appreciate it. Original songs "The Cougar" and "No More Than A Drop", both written by pianist Satō Masahiko, definitely stand out.
Track list: The Cougar / I'm Gonna Make You Love Me / Michelle / Green Sleeves / The Sandpiper / No More Than A Drop / Hey Jude / Deep River / Mago-Uta
---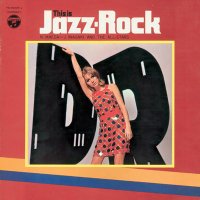 Maeda Norio / Inagaki Jirō All Stars "This Is Jazz-Rock" (1968)
前田憲男/稲垣次郎オールスターズ 「決定版!これぞジャズ・ロック」
This album features Maeda Norio (Hammond organ) and Inagaki Jirō (tenor sax), accompanied by trumpet, guitar (Sugimoto Kiyoshi also on Count Buffalo's album above), bass, drums and latin percussions. It seems like these two are still making music together to this day! The presence of the two lead instruments is felt throughout the album, which is mostly rock but with a touch of jazzy solos (far from being as radical as Count Buffalo's above).
I was especialy very pleased with the opening "Pata Pata" (Miriam Makeba), "Watermelon Man" (Herbie Hancock), and "House of the Rising Sun" (The Animals). Originals "Snap-Shot" and "Go Go A Go Go" written by Maeda also stand out very much, both of these were included on the Readymade compilation "Midnight Tokyo".
Track list: Pata Pata / Mercy, Mercy, Mercy / Day Tripper / Snap-Shot / My Girl / Boom Boom / Watermelon Man / Barock / House Of The Rising Sun / Go Go A Go Go / Soul Finger / Here, There And Everywhere
---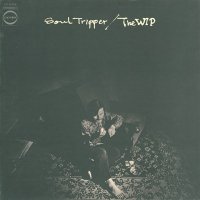 The WIP "Soul Tripper" (1968)
飯吉馨とザ・ウィップ 「ソウル・トリッパー」
The black jacket showing a hippie sitting in the dark didn't particularly attract me, but I was pleased with the music. The liner notes don't tell us much about the members other than leader Iiyoshi Kaoru (piano/organ), but he's accompanied by guitar, bass, drums, flute/horns and sometimes strings. Not much of a jazz feel here.
The album contains 4 original songs, and the rest are covers. I found original title track "Soul Tripper" especially impressive, and the bossa nova "I Love Jobim" (obviously an homage to Tom) is great too. As far as covers go the Beatles' "Eleanor Rigby" gets good treatment, and "Where Have All The Flowers Gone" (Pete Seeger) also stood out. About half of the songs are slowish, still quite a good listen as a whole.
Track list: Soul Tripper / Eleanor Rigby / Where Have All The Flowers Gone / A Treasure Island / Secret Love / I Love Jobin / By The Time I Get To Phoenix / We've Only Just Begun / Ticket To Ride / Who Can I Turn To / Love Story / Catolea
---
That's it for now! Next up on my pile is Sawada Shungo / Muraoka Takeru All Stars "Hit & Hit In Bossanova" that I just picked up yesterday. I can't promise that I'll keep reviewing everything in the series, but I'll try (especially if there's any interest). :)
Find all details on the 9 columbia*readymade jazz-rock re-issues, out April 16, 2008.
Posted on May 31, 2008 at 19:17 | Permalink | Trackback (1) | Comments (2) | Tweet |
---
May 30, 2008
Chika Chika Rock'n'Roll
I found out about this young indies techno-pop unit named Chika Chika (aka Tika Tika, チカチカ) (MySpace) a few days ago when they came up on a late night TV show. They were featured as recommended by Marty Friedman (yes the guy from Megadeth — for those who didn't know he's now an active TV personality in Japan).
On the show, they played a song titled "Chika Chika Rock'n'Roll" from their latest release. Very catchy techno-pop picopico track with cute vocals! The song can be heard entirely at the TV show's site.
Below is a clip from the show (to disappear soon probably) in which Marty proceeds to recommend how to rearrange the song to make it catchier, by stopping to mess with the beat so much and just leave it upbeat the whole time. You can see them fixing it in their home studio in Nagoya. Or if you just want to hear the song played live, kindly skip to 04:10.
On YouTube there's also a promo video that samples several songs from their latest release, and a CG video for the song "Dancing Star In The Space".
I know I'll be buying their CD-R next time I pass by Mekano in Nakano Broadway! I also hope they'll come play in Tokyo sometime soon.
Those into this might also want to check out the rest of label Hotatekno's YouTube channel which is full of like-minded stuff!
Posted on May 30, 2008 at 22:07 | Permalink | Trackback (0) | Comments (0) | Tweet |
---
May 28, 2008
Movable Type Copy! plugin
Ever need to copy an entry or template to a new one in your Movable Type blog? That usually involves having 2 windows (or tabs), and cut & pasting each of the fields you need.
No more! This new plugin will copy an entry (or page) or template. It simply adds a "Copy" button to the editor, which creates a new object with the same content.
So simple, I called it "Copy!".

Posted on May 28, 2008 at 20:22 | Permalink | Trackback (0) | Comments (15) | Tweet |
---
May 26, 2008
KORG DS-10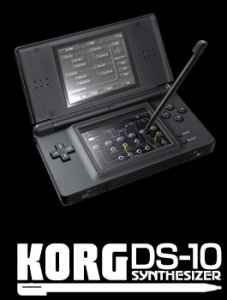 Wow!! KORG has made a software sequencer synth for Nintendo DS!
Features:
- World's first Nintendo DS music tool software
- Simulates 2 analog synths with 2 oscillators, supporting patches
- Drum machine
- 6 tracks (2 synth, 4 drum machine), 16-step sequencer
- Mixer has delay, chorus and flanger effects
- 3 note input modes: touch control, keyboard and matrix screens
- Real-time sound control mode
- Sync several DS-10's wirelessly
While it sure has its limits, it's a first and it sounds damn cool too.
This will be sold in Japan on Amazon only (not in stores). It goes on sale on July 24 and pre-orders are accepted now. The price is very cheap too at ¥4800!
Note: Amazon Japan only ships games within Japan.
They are planning worldwide releases later.
Here's a demo clip on YouTube, and there's lots more too.
By the way, I just knew about this today when reading Aprils' blog. They will appear in the upcoming issue of magazine "otona no kagaku" which will include parts to build your own synthesizer, out in July too!
Posted on May 26, 2008 at 23:05 | Permalink | Trackback (0) | Comments (8) | Tweet |
---
Plastics Sex Night: report
Last Thursday was Plastic Sex Night at Soft in Shibuya. Plastic Sex is the revival band of the Plastics, featuring former leader Nakanishi Toshio and also Nomiya Maki!
The show was to start at 10, and I met Alessandro in Shibuya around 9, where he was eating with 4 of his Italian girl friends. We all headed to soft, and being that it's a very small bar, I was a bit anxious that it would either be packed to the max (as I've seen it at some Tokyo Fun Parties) or otherwise almost empty. We were lucky, as there really weren't a lot of people there when we arrived. The place got a little bit more crowded around when the show started.
Unfortunately, Maki had lost her voice (perhaps she used it too much at the talk show the day before?) so her singing was almost inaudible. Still she was very beautiful in her military outfit, as it was the band's fashion theme for the night. She sometimes wore glasses too, and played tambourine and maracas. Guitarist Kuni Sugimoto (ex-Natural Calamity), whose style I like a lot, was at the back and wore somewhat of an impressive leather jacket. Also in the band were sexy flute player Saori and cute keyboardist Momo.
They played some Plastics classics ("Top Secret Man", "Robot", "Copy"), Plastic Sex originals ("Love keitai ring", "Earth quake island"), and also some covers (such as Iggy Pop's "I Wanna Be Your Dog"). Also I suspect there might have been some from the Plastic Folk/Plastic Knife (2006) which I'm not much a fan of. Alessandro said he thought there was too much guitar and that they should stick to techno which they do best. I kind of agree but I do really like guitarist Kuni a lot though. :)
The show wasn't only music, as there were some quite funny performance parts, such as during "Robot" where each member places a bolt on their forehead and Maki comes with a wrench to tune them. :) For that song To$h used a really weird synth affixed to his arm, with some sliders and a speakers built into his shoulders.
And during "I Wanna Be Your Dog" Saori dragged him around by the chain around his neck, and at one point he reached for his mic and screamed 「本当に苦しい!」 ("I'm really in pain!"), provoking a lot of laughter.
All in all, I quite enjoyed the show, but it was really too bad that Maki had no voice..! She sure looked great though! I'll surely try to catch them again sometime. By the way they'll be playing in Kobe and Osaka on June 12 and 13 respectively.
Larger sizes and more photos at Flickr
Posted on May 26, 2008 at 21:57 | Permalink | Trackback (0) | Comments (2) | Tweet |
---
May 18, 2008
arcorhyme afternoon live at Grand Cru (vol.3): report
Today was a nice Sunday afternoon, and like the last two months I headed to Café Après-midi Grand Cru for Hase-san had been asked to accompany the band on piano!
For lunch I chose Ezo deer ragoût pennette..! I think it was maybe(?) the first time I ate deer, and I was afraid it might be a bit stiff, but it was well cooked and therefore quite tender, I thought it tasted sort of like beef. Very nice meal!
While eating, I enjoyed arcorhyme's two sets, which as usual included both original songs and covers. I was especially extremely happy to hear Yuming's "chūō Freeway", that was my request from last month! It was perfect, and they even played it twice, once in each set! They also played three more requests from other people, they just love to please.
Set #1 (from 13:00): arcorhyme's Don't you believe in magic? / arcorhyme's aoi neko / Yuming's chūo Freeway / Minami Saori's utsukushii gokai / Ishikawa Hitomi machibuse
Set #2 (from 14:00): John Sebastian's Do you believe in magic? / chūo Freeway / Sugarbabe itsumo dōri / machibuse / arcorhyme's amai hibi
Naoto-san who I met at Pure Pop Fes vol.1 the other day showed up for the 2nd set, after which we chatted about music for a while and then went to HMV while continuing to talk about music. That was a lot of fun! I'm sure we'll be going to more shows together soon.
---
arcorhyme's next afternoon live at Grand Cru is already planned on June 15. You know I'll be there!
Meanwhile, arcorhyme can be caught at Star Pine's Cafe on May 24 (details), and then at Go Slow (Ikejiri Institute of Design aka Setagaya monozukiri gakkō) on June 7.
I leave you with this video of Yuming's "chūo Freeway" from 1975. Awesome song!
A recent cover can also be heard on Kofta's "Balmacaan"

mini-album, where I first heard it.
And here's arcorhyme's "amai hibi", which closed the 2nd set.
Posted on May 18, 2008 at 23:30 | Permalink | Trackback (0) | Comments (0) | Tweet |
---
May 13, 2008
joli maniaque*: report
Last Saturday I headed to Shimokitazawa near midnight to go to a new event at Altoto, called joli maniaque*. I went there with Alessandro (Italian/German unit Micropupazzo of the radiodd family), and his friends Lynn and Ming.
When we got there we caught the last 2 songs of Marino's mini-live set, which had started a bit early, but I was happy to finally see her. Then, young DJs played electro-pop, techno-pop and Akishibu-kei (Akiba-kei + Shibuya-kei), sometimes in schoolgirl outfits.
Some of them were pretty good, others still need a bit of practice. If I was to criticize, I thought there was maybe a little bit too much Nakata Yasutaka produced stuff (but who can complain as he's all over the place), not enough Shibuya-kei (despite all the good records that they had put on display), and too much anisong (anime songs) for me. Also the volume was perhaps a bit low sometimes. No big deal though. It sure was a fun night! It looks like it will be a regular, with a 2nd edition coming in August.
Here are a few photos of the evening.
Larger sizes and more photos at Flickr
After the jump are YouTube clips of songs from the event...
Posted on May 13, 2008 at 22:37 | Permalink | Trackback (0) | Comments (1) | Tweet |
---
May 12, 2008
Enban Jamboree day 3: report
Over Golden Week was held Enban Jamboree, the annual(?) festival by Koenji CD shop/live space Enban, which was also celebrating its 5th anniversary. Enban has an important place in Tokyo's indies music scene. Being very small though, the festival isn't held at Enban but at O-Nest, a larger club in Shibuya that spans on two floors. This year the festival was 5-day long (from May 1 to 5), and we went to check out the 3rd day.
The event began at 17:00, and playing very first was electronic musician Hosaka Akane. She performed a very special set, as while she usually plays on her own with her laptop computer and a few synths, this time most of the music was performed live. She played 3 different Casios, a Roland TR-505 and some effects. Her friend DJ Peaky was there to help, playing a Korg and a turntable. The set of about 6 songs was a lot of fun, and ended with a brand new song featuring a squeaky blue bird puppet, that one will appear on her album "Niko Niko Denki Muzic" (remastered with bonus tracks) out next month on Sonore! Stay tuned.
Then we went to have a look downstairs, where is located the larger stage, but on the way there we found two large boxes of free 7"'s! That was going to be the place where to spend a few moments between shows. No great finds (as expected), but I ended up picking up some Hayami Yū, Paul Mauriat, and then some. Above was an exhibition of 7" sleeves with pandas, several songs that I recognized from the panda CD-R I had picked up at Enban a long time ago.
The stage downstairs wasn't yet ready, so we went back up and caught the end of a set by ホライズン山下宅配便 (Horaizun Yamashita takkyūbin), a really weird band with sometimes recorder or oboe, better played under an umbrella. The singer would take off his shoes and smell them. They were quite amazing though in that they sounded really tight and good! Fun stuff!
Back downstairs, we caught a performance by 久下恵生+ユダヤジャズ (Kuge Yoshio w/ Yudaya Jazz), who sampled live drums on video and mix it all up on the spot with a bit of hip-hop flavor. Quite impressive!
Then was a really fun intermission by an old man named Hata Akio who showed reels of trains that he filmed in the mid 70's in Austria, all in color and the quality was quite good. He said that it was the first time in about 10 years that he watched them, and his tales were quite funny. Lots of bare-chested train conductors!
Next up on stage was Doravideo with Jon the Dog. Jon played her organ and sang while Doravideo played drums and projected old videos of Jon. I think that I saw in a caption that one was from 1993! Jon didn't have the amazing dog costume back then but instead a cheap cow outfit! On a TV interview the inevitable confrontation came: "That's not a dog, it's a cow!" to which she replied "No it's a white and black dog." Hilarious! The set ended with a p0rn video mix-up leaving everyone speechless.
In this segment artists were relaying, doing collaborations with each other, and Doravideo was replaced by a shamisen player, Yanagiya Koharu. They performed one of Jon's songs ("otoko no sekai, kawakudari"), and then a song where there shamisen lady sang while Jon danced. That was quite good and funny!
The relaying went on, but we left to go back upstairs and caught the end of a set by zuppa di pesce (whose CD we bought at the shop), and then a short theremin and Matryomin (a theremin inside of a Russian matryoshka doll) concert by Satō Sae. That was quite nice, and I especially liked a Russian song used in Tetris performed on the Matryomin, with an 8-bit backtrack! Nice touch!
Then I was getting a little bit hungry and had the good idea to order a hot dog, which took about 20 minutes to prepare...!? Meanwhile we watched a bit of Lake's show which was alright. Girl drummer Kitayama Yūko was great, it seems like she's active in a bunch of bands and I felt like I had seen her somewhere before although I couldn't figure out where.
Back downstairs we got a bit bored by a solo guitar player doing a hour-long set, and waited around there while checking the free 7"'s some more, until ヒゲの未亡人 (hige no mibōjin = La veuve moustachue). The set was part of what we had seen last December in Shimokitazawa, with video background and piano by Miura Yōko. Only some adlib bits and talk parts between the songs were different. La veuve moustachue is touring Europe very soon (May 15 in Rotterdam, 16 in Brussels, 21 in Paris), don't miss this fantastic one-man mustached widow musical!
I leave you with a rehearsal shot of "Les vacances de la veuve moustachue" as featured in this show.
Larger sizes and more photos at Flickr
Posted on May 12, 2008 at 22:53 | Permalink | Trackback (0) | Comments (0) | Tweet |
---
May 5, 2008
Manbonsai in Nihonbashi
Yesterday we headed to the Nihonbashi area, our main destination being Paradise Yamamoto's manbonsai exhibition at Takashimaya.
We walked from Tokyo station, and on our way we found really a lot of new QP tags, most of a type we hadn't seen before, cut with round corners and no yellow frame. It was a lot of fun to look at all power boxes and find these stuck everywhere!
We then first went to Nihonbashi Mitsukoshi where we had some great gelatto at Gelateria Canoviano. I had espresso and gianduja, quite typical choices of mine as I love chocolate and coffee flavors, and they were both delicious!
Then it was time for some manbonsai appreciation, so we headed to Nihonbashi Takashimaya. It's an old department store with an interesting architecture, and it has old large elevators still operated by elevator girls.
We took a ride to the 8th floor, at one end of which was the event space where were exhibited a bunch of people's collections and hobbies. There were turtle sculptures made of onion peel only, collections of Expo 70 goods, vintage medicament packaging, shogi pieces made of all materials imaginable, etc.
Paradise's manbonsai collection was fantastic. Over 50 pieces were on display. Many were quite funny too. I especially liked ones with UFOs and aliens, Kitarō, Kim Jong Il, rokurokubi (long-necked lady, a traditional Japanese monster), a man cutting a tree, and Paradise himself. Too bad photos weren't allowed, as I'd have loved using my camera's macro mode there.
Then we stopped at a Espressamente Illy café around the corner. The ambiance didn't really fit the neighborhood, with a lounge-y interior and playing new wave music.
Later we headed to Shibuya and I found this space invader nearby 109.
Larger sizes and more photos at Flickr
---
Paradise Yamamoto's manbonsai exhibition is going on until tomorrow Tuesday May 6.
Find all details here on my agenda.
Posted on May 5, 2008 at 17:25 | Permalink | Trackback (0) | Comments (0) | Tweet |
---