Blog - November 2003 Archives
November 2003 Archives
Index


.30 Ado-chan


.26 Programming language inventors vs. Serial killers



.26 MovableType in Tokyo


.25 Back home


.22 Thanksgiving weekend


.16 Karaoke



.15 Night at Organ b.




.15 W3C Day Japan


.14 Blank i-Pod


.12 Stekki Daiyo!




.12 Plaid in Paris


.09 Afterhours #18


.08 Mannekin Pis


.06 Music



.03 Tokyo fashionable lifestyle exhibition


.02 Flea market in Quicktime VR!


.01 Cyber mess

---
November 30, 2003
Ado-chan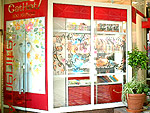 Yesterday we went to check out MIZUMORI Ado's CatHot! shop on Mosaic-dōri in Shinjuku. The tiny shop (no more than about 5 clients can enter it at once) contains all kinds of goods designed by Ado-chan: stickers, diaries, calendars, T-shirts, etc.
I got a hand towel/hankerchief, and some Post-it-like sticky notes.
I'm looking forward to Ado-chan's next musical releases, produced by KONISHI Yasuharu.
"sukisuki SONG e.p." (10" vinyl), out on December 31, seems to contain a cover of Pizzicato Five's "They All Laughed"!
Then, an album called "Ado-chan no sukisuki SONGS", with a different tracklist, will be released on January 28.
Posted on November 30, 2003 at 11:46 | Permalink | Comments (0) | Tweet |
---
November 26, 2003
Programming language inventors vs. Serial killers
Can you tell apart coders from killers? I can't. :)
(Via Joi Ito)
Posted on November 26, 2003 at 15:57 | Permalink | Comments (6) | Tweet |
---
MovableType in Tokyo
Mena of SixApart (the company that makes MovableType, the software that runs this blog and so many others) posts about her recent visit to Tokyo, and her rather bad shopping experience.
Also I'm glad to hear that they made a deal with Nifty, a large Japanese ISP!
Posted on November 26, 2003 at 14:39 | Permalink | Comments (0) | Tweet |
---
November 25, 2003
Back home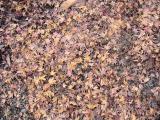 We're now back home from passing our 3-day weekend outside of Tokyo, in Ibaraki. It felt good to get some fresh air and to be far from the crowds!
Yesterday, we caught some nice autumn sights on a mountain and walked on a suspended bridge (which was far from being as shaky as I expected it to be, but yet succeeded in scaring some).
The last picture below is a strange sign with antennas... There was no antenna in sight. Some kind of corporate art?









Today we went to Mito for some shopping and to see the Yoko Ono exhibition at Art Tower Mito, before going back home.
The exhibition, titled Yes Yoko Ono, featured I think a total of 160 works of all media (installations, sculptures, handwriting, paintings, photography, video), mostly focusing on the beginning of her career in the 60's.
At the entrance was the "Yes painting" installation of a ladder leading to a magnifier that lets you read the word "YES" painted on the ceiling, however it wasn't allowed to touch it. This is the installation that apparently brought John and Yoko together.
There were several interactive installations, such as "Apple", of which all visitors are welcome to have a bite, and "Amaze", a maze of transparent walls leading to a toilet in the center. There was also the "Telephone Piece", a live telephone to which Yoko herself gives a ring once in a while. Apparently she had just called about an hour before we got there, and talked with visitors for about 20 minutes.
It was for me a good opportunity to find out more about her works since I wasn't too familiar! Plus it was pretty cheap at only 800yen!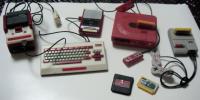 This weekend, I could start and complete this collection of miniature vintage Famicom (Nintendo) stuff! I got them in a gacha-gacha machine, I was lucky and completed the collection of 5 items in 6 tries! I also grabbed a Epoché character.
Also I started another collection of CD singles that come with candy. This time it's old anime theme songs!
I don't know any of them though except for Galaxy Express 999.
Posted on November 25, 2003 at 01:00 | Permalink | Comments (6) | Tweet |
---
November 22, 2003
Thanksgiving weekend
Sorry for the lack of posts last week. The week was rather uneventful, and I didn't get to prepare more pics of our not-so-recent trip to Europe.
Now we're off for the weekend. In Canada I couldn't say that it's Thanksgiving since the holiday is in October, but in Japan it seems to coincide with the US.
We're going outside of Tokyo, hoping to do some autumn sight-seeing, and also check out a Yoko Ono exhibit!
Hopefully some pictures early next week.
Until then, Happy Thanksgiving (to those concerned)!
Posted on November 22, 2003 at 12:02 | Permalink | Comments (4) | Tweet |
---
November 16, 2003
Karaoke
Last night we went to karaoke with Tomoko's sister Yūko. We usually go to karaoke everytime she visits us during weekend. :)
I had fun singing songs by WADA Akiko ("ano kane o narasu no wa anata", "Rumba de Boom Boom"), Crazy Ken Band ("Tiger & Dragon"), Cornelius ("The Sun Is My Enemy") and Ann Lewis ("koi no Boogie Woogie Train", actually I prefer CHIWAKI Mayumi's version).
WADA Akiko is always fun to sing, because I guess most Japanese know her songs since most are pretty old, and they wouldn't expect a foreigner to know them.
The secret is that KONISHI Yasuharu has produced her latest album, "Akiko Wada, Co. Ltd.", which I've been listening to a lot since it came out. Also her lyrics aren't too difficult, and her rather deep voice makes it easy for a guy to imitate her.
However I was a bit disappointed that one of my favorite Modern Choki Chokies songs for karaoke, "Heavy Is Snake", has gone from the list.
Now I realize that I forgot to look up SUPER BELL"Z "Moter Man", which Kim told me she always sings. I'll have to try it out next time!
Posted on November 16, 2003 at 12:09 | Permalink | Comments (6) | Tweet |
---
November 15, 2003
Night at Organ b.
Last night I went to Organ bar with fellow p5mler Andrew Ffrench, to see KONISHI Yasuharu (Pizzicato Five, Readymade) and SUNAGA Tatsuo (aka Sunaga t̀ Experience).
Scoop!
Konishi-san has been busy for the last 2 weeks producing MIZUMORI Ado's next album.
"Ado-chan" is a painter and singer, who was apparently mostly active in the 70's, and who recently sang "Bibbidi-Bobbidi-Boo" on Readymade digs Disney, the recent Disney cover album produced by Konishi-san.
By the way, yesterday I picked up Readymade Magazine no.2 and watched the included DVD, "La nuit de Romantica", which presents sexy and funny clips of Romantica, directed by Konshi-san. Great stuff!, and I'd see it very well being used as sort of mondo video at Japan-themed parties.
Also, announced in Readymade Magazine is a new various artists compilation of songs produced/written by Konishi. The working title is "Tokyo no koibito" and it's to be out early 2004. It will feature tracks by MIZUKI Arisa, HOSOKAWA Fumie, NAKATANI Miki, MIYAMURA Yūko, YOSHIOKA Shinobu, and probably more.
Posted on November 15, 2003 at 22:40 | Permalink | Comments (3) | Tweet |
---
W3C Day Japan
Yesterday I went to W3C Day Japan, held at Keio University's Mita campus. There, I had the chance to watch speeches by many W3C people, including Tim Berners-Lee. Mac fans will be happy to know that the inventor of the Web uses an iBook!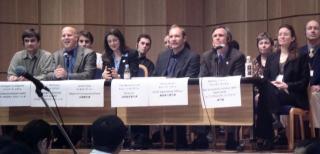 From left to right at the front: Philippe LeHégaret, Daniel J. Weitzner, Janet Daly, Tim Berners-Lee, Steve Bratt (COO), and Wendy Chisholm
Click the thumbnail for a larger image
The most interesting speeches to me were ones about RDF and Semantic Web, by Eric Prud'hommeaux and Tim Berners-Lee. Tim explained the basics of the RDF concept, and I was very impressed by his presentation which was very dynamic and also used good examples easy to understand.
Also, Wendy Chisholm talked about Web accessibility and did a great job at focusing her presentation on Japanese needs, warning against common practices like using images to show vertical text (which prevents screen reader users from hearing the text) and placing half-width spaces between kanji in order to give a justification effect (preventing search engines from indexing the words).
There were also interesting presentations by Philippe LeHégaret about SOAP and XML. The presentation by ISHIKAWA Masaharu (HTML activity lead) would have been great, since it included many demos such as SVG, but kept being interrupted by network problems.
In all, there were about 15 of those building up the Web's standards for all to use. And at the end they were all present on stage to answer questions from the public about any topic. It was truly a great event and I hope to attend a W3C Day again sometime!
World Wide Web Consortium (W3C)
Posted on November 15, 2003 at 21:20 | Permalink | Comments (2) | Tweet |
---
November 14, 2003
Blank i-Pod
This morning I had a bit of a bad surprise.
After unplugging my iPod too quickly from my PC (cause I was in a hurry, it's not usual practice), I found out that the iPod's DB had been wiped. No song to be found when browsing my iPod.
When I got back home tonight I plugged my iPod in, iTunes opened (automatically, haven't yet managed to find out how to disable it... I do use it but I don't like when software that opens automatically when you plug in something), and my iPod wasn't listed!
Now I thought that I had to format it with the upgrade tool, but I opened good ol' EphPod and the useful "Rebuild DB from iPod" in the "iPod Tools" rebuilt the DB quickly, and now I'm back up and running, with no data lost!
Morale of the story: If you're a Windows iPod user, even if you've adopted iTunes for Windows, don't throw EphPod out just yet, cause it's still packed with useful stuff!
And now on a lighter note, check out the iPod Sword! :)
Posted on November 14, 2003 at 21:03 | Permalink | Comments (7) | Tweet |
---
November 12, 2003
Stekki Daiyo!
Today I received my copy of Stekki Daiyo!'s first DVD!
Stekki Daiyo! is Ted Mills' production.
The DVD includes 3 films, the main feature Nowhereland, and the short films Walk Cycle and Universal Leader.
Nowhereland is a fantastic black and white 32-minute film about men who are work prisoners in a small station on a strange planet. They have to constinuously analyze endless printouts and try to apparently make sure everything is in order, under the supervision of a strict boss. Chaos will begin when one of them finds out they're not alone by entering in communication with... a woman!
The old-style computers and machines, dialogues in a strange language, and the mysterious characters contribute to making this a very enjoyable film!
Now I still have to hear the commentary tracks and check out all the special features on this DVD!
I think it's too late for you to order a copy of the first pressing, but you may be able to pre-order a copy of the next. Details at Stekki Daiyo!
Posted on November 12, 2003 at 21:46 | Permalink | Comments (3) | Tweet |
---
Plaid in Paris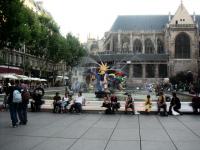 On September 17, we left Bruxelles for Paris mid-afternoon, and after checked in at Hôtel Bellevue et Chariot d'or (located on Rue de Turbigo, near Réaumur Sébastopol and Étienne Marcel stations), we headed to the impressive Centre Pompidou to see Plaid live!
I've been a fan of Plaid since about when their album Rest Proof Clockwork was released in 1999, and this was the first time I had a chance to see them.
I didn't expect it to be a seated audience, but since we were a bit tired we were happy not having to stand!
They had cool video on a large screen, including some text in English and Japanese, fast-forward images of news during the Iraq war, and also they had a cool robotized camera in the middle of their stuff showing images of them at work.




Plaid's new album Spokes came out on October 18 in Japan.
Lately Warp records are doing cheap Japanese releases through Beat Records, making import copies (usually cheaper than Japanese releases) about pointless. I wish this could become the standard.
Posted on November 12, 2003 at 10:56 | Permalink | Comments (1) | Tweet |
---
November 9, 2003
Afterhours #18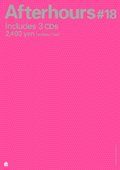 Today I picked up this Japanese music magazine called Afterhours, in which I was so surprised to find a large Montréal indie scene special!
#18 comes with 3 CDs: a Montréal compilation (artists from the current scene), a Tomlab vs Audio Dregs, plus the magazine's regular compilation.
The price of 2400yen is a bit high for a magazine, but way worth it since it comes with 3 CDs.
I am so happy to see pictures and read interviews with my favorite Montréal record stores: Atom Heart, Esoterik, L'oblique...!
It's great that the scene is getting some exposure in Japan!
Now I gotta have a few good listens to that Montréal compilation to familiarize myself with all these artists I have no clue about, since the scene has evolved a lot since 3 years ago when I came to Japan.
Posted on November 9, 2003 at 00:12 | Permalink | Comments (2) | Tweet |
---
November 8, 2003
Mannekin Pis
Getting there...!
Continuing where I left off a few weeks ago (Bruxelles, remember?)...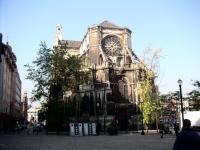 On September 17 we woke up in Bruxelles from spending a night at Hôtel Saint Nicolas, located on Rue des Poulets, a street next to Rue des Bouchers.
We had a nice stay, but not without a bit of confusion...
In the morning, some people were apparently leaving their non-toasted bread in the multi-slice toaster and then running away, and I got accused for filling the toaster with bread, while all I wanted was to get my one toast done.
Later when checking out we decided to leave our luggage in the luggage room while we visited the city some more. We got back to the hotel later to pick up our luggage, a bit in a hurry since we had a train to catch, but meanwhile someone had managed to run away with the luggage room key..., luckily the skeleton key could open the luggage room, whew!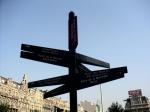 The city was a bit confusing. Streets aren't too easy to understand, and it's easy to go in circles or lose your way. Even though these apparently useful direction posts are found everywhere they don't seem to help much... I mean some point towards no street at all, so I guess you're supposed to try to get across the buildings through the mangled streets towards the shown direction. I guess I should have used my compass!
Nevertheless, we always found our way by asking a few nice people, and even though we didn't always know where we were, we could appreciate many beautiful sights. :)
Last of Bruxelles, but not least, the glorious Mannekin Pis (crazy official site)! :)




Click the thumbnails for larger images
Also check out Japan's own Mannekin Pis, soft drink Dakara's mascot. Click the video tape and you can watch all the funny commercials.
Posted on November 8, 2003 at 01:00 | Permalink | Comments (0) | Tweet |
---
November 6, 2003
Music
I haven't had much inspiration lately for music, but I've been playing old tunes on my keyboards (my dear modified Realistic Concertmate-600 I brought from Canada and a Roland Juno-6 I bought here) every once in a while.
I didn't record anything interesting for a long while but a few days ago I recorded a live 5-minute repetitive jam with only 2 chords. It sort of reminds me of old Stereolab of the Transient Random Noise Bursts era, though all synth and instrumental of course.
20031104 (w/ dispers1 filter) Stream Download (5MB)
Note: If you decide to put it on repeat (as I recommend for increased enjoyment) please download it first in order to save some load on my poor server.
If you're not familiar with my musical works, check out my alive-but-slightly-inactive unit Glad En Mono. Many MP3s for streaming and download are available.
Lately I also began working on a remix for French sound producer Digiki's Kitchen remix project.
Why not do the same? :)
Posted on November 6, 2003 at 23:53 | Permalink | Comments (0) | Tweet |
---
November 3, 2003
Tokyo fashionable lifestyle exhibition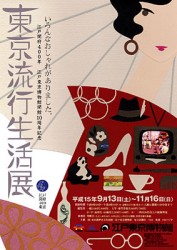 Today we went to the Edo-Tokyo Museum, located in Ryōgoku, to see an exhibition called 東京流行生活展 ("Tokyo ryūkō seikatsu ten", or "Tokyo fashionable lifestyle exhibition").
The large exhibition shows Japanese lifestyle evolution since about the mid-19th century. Lots of maps, drawings and pictures showing how Tokyo and its people evolved, and items which once were part of everyday life, ranging from clothing and furniture to electronics and cars.
It also shows how Japanese culture was influenced by Western culture, like clothing that switched from kimono to dresses and mini-skirts (including an almost surreal picture of a girl wearing a mini-skirt jumping off a stopped train through the window, with all the businessmen with a huge smile, eyes fixed on her behind).
You also get to see how today's design is influenced by design from the past.
The only sad thing is that the extensive comments are only in Japanese, so if you can't read Japanese too well it may be a good idea to go with someone Japanese who can sum it up for you. Until November 16.
Thanks to my friend Chisari (Wonder Mall) who recommended the exhibition!
Posted on November 3, 2003 at 18:58 | Permalink | Comments (0) | Tweet |
---
November 2, 2003
Flea market in Quicktime VR!
Today we went to the flea market at Chūō-kōen in Shinjuku, and I took this panoramic picture!
The image below is only half of it, and it links to a QuickTime VR movie (720KB) of the whole 360 degrees picture!
You will need QuickTime Player for this to work. When you're ready, click the image and be patient.

Comments are more than welcome! Let me know if you want more or not. :)
All my thanks to my friend Peter in Fiji, who took the time to teach me the basics of panoramic pics! :)
Oh, and I bought a cheap copy of "densha de GO!" for Playstation, a popular game where you have to drive a train and make sure you get to the right place at the right time.
Posted on November 2, 2003 at 22:04 | Permalink | Comments (9) | Tweet |
---
November 1, 2003
Cyber mess
Last month Microsoft announced that they will release a new version of Internet Explorer next year, to be shipped with new XP machines. No new features but an important one removed: no more automatic rendering of media within the browser using an external application, or in other words, no more automatic plug-ins (Flash, Windows Media Player, RealPlayer, etc.).
The keyword here is "automatic", because plug-ins will still be supported, but the user will be required to hit a key for every plug-in shown, unless a patch is applied to the Web page in question.
The reason for the feature removal is that Microsoft was sued by Eolas, a company who claims owning a patent relating to plug-ins.
Now the big news is that, just a few days ago, the World Wide Web Consortium's director Tim Berners-Lee (inventor of the Web) is backing Microsoft regarding this case, since they think that the patent is invalid because plug-ins existed before thhe patent was registered.
Read more about this here:
W3C Press Release: World Wide Web Consortium Presents the US Patent Office with Evidence Invalidating Eolas Patent
News: Web Inventor Backs Microsoft (PC World)
On November 14, I will be going to W3C Day Japan 2003, an event at which Tim Berners-Lee will speak about Semantic Web. Many other important faces of the W3C will be speaking about new technologies.
Posted on November 1, 2003 at 12:18 | Permalink | Comments (2) | Tweet |
---