Blog - February 2016 Archives
February 2016 Archives
Index
.29 Weekly revue 2016 week #8 (February 20 to 26)
.21 Weekly revue 2016 week #7 (February 13 to 19)
.14 Weekly revue 2016 week #6 (February 6 to 12)
.07 Weekly revue 2016 week #5 (January 30 to February 5)
.01 Weekly revue: 2016 week #4 (January 23 to 29)

---
February 29, 2016
Weekly revue 2016 week #8 (February 20 to 26)

Food: - Yellowtail fish curry at Tapir, Shin-Ōkubo
- 4th anniversary event at Bespoque, Higashi-Nakano
- Vegetables 65, etc. at Cochin Nivas, Shinjuku
- Kumiko's Thai food event at Sunday Bake Shop, Hatsudai

Music release news: Charisma.com, Asa-chang & Junray

Playlist: Especia, Breakbot, Dorian, dahlia, Vanilla Beans, hitomitoi

This week's video: Halfby "Slow Banana feat. Alfred Beach Sandal"

Posted on February 29, 2016 at 21:37 | Permalink | Trackback (0) | Comments (0) | Tweet |
---
February 21, 2016
Weekly revue 2016 week #7 (February 13 to 19)

Food: - Steak frites at L'amitié, Takadanobaba
- Araredofu (fried tofu) & peanuts curry w/ chick pea pottage and homemade bread, basmati, at Tapir, Shin-Okubo
- Kevin Bacon at Whoopi Goldburger, Shibuya
- Minazuki, Hatagaya

Workshop: I got to go to a workshop/showcase free event at French cosmetics shop Dyptique in Aoyama. For about an hour we had the chance to sample about 20 fragrances while being explained many details, and making notes of which we liked or didn't. Among others, I liked "L'Ombre dans l'Eau", and also "Eau des Sens", a new fragrance that's being launched soon.

Music release news: Perfume, Especia

Playlist: blue marble, Breakbot, Vanilla Beans, XTAL, Especia

This week's video: The video footage of these two clips by Especia is from the show I saw in January! New album "Carta" is coming on Feb. 24!

Especia "Clover"

Especia "Rittenhouse Square"

Posted on February 21, 2016 at 20:27 | Permalink | Trackback (0) | Comments (0) | Tweet |
---
February 14, 2016
Weekly revue 2016 week #6 (February 6 to 12)

Food: - Quiche plate and carrot cake at Buik, Omotesando
- BLT slider et coq au vin chez Bespoque, Higashi-Nakano

Music event: I went to see Maika Loubté, and Takako Minekawa and Dustin Wong! The event was "DAW EXPO" organized by Maika at moon romantic (tsuki miru kimi omou) in Aoyama. Mineko and Dustin were on stage first, and played a fun set with songs from their albums but also what sounded like a bunch of new ones.

Then Maika went on stage together with Mother Tereco, a unit of two ex-members of Open Reel Ensemble. The stage was literally full of synthesizers, fulfilling the DAW expo theme. That was also a really great set that sounded really good with deep bass. In addition to her own songs, she also sang a cover of "Eight Melodies" from the game Mother! Maika announced that she changed her artist name to Maika Loubté (from her real name Leboutet).

Sexy Killer (ex-DJ Puripuri) DJ'd before, between and after the shows, playing several older Mineko solo classics, and also game music and more.

Music release news: Nakatsuka Takeshi, Julie Watai, agraph

This week's videos:

Maika Loubté "Universal Metro"

Kero Kero Bonito "Flamingo"

Posted on February 14, 2016 at 20:56 | Permalink | Trackback (0) | Comments (0) | Tweet |
---
February 7, 2016
Weekly revue 2016 week #5 (January 30 to February 5)

Food: - Kawaii Monster Cafe, Harajuku. I finally went! It's a crazy, colorful and fun place, much bigger than I expected!
- Curry at aoi tori, Hatagaya
- Curry at Have More Curry, Omotesando
- Sunday Bake Shop!

Music events: - On February 2 was "Absolute Learners #3" at Shindaita Fever, featuring Learners (band of Matsuda "Chabe" Gakuji), Kaji Hideki, Shoko and SaToA. All were great! Shoko's band was formed of Kaji Hideki (her husband), organist Tucker, and Koncos. Then Kaji Hideki played his energetic set with the Koncos guys. Last was Learners who totally rocked the place (there was even some stage diving!), also featuring Tucker for 4 songs. Kaji Hideki also DJ'd with his Blue Boys Club unit. What a fun evening!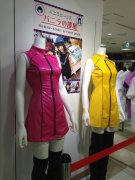 - I went to see a free Vanilla Beans in-store event on the roof at Shibuya Marui, on the release day of "Vanilla Beans V". This was also the day of "setsubun" (the traditional spring day) which is celebrated by throwing and eating beans, and Vanilla Beans appeared holding baskets from which they threw small packs of beans all over the audience.
Actually I also passed by Tower Records Shibuya on Friday just while they were having another in-store. So I got to watch them again although I missed the beginning and had to leave before it finished. If you haven't bought the album yet, you should during this month so that you can contribute to their tough goal (15000 copies by the end of February).
2/3 set list: onna wa sore o gaman shinai / Night and Fly / Beanius / Say Goodbye
2/5 set list: Sweet Soul Revue / onna wa sore o gaman shinai / Night and Fly / Say Goodbye / Tokyo wa yoru no 7ji
- The weekend before was a DJ event at Newport, Yoyogi-hachiman w/ DJs Yasunaga Shinya, Chikakoshi Fuminori (Rallye Label), Nagai Seiichi (sōtaiseirison), Ueda Yasufumi (ex-Harvard), Umebayashi Tarō, etc.
Playlist: Dorian, Vanilla Beans
This week's video: Learners live at Fever (the rest of the show can be seen on the same YouTube channel)
Posted on February 7, 2016 at 23:05 | Permalink | Trackback (0) | Comments (0) | Tweet |
---
February 1, 2016
Weekly revue: 2016 week #4 (January 23 to 29)

Food: - Dinner at Gris, Yoyogi-Uehara
- Jams & more from Sunday Bake Shop, Hatsudai
- Basque cusine lunch at Saint-Jean-Pied-de-Port, Shibuya
- Mutton curry at Tapir, Shin-Ōkubo
- Chocolate & strawberry tart at Café comme ça, Shinjuku
- Lamb, etc. at Hitsujiya, Iidabashi

Music event: I went to Batica (Ebisu) for "Delica LAB" to see Nakatsuka Takeshi (Qypthone), Ookawara Izumi (Qypthone), Ishikawa Shūnosuke and Oonishi Mami Trio. All were great! What a nice evening! I also got to meet an online friend and fellow music lover who is in Tokyo for a few months.

Music release news: XTAL, Soviet Chance

Playlist: Vanilla Beans, Halfby, Hoshino Michiru, bambino, & more

This week's video: CaptainMirai feat. Vocaloid Fukase "sekai no hajimari"

Also check out Old Monk's new video "History" here!

Posted on February 1, 2016 at 23:59 | Permalink | Trackback (0) | Comments (0) | Tweet |
---