Blog - November 2005 Archives
November 2005 Archives
Index

.29 Ceci n'est pas un burger.


.19 Movable Type Macron plugin



.13 Techno Kayō Night #3 report



.11 Library online reservation


.10 Rampo jigoku



.09 Party People Party


.03 Rodion

---
November 29, 2005
Ceci n'est pas un burger.
Don't let yourself be tricked by this new stand in Shibuya, called Mamido Burger. It sells not burgers and fries, but rather burger- and fries-shaped sweets!
Having seen it for the first time yesterday, and passing once more in front of it tonight, I couldn't resist but to take back home some burgers for dessert. I'd have liked to try the chocolate/kiwi/strawberry Mamido Burger, but it was sold out, so I chose the Gratin Burger (cream cheese and fruits, no white sauce) and some custard cream fries to go.
The Gratin Burger was pretty good, not bad a cake, and I'd have it again. However the fries were maybe so-so, perhaps because they look and feel so much like real fried potatoes that it just makes no sense. They even serve the fries with real ketchup, but they're definitely better without.
Oh, and the staff was great too!
Posted on November 29, 2005 at 00:36 | Permalink | Trackback (1) | Comments (9) | Tweet |
---
November 19, 2005
Movable Type Macron plugin
ma·cron ['mA-"krän, 'ma-, -kr&n] n. A mark placed over a vowel to indicate that the vowel is long [...]
(Source: Webster)
I am very fond of "macrons" to write romanized Japanese. The macron's meaning is obvious and it makes pronounciation easier to interpret for non-Japanese speakers, plus it generally looks neater than the "u" that results from strict romanization.
Example:
Japanese: 高速道路 (highway)
Strict romanization: kousoku douro
Romanization with macron: kōsoku dōro
While the macron is present in Unicode, as the "combining macron" character at position U+0304, it's still very little used on computers and the Web probably because it can't be input easily. One way to input it in HTML is to use the character entity ̄, still not easy to remember.
This is however a thing of the past, at least in your blog if you use Movable Type.

Let's spread the use of the macron on the Web!
Posted on November 19, 2005 at 00:46 | Permalink | Trackback (0) | Comments (15) | Tweet |
---
November 13, 2005
Techno Kayō Night #3 report
Last night I went to Techno Kayō Night #3 at Club Roots in Kōenji. The DJ event featured all 3 selectors of 2000-released popular Techno Kayō CD series (also sold out and rare, I only own one of them despite my will to buy them all): Fukuta Takeshi, Yoshida Tetsuto and Yamamoto New. I learnt that the three met in Ōsaka, where Yamamoto-san still lives (he came down to Tokyo just for the event), and that their selector unit name 8-bits was decided by Fukuta-san who's an avid gamer.
Also DJing was Nagata Kazunao (Transonic, Fantastic Explosion).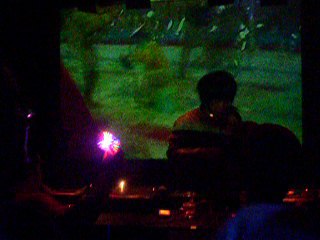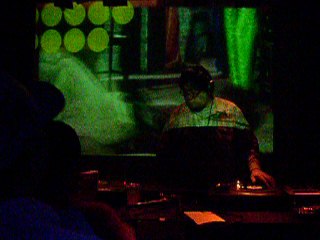 1. Yoshida Tetsuto, 2. Nagata Kazunao
A few good memories:
Yoshida

-san played

Narikiyo

Kanako's "Pajama jama da!". I loved that song from, I think, having heard it a long time ago in a random collection of anime midi files. Turns out it was used in the anime series Urusei yatsura.

Yamamoto

-san played the original soundtrack to "Super Mario Brothers", not the 8-bit Famicom-performed version we all know, but a really much cooler recording. I'll definitely have to track down that one.

Fukuta

-san played Magical Power Mako's "Fresh Vegetable", great song I had first heard at his defunct monthly event Hoi!.

Nagata

-san played the great "aa! Budōkan" by bokufū Slump which I first heard on "Techno Magic Kayōkyoku".

Yoshida

-san played Pizzicato Five "Action Painting",

Miyamura

Yūko "Mama Told Me", and an old

Nomiya

Maki solo track (can't remember which).
It wasn't played while I was there, but when telling

Fukuta

-san that lately I'm really into kyonshi films, he told me that he brought a famous Techno Kayō kyonshi song, by the Japanese unit "Kyonshi-!!!" (actually

Hosono

Haruomi (YMO) and

Matsumoto

Takashi). The song was used as the theme of the series "rairai kyonshis", that became the center of the kyonshi boom in Japan. I should be seeing "Shaolin Kyonshi" next Wednesday!

Nagata

-san played a back-and-forth mix of two Japanese versions of "Neverending Story" and all four DJ's sang together.
Other music that caught my attention and that I have to check out: W's "U&U" album, the theme to "Pin Pon Pan", ...
Most video being played consisted of 80's Japanese video clips, TV programs, commercials, etc. The old Nintendo ads introducing games like "Duck Hunt" and "Tennis" were a blast! Also cool Transformers ads, remember that one that turned into a stereo? I also had a panther that transformed into a cassette tape. Also played was Tommy Boy's very funny "Kung Faux", which I may just have to buy (Amazon Japan U.S.).
There was a bunch of obviously gay guys who were dancing non-stop, one of them knew lyrics and moves to most idol songs probably better than any 10-year old girl in the 80's, incredible! It was really entertaining to watch him.
Posted on November 13, 2005 at 15:19 | Permalink | Trackback (0) | Comments (4) | Tweet |
---
November 11, 2005
Library online reservation
Today I had a first try at reserving a book at my local library's Web site. I've never been a big library user so I'm not too aware of how developed such systems currently are, but I find impressing that all libraries of my local ward (Nakano-ku) are searchable on a centralized site. While even though the site doesn't look too hi-tech, it's very effective!
My view of libraries generally depicts granny operators, with little or no computers or automation. Even though I once worked for a software company that does make software for libraries, I just can't help it.
Aside from searching for books (and magazines, CDs, videos...) in the database, the site allows to place reservations for books both available or currently taken (giving you a place in line), and even requesting a book from another local library to be sent to the one closest to you. Also you can see a list of the books that you currently have borrowed.
Everything is automated in such that I didn't have to apply for a special account for the Web site, I just went through simple registration using the number on my card.
Anyway I just wanted to share this useful page that lists all of Tokyo's library Web sites that support online reservations or at least search.
Oh, and the book I reserved is a collection of English translations of Edogawa Rampo stories, "Japanese Tales of Mystery and Imagination".
Being a slow and unmotivated reader, whether I will read it all is another story. :)
Posted on November 11, 2005 at 15:57 | Permalink | Trackback (0) | Comments (0) | Tweet |
---
November 10, 2005
Rampo jigoku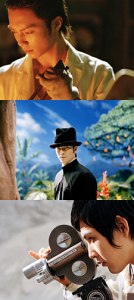 Last night we went to see 乱歩地獄 ("Rampo jigoku", or Rampo hell, foreign title "Rampo Noir"). The presentation consists of 4 short films based on stories by the "father of Japanese mystery writing", Edogawa Rampo (1894-1965). All of the films feature actor Asano Tadanobu. Very good, though quite disturbing.
火星の運河 ("kasei no unga", or Martian canal)
Directed by Takeuchi Suguru (music video director)
A man agonizes by a lake in a strange place, tormented by his memories.
鏡地獄 ("kagami jigoku", or The Hell of Mirrors)
Directed by Jissōji Akio
In a very Japanese setting, mysterious deaths occur and there seem to be a relation with mirrors, or more specifically, hand-crafted old-style mirrors. The photography is quite beautiful, and mirrors of all kinds are omnipresent in every scene.
The most straight-forward story of these 4 films.
芋虫 ("imomushi", or The Caterpillar)
Directed by Satō Hisayasu
Music by Ōtomo Yoshihide
A dismembered man back from war is, so to say, being taken care of by his wife. Very odd love/hate relationship. This one really grossed me out.
蟲 ("mushi", or Crawling Bugs)
Directed by Kaneko Atsushi (manga artist)
Music by Tsukamoto Saiko (Museum of Plate)
A highly allergic and misophobic (fear of dirt) man, driver for a bug-loving famous actress he venerates, manages a heavenly garden sanctuary in his apartment... Or does he?
Beautiful esthetics, especially of the fantastic garden scenes.
Posted on November 10, 2005 at 23:29 | Permalink | Trackback (0) | Comments (1) | Tweet |
---
November 9, 2005
Party People Party
Hopefully better late than never, I thought I'd give a quick sum-up of Nomiya Maki's Party People Party held on October 28. It was the release party for her recently out album "Party Pepole", and, as expected, she pleased her crowd!
My friend Miwa and I got to Shinkiba by subway around 11:00. It was my first time going to ageHa and it wouldn't have been too easy to find the place from Shinkiba station without a map.
When we got there, we walked a bit around the premises and found Maki's souvenir room containing stage outfits, travel souvenirs from around the world, Kiss collectibles and Pizzicato Five memorablia. We also went outside to the rumored pool and beach, and found p&art sasanoooha. While it was chilly outside, they surely weren't cold wearing their "panda blousons", Junko's beautiful self-designed furry jackets. I had brought my small panda I had received at one of their shows several years ago.
Maki's show took place in the main hall of course, where the stage was set up like a runway coming to the middle of the crowd. It all started at about 1am with the album's opening track Party Girl and the girls of Romantica dancing on stage with Maki. Then p&art sasanoooha came on stage, dancing around wearing their superb "panda blousons" and playing with three large panda heads, for their song odoru "oshare techō". After a quick costume change, Oui Oui appeared, and sang their great cover of tATu's Not Gonna Get Us, which fit perfectly with the Oui Oui concept.
Next, Akagi Tadaharu (ex-Films) joined Maki to sing the Yamo (Kraftwerk)-produced Yamate Line. Then appeared a few surprising dancers in white KKK-ish outfits, later to reveal themselves as girls of Romantica (and their undies as well), while Maki sang Kiss' I Was Made For Lovin' You.
Left in the dark for a suspected costume change, the screen showed a picture of Maki and the words "NOMIYA MAKI" moved to form "PARTY PEOPLE", which then morphed into... "PIZZICATO FIVE"! The crowd gasped.
The following P5 set featured only Maki, her tambourine, and an acoustic guitar. The guitarist was none other than Suzuki Tomofumi of Portable Rock (Maki's late-80's band)!
Pizzicato Five set list: Happy Sad / Sweet Soul Revue / Triste / The Night Is Still Young / Message Song
Next up was probably the biggest surprise of the show. To the music of Princess & Prince Of The Frog, one of my favorite songs on the new album, Maki appeared in a huge princess' dress, so big that it was supported inside by a frame with wheels around it. It looked perfect though it was near impossible not to laugh at every small step Maki made dragging the outfit. A picture can be seen on her blog.
By the end of the song, Maki had moved close to walking out the back of the stage, but rather than disappearing she detached the dress' velcros and walked right out of it in a gorgeous black dress. Kikuchi Naruyoshi came on stage, looking much smaller than Maki (probably because of exagerated high heels), and they sang the cover of Futon's High in duet, with a full verse in Thai as on the album. This was announced as the last song.
Of course Maki came back for an encore, and sang the first single Big Bang Romance. The song started as p&art sasanoooha's remix, then transformed into Nipopo's remix (he showed up to sing his part), and then into the full original version. The last song was Cosmic Night Run, which features m-flo and also Yokoyama Ken (Crazy Ken Band), during which Maki called all guests back on stage to properly close the show.
I'd have liked if m-flo or Yokoyama Ken would have showed up during the encore and was actually expecting them at any moment until the last seconds, but no such luck. I sure can't complain about the number of guests in the show though!
Then we were a bit confused about the schedule. I wanted to catch both p&art sasanoooha, who had told me they'd play by the pool at 2:30, and also Futon who were set to play in the main hall. It was already past 2:00 so we waited by the pool for a while as other DJs played, and also took the opportunity to eat cheap curry (there were several convenient food stalls, useful when a late night appetite kicks in), and only realized a bit late that Futon were already playing. We at least caught the best of the show as after a few songs Maki came on stage, wearing a red punkish torn sweater (reminding me of one Nakanishi Toshio wore for the Plastic Sex set at Fuji TV Factory), and sang Question Girl (the original song they wrote for her album, and the only song from the album that hadn't yet been sung), a live version of High, and also another Futon song.
We then went back to the pool aroud maybe 3:30 just in time to catch p&art sasanoooha's crazy set where they mostly played weird but very funny mashups such as Daft Punk × Utada Hikaru, and Abba × Pizzicato Five! I didn't spot any new song from their upcoming album. There I also got to finally meet P5MLer Kevin, after meaning to meet for a few years.
Not long after Pansasa's set ended, we went and got tickets for the 4am bus about 10 minutes before departure.
Posted on November 9, 2005 at 07:40 | Permalink | Trackback (1) | Comments (7) | Tweet |
---
November 3, 2005
Rodion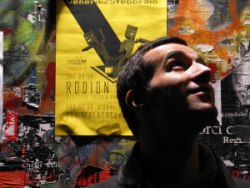 After having searched a few times without success over several years, I've finally found what Italian artist Rodion has been up to!
My knowledge of Rodion goes back to the old MP3.com (the much missed indies artist network, it was bought and trashed by CNet several years ago), which my band Glad En Mono was part of.
Rodion was an artist I very much related to, as we often ended up in the same fan-created stations on MP3.com. I used to be fascinated by his beautiful classical-ish electronic melodies.
Turns out he's been busy with his own label radiodd, and last year released what I think is his first ever album, "Electric Soccer". Lots of stuff to sample on the label's fun site, and I've of course already ordered Rodion's album, available for only €7.
Posted on November 3, 2005 at 00:36 | Permalink | Trackback (0) | Comments (0) | Tweet |
---