Blog - August 2014 Archives
August 2014 Archives
Index
.30 Weekly revue: 2014 week #35(August 23 to 29)
.23 Weekly revue: 2014 week #34 (August 16 to 22)
.17 Weekly revue: 2014 week #33 (August 9 to 15)
.09 Weekly revue: 2014 week #32 (August 2 to 8)
.03 Weekly revue: 2014 week #31 (July 26 to August 1)

---
August 30, 2014
Weekly revue: 2014 week #35(August 23 to 29)

Food: - Chicken pie, Lincolnshire sausage, lemon & meringue pie at Bespoque, Higashi-Nakano
- "Hiyajiru" (cold soup) at Tapir, Shin-Okubo
- Curry lunch at Hi, How Are You, Hiyoshi

Exhibition: Went to MOMAT to see "Hardcore Contemporary Art's Truly a World Treasure: Selected Works from the YAGEO Foundation Collection", a large exhibition of part of the expensive collection of Mr. Pierre Tie Min Chen. We could see some Roy Lichtenstein, Andy Warhol and Ron Mueck up close. Outside of the museum was a 3.3m sculpture of Kate Moss doing yoga, of which a smaller gold version is part of the collection.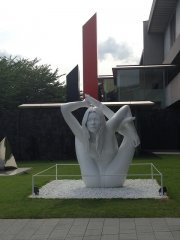 Music release news: Takako Minekawa & Dustin Wong, Towa Tei, hitomitoi, Boogie the Machmotors, Sugar's Campaign
Playlist: Towa Tei, Jintana & Emeralds, Justice, Especia, Takako Minekawa & Dustin Wong, P.O.P
This week's video: Sugar's Campaign "Netokano"
Posted on August 30, 2014 at 20:00 | Permalink | Trackback (0) | Comments (0) | Tweet |
---
August 23, 2014
Weekly revue: 2014 week #34 (August 16 to 22)

Food: - Lamb gyōza and stir-fried lamb with cumin, at Ajibō, Kanda
- Gobi 65, eggplant fish curry and onion cheese pakora, at Cochin Nivas, Shinjuku
- Thursday night ice cream at Sunday Bake Shop (collaboration with tocoro cafe)

Exhibition: Went to see exhibition "MAN☆KOTEN" by manga artist MAN☆GATARO at Nakano Broadway. This is on until August 26.

Music release news: Tokyo Ska Paradise Orchestra, Team Syachihoko, Funassyi, P.O.P, mimmam, BTB, Negipecia

Playlist: nananon, Emerson Kitamura, Kahimi Karie, Pizzicato Five, P.O.P, Towa Tei, Negicco

This week's video: Negipecia "Girl's Life"

Posted on August 23, 2014 at 12:43 | Permalink | Trackback (0) | Comments (0) | Tweet |
---
August 17, 2014
Weekly revue: 2014 week #33 (August 9 to 15)

Food: - Had some of the best meat ever! Grilled dry aged Tajima beef, at Uchi - Nakasei, Myōgadani

Music events: - On Sunday August 10 I went to the World Happiness festival, organized by members of YMO. Unfortunately, it happened that there was a typhoon passing above Japan on that day, which gave for a lot of rain and wind. The festival went on, leaving many performers (and the crowd) very wet, but it was a lot of fun anyway. The event featured Puffy, Takahashi Yukihiro with In Phase (feat. James Iha, Horie Hirohisa, etc.), Kyary Pamyu Pamyu, Pokaskajan, Quruli, cero, Hosono Haruomi, No Lie-Sense, Denki Groove, Kimyo Reitaro Travel Swing Orchestra, and Takahashi Yukihiro & Metafive (feat. Oyamada Keigo, Towa Tei, Sunahara Yoshinori, etc.), among others.

Some set lists:

Puffy: Basket Case (Green Day cover) / ai no shirushi / watashitachi no ikiru michi / nagisa ni matsuwaru Et Cetera / Asia no junshin (and more)

Kyary Pamyu Pamyu: Pika Pika Fantajin / Kira Kira Killer / minna no uta / Candy Candy / PONPONPON / tsukema tsukeru / Ninja Re Bang Bang / Invader Invader

Denki Groove: Hello! Mr. Monkey Magic Orchestra / Shame / Shameful / Zoo Desire / Garigari-kun / Flashback Disco / Shangri-La / Technopolis (remix of YMO) / Asunaro Sunshine

Takahashi Yukihiro & Metafive: Key / Ballet / Split Spirit / Radio / Turn Turn / Still Walking To The Beat / Something In The Air / La femme chinoise / Cue

- And on Monday evening, I went to a free DJ event by Cibo Matto at Brooklyn Parlor in Shinjuku. We got much better seats than last time! Had a great time listening to all good music (almost none that I know) while chatting with friends with many similar tastes. :)

Some tracks that were played: YMO "Cosmic Surfin" (some remix?) / Missy Elliott "Work It" / Beenie Man "Dancehall Queen" / Inner City "Good Life" / Digital Underground "The Humpty Dance" / Tem Blessed "Whale Song" / Mystikal "Shake Ya Ass"

- Also watched a live DJ set by Noel & Gallagher (= DJ Noel & Konishi Yasuharu!) on Dommune. You too can watch it here. Dommune streams live through YouTube, so I used Chromecast to watch it in HD on my TV, that was great!

Music release news: hitomitoi, "taiko no tatsujin Original Soundtrack 'Girls Pop Mania'"

Playlist: Jintana & Emeralds, Emerson Kitamura, Buffalo Daughter, hitomitoi, etc.

This week's video: Kaji Hideki "Ice Cream Man"

Posted on August 17, 2014 at 11:34 | Permalink | Trackback (0) | Comments (0) | Tweet |
---
August 9, 2014
Weekly revue: 2014 week #32 (August 2 to 8)

Outing / food: - It was my birthday weekend, and we went for a quick day trip to Odawara especially to eat at Zen, a conveyor belt sushi restaurant that doubles as a French restaurant. I had been curious about it for a long time because of the techno compilation series on Speedking Productions. All the food was very good, and it was a lot of fun to order from both sushi and French menus. I also bought the "Sushi Disco" compilation which was also spinning on the conveyor belt, and got it autographed by the owner chef. :)

- Also had some great Sri Lankan curry, beets & more, at Acala.naatha

Music release news: Kaji Hideki, Kirinji, NeoBallad, nananon, Kemio & Amigachu

Playlist: "Sushi Disco", Negicco, Especia, Cibo Matto, Bakubaku Dokin, Kyary Pamyu Pamyu, the hair, Buffalo Daughter

This week's videos:

nananon "Nana Nana Non Non" (produced by Konishi Yasuharu)

Kemio & Amigachu "Kerokero" (produced by Konishi Yasuharu)

NeoBallad "Hachinohe kouta"

Posted on August 9, 2014 at 21:39 | Permalink | Trackback (0) | Comments (0) | Tweet |
---
August 3, 2014
Weekly revue: 2014 week #31 (July 26 to August 1)

Food: - Indian curry at British Indian Cafe 1930, Harajuku
- Coffee at Omotesando Koffee
- Black forest cake from Sucreries Nerd

Art: - Went to see artist Benicotoy's "Kitschy Award" solo exhibition at Kit Gallery, Harajuku. Her main works on display were trophies, a very unique theme! All were very original and colorful.

- Also I started playing the FlashInvaders iPhone game (also on Android), which lets you collect "space invaders" found around the world and gives you points accordingly. There are a bunch in Tokyo, but still it needs a lot of dedication to stay in the top 100 hall of fame. Those in Paris are lucky. :)

Music event: I went to Hoshino Michiru's release party for album "E-I-E-N Voyage". This event had a wonderful line-up, with two sets by Michiru, the 2nd featuring a large back-band mainly formed of members of Wack Wack Rhythm Band! That was wonderful! There were also DJ sets by Konishi Yasuharu and Kubota Takeshi, Nishidera Gota (Nona Reeves) and more. Plus Michiru's VJ was Sally Kubota (Sally Soul Stew). That was really a great event! I keep looking forward for more from her.

1st set: Moonlight ni sasowarete / watashi wa Schedy / mō Rendez-vous / Wonderland / koi no Funfair / shinkū Kiss / Orange iro / seikan renrakusen ~Night Voyage~ / issho ni tabi suru kimi e
2nd set: i-ji-wa-ru Darling / hanashite,,, / ame no naka no Dreamer / kanata e / Peaberry o mitsuketara / kono michi de / mo ichido Déjà-vu / rakuen to kisetsufū / Wish on a starry night
Encore: Magic Hour

Music release news: KANADe, Teen Runnings

Playlist: Halfby, blue marble, Negicco, Missing Linc

This week's video: Kaji Hideki "Tropical Girl"

Posted on August 3, 2014 at 00:41 | Permalink | Trackback (0) | Comments (0) | Tweet |
---