Blog - Honey Flash!
Honey Flash!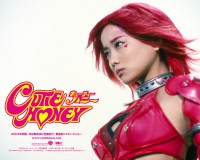 Female superhero Cutie Honey will revive next month as a live action movie! I had enjoyed watching the 90's anime series (released in North America as "Cutey Honey") and am looking forward to see this!
The theme song sounds good too so the movie may well have a groovy soundtrack. I had loved the version for the anime series performed by Les 5-4-3-2-1.
Check out the official site which contains wallpapers and trailers.
By the way, I'm now back in Tokyo, therefore this blog's time is now in Japan Standard Time again.
Posted on April 18, 2004 at 18:32 | Tweet |
---
Trackback
---
Comments RSS
---