Blog - Room number 1313
Room number 1313
Well we've made it to Canada two days ago!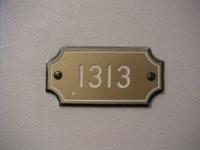 We did a 2-night stay in New York on our way, since we had to transit there anyway, but it didn't go as well as we hoped. We stayed at Hotel Pennsylvania, right next to Penn station. It was an alright large hotel at a cheap price, however we were given this less from reassuring room number: 1313. (For some reason I always thought there were no 13th floors in the US?)
I was hopeful not let this jinx it, but although there was no big problem with the room or the hotel itself... on the first night we had some hot dogs at a small crammy joint and I think that's where we got food intoxication. We had to spend the whole next day in bed, sleeping about 20 hours straight (with countless toilet breaks), completely wasting our only whole day in the city. Damn.
Anyway, one of the nice things we could experience in New York (while I thought I had recovered, yeah right) was the great pancakes and friendly staff at Good Enough To Eat (483 Amsterdam).
Now we're at my parents place and taking it easy, having some good fresh air. Even though the temperature is about 0 to 5°C, it doesn't feel too cold and we're having a nice time!
(The time on this blog is now in Eastern Standard Time.)
Posted on April 7, 2004 at 09:45 | Tweet |
---
Trackback
---
Comments RSS
---