Blog - Y neige!
Y neige!
I woke up a few minutes ago and this is what I first saw out the window: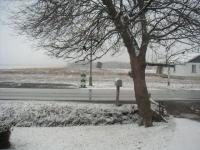 I didn't think or hope we'd see any snow during this trip, but there's plenty of it and more is falling! They say it will change into rain though.
Today we're off to Québec City for a 2-day trip, and with a bit of luck we'll be able to appreciate the city under a thin layer of snow. If it rains though we'll have to spend the whole time in museums.
This weekend we were in Montréal just for a few days and we kept ourselves quite busy! We did a bit of shopping on Ste-Catherine, St-Laurent and St-Denis, and saw a few movies (Michel Gondry's Eternal Sunshine of the Spotless Mind, Sofia Coppola's Lost in Translation and Denys Arcand's Les invasions barbares (English site). We also went to see Stereolab.
Well, gotta go! I hope you had a Happy Easter (where applicable)!
Posted on April 13, 2004 at 08:23 | Tweet |
---
Trackback
---
Comments RSS
---