Blog - India 2014 #2: Jaipur
India 2014 #2: Jaipur

After a long wait, here's part 2 of our trip to India. After our stay in Kerala, we took a plane to Jaipur where we stayed for 2 nights (from February 21). Having done all of our Jaipur sightseeing the previous time, we were mainly there for some shopping, eating and relaxing.

To go to Jaipur, we used local flights on low-cost airline IndiGo, with a transit at Mumbai airport. That was very enjoyable thanks to all the good care for design, and the friendly retro-wigged flight attendants.

We stayed at Arya Niwas (where we had stayed in 2012), and had a few of their great vegetarian thali meals during our short but pleasant stay. On our 2nd evening there was a free sitar and tabla show (video below).

More Jaipur sights.

A big highlight for me was when we dropped by for a drink on a terrace at hotel Narain Niwas. In the garden beside was a showcase of local music with harmonium (an instrument I've been curious about) so I went to peek with my camera (videos below). A friendly Indian guy was also doing a demonstration of Rajasthan dancing puppets (aka Kathputli), and to my surprise he also spoke French and even a bit of Japanese, as he had traveled to these countries. His puppets reminded me of Guignol (famous French puppet theater), which he also knew about! Of course I couldn't leave without buying a few of those. :) The little puppet show he did for us was wonderful and very funny (with an Indian Michael Jackson from Calcutta(?!)), check out the video below.

The next day we hired a driver for the day, hoping to go to all shops and places we wanted to. This included Rana's, a shop that sells various tissues and also small bags crafted from them. We also went to the nearby LMB sweetshop for some traditional sweets to take back home.

While being with that hired driver, we also went for a silly adventure. In a blog entry found by accident, there was Tokyo's police mascot "Pipo-kun" used next to an ad for a hospital. We went down to that hospital to try to find it, but no luck. However the confused receptionist quickly led us to the hospital's main doctor's desk (bypassing all the patients?!?) to talk about what we were looking for. He said did remember that mascot but that the ad was only there for a month. Our Pipo-kun search ended there.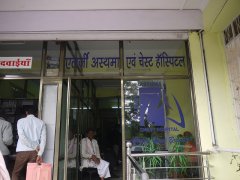 It's also around that time that our hired driver seemed to be a bit tired of us, especially because we didn't go to shops he wanted to take us to. He made an excuse and said the next stop would be our last, even though it had only been half the time we had hired him for (we only gave him half the money). We dropped by stylish café Tapri (Facebook page) and then walked to nearby interior shop Anantaya AKFD (Facebook page). AKFD founder Ayush Kasliwal also did the beautiful Mudra hands installation at the Delhi airport.
The next day we took an early morning train to Delhi. To be continued (hopefully)...!
More photos at Flickr.
---
Pandit Harihar Sharan Bhatt (Sitar) free concert at Arya Niwas
Kathputli (Rajasthan puppets)
Harmonium
Posted on May 6, 2014 at 23:33 | Tweet |
---
Trackback
---
Comments RSS
---