Blog - Weekly revue: 2014 week #20 (May 10 to 16)
Weekly revue: 2014 week #20 (May 10 to 16)

Food: - Gelato at Gelateria Théobroma, Kagurazaka
- A birthday party at Bespoque, Higashi-Nakano

Music event: On Friday May 9 (actually at the end of the previous week) was DJ event "Tokyo no koibito", organized by DJ 610, with regular DJs tnb, Ohtake Tetsuya and more. The special guest DJ was Yoshida Tetsuto (who produced Team Syachihoko's latest song "ii kurashi"). That was a fun event with lots of good music and friendly people. However it was the last edition because the venue (Smash'07 in Nakano) is closing at the end of the month.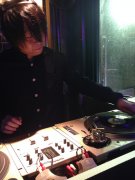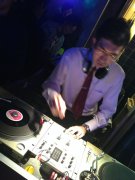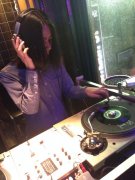 From left to right: YOSHIDA Tetsuto, tnb, Tetsuya OHTAKE
Exhibition: We happened to pass by Mizuma Art Gallery where was being held a solo exhibition by Tsutsui Shinsuke, of hundreds of small artworks he made to accompany his father's novel "seikon" (= "Stigmata") that was published as a series daily in Asahi Shimbun. Each artwork is done in a unique process that involves dead insects and wax, you can read more about it here. His father is Tsutsui Yasutaka, also author of "Paprika" and "The Girl Who Leapt Through Time". When we went up the stairs to the venue he was smoking outside and kindly opened the door for us! The exhibition goes on until May 31.
Movie: Had the opportunity to see Wes Anderson's new movie "The Grand Budapest Hotel" a bit before it opens in theaters. It's a beautiful and fantastic fast-paced movie, and was a lot of fun! It opens in theaters in Japan on June 6.
Music release news: Kyary Pamyu Pamyu, petit milady, Sunaga t Experience
Playlist: Duck Sauce, Mark Robinson, Chromeo, Cibo Matto, DJ Fukutake
This week's video:
Pharrell Williams "Happy"
(All-star Japan version directed by Nigo, feat. Funassyi, Scha Dara Parr, BiS and many more.)
"The Grand Budapest Hotel" trailer
Posted on May 17, 2014 at 10:36 | Tweet |
---
Trackback
---
Comments RSS
---