Blog - Weekly revue: 2013 week #39 (September 21 to 27)
Weekly revue: 2013 week #39 (September 21 to 27)

Food: - Lunch at Sanshūya, Ginza
- Dinner at Bespoque, Higashi-Nakano. I had my pork pie! :)
- Dinner at Namikibashi Nakamura, Shibuya
- Maruichi Bagel, Shirokane
- Sunday Bake Shop, Hatsudai
- Shozo Coffee Store, 246common, Omotesandō

Exhibitions/art: - HITOTZUKI (KAMI & SASU) have done the shop window for Hermès Ginza, and also 16 small windows around the building. Until November 12, 2013!

- adidas Originals presents "Better Never Than Late", in Shirokane (1-26-20 Shirokane 1F, Minato-ku). Until September 28, 2013.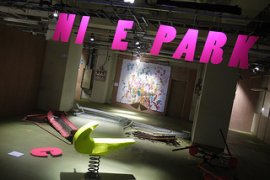 - WANTO x Ando Momoko x Jason Dill, "The Last Show" @ The Last Gallery. This was really the last show, and it's over already. This was a good spot!
- Randomly dropped by Yamamoto Gendai nearby, where was held video exhibition "Hatsugasai" by Takagi Masakatsu, made of footage he filmed in Ethiopia. (Over already too.)
- "New End Market vol.2" at Gallery Common, Harajuku. This exhibition has works by ESOW, Cho-chan, Usugrow, Hiro Sugiyama, etc. Old objects which are turned into unique art pieces or fake Americana by some added drawings and lettering. Until September 29!
- "Trace of hands", a pottery exhibition by 19 creators from Kasama and Mashiko, held at Shizen, utsuwa kaede and Playmountain. Until September 29.
Music release news: YMCK, Polysics, "Konishi Yasuharu Presents daitokai kōkyōgaku -Readymade Digs Brunswick-", blue marble
Listening: (((sssurrounddd))), Aira Mitsuki, Hoshino Michiru, "shimin Poolside", Dorian, Towa Tei, Ishino Takkyu, Konishi Yasuharu/Pizzicato Five
This week's video: Perfume x Vogue Japan x Tiffany commercial
Posted on September 29, 2013 at 01:06 | Tweet |
---
Trackback
---
Comments RSS
---