Blog - Weekly revue: 2013 week #38 (September 14 to 20)
Weekly revue: 2013 week #38 (September 14 to 20)

Food: - Pacific Saury curry & pickles, and eggplant curry at Tapir, Ōkubo
- Bespoque, Higashi-Nakano
- Gelateria Marghera, Azabu-Jūban. From Milano, opened this summer!
- Pear-chocolate-hazelnuts tart (delicious!) & more from Sunday Bake Shop
- Paris Gourmand, et vous? Found out about this cake shop recently, a bit late as it closed last weekend. It had a chef who was an intern at Stohrer in Paris. There's another cake shop called Acacier that I like a lot and it's also by someone who was at Stohrer. I regret not going in Paris even though friends had recommended it..! Next time. :)

Exhibition: Went to see Nomoto Karia's exhibition "Karte de koko" at liaison café in Shibuya. Karia recently started a hobby of drawing one-page manga, just a few months ago, and this was her first exhibition. This was fun! I bought an esu-efu T-shirt, and took a photo with her. :)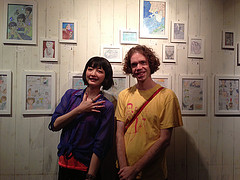 Movies: "The Best Exotic Marigold Hotel", "Little Miss Sunshine", "Moonrise Kingdom", "Chloe" (Japanese take on "L'écume des jours", in preparation for "Mood Indigo"!), and "Restless"
Music event: I went to see a free in-store live by rap idol unit lyrical school whose new album "date course" has just been released. Good show and songs! It was the birthday of member Yumi.
Music release news: Konishi Yasuharu/Pizzicato Five, Tarte Tatin, CAPSULE, Scandal, "Monchhichi Birthday Party"
Playlist: Justice, The Wip, Vanilla Beans, the hair, Denki Groove, Modern Choki Chokies, Zin-säy!, Naka Shigeo
This week's videos:
esu-efu "Propeller Song" (live)
esu-efu "Sputnik shōnen shōjo" (live)
Posted on September 21, 2013 at 23:59 | Tweet |
---
Trackback
---
Comments RSS
---