Blog - Weekly revue: 2013 week #37 (September 7 to 13)
Weekly revue: 2013 week #37 (September 7 to 13)

Food: - South Indian curry at Cochin Nivas, Shinjuku
- Vietnamese breakfast (Bun bo xao) at World Breakfast All Day. Always good, but a bit pricey this time.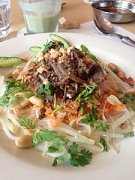 Photo: - Tokyo Metropolitan Government Buildings the evening before the announcement. The elevator guy said it might be the last day with the Olympic color light-up... Guess not!
- Kusama Yayoi's latest inflated sculptures Yayoi-chan and Tokoton at Shinjuku NS Building
Music event: I went to see esu-efu, the unit of Nomoto Karia and Captain Mirai! They were part of an event held at Moon Romantic (aka tsukimirukimiomou), a nice venue in Gaienmae with a large moon above the stage.
esu-efu played all 4 songs from their first mini-album "Sing Future", and also 3 previously unreleased songs! They're working on an album that will hopefully be released by next spring. That's still a long way but it makes it really special to already have the chance to hear some new songs live! It was also the first time esu-efu were accompanied by drummer 005harry, a guy with a unique drum set that uses custom metal parts that he makes. Live drums gave a cool new side to the songs.
Set list: So Far / Propeller Song / kareido Swimming / 3 new songs / Sputnik shōnen shōjo
A word on the other bands. Rock band Chonmage Brothers was quite funny. They say they're a boy-idol group from the Sengoku period, but while the content being silly they're good-skilled musicians and the songs were quite good too (check out this live clip). Next was idol group Yurumerumo (aka You'll Melt More) who gave a fun show. For part of it they played drums and two recorders, and had guitar and bass players join them. Last up was Wakusei Abnormal who played an acoustic set with 5 girl members, all were very skillful with their instruments, and the lead singer was impressive (video clip here).
Music release news: Hair Stylistics, Nyantora, lyrical school
Playlist: Miyauchi Yuri, Sketch Show, jōdan hakushaku, Latin Quarter, Hideki Spaghetti, Aira Mitsuki, Negicco, Aprils, esu-efu, hitomitoi, Hoshino Michiru
This week's video: Hair Stylistics "Music For The Murder Festa"
Posted on September 15, 2013 at 01:18 | Tweet |
---
Trackback
---
Comments RSS
---