Blog - Tokyo Boys Bravo, DJ chipple in Koenji 9/12
Tokyo Boys Bravo, DJ chipple in Koenji 9/12
Announcement! / 告知
I will be DJing at Koenji café-bar Connection tonight, in an event focusing on techno-pop of the 80's. I plan to play techno-kayo, vocal pop of the 80's either produced by or reminding of YMO, and also perhaps some of techno-pop/pico-pico of the recent years. Those who like Perfume, capsule, Usagi-chang records should also enjoy it!
The price is only ¥500, and there will even be a live set by polymoog of Elektel that I'm looking forward to!
The event starts at 19:00 and goes on all night. After 1am anyone can bring their own CDs or records and borrow the turntables.
9月12日に、高円寺コネクションでDJします!イベントは80'sのテクノポップを中心に、僕はテクノ歌謡をかける予定です。最近のお気に入りのテクノポップも持っていきます。
YMOももちろん、Perfume・capsule・ウサギチャンレコーズなどが好きな方も楽しめるイベントになる思います!
時間がある方、遊びにきてください!
1時以降は飛び入りOKなので、好きなCDやレコードを持ってきてね。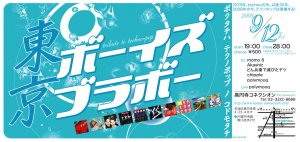 Tokyo Boys Bravo
東京ボーイズブラボー
Tribute to Techno-pop
on 9/12 (Friday)
at Koenji Connection (map)
DJs:
momo 8
akashic
donbei
chipple
polymoog (Elektel)
Live: polymoog
Price: ¥500!
Opens at 19:00, all night
---
I will be playing from 20:40 and 0:20.
Posted on August 31, 2008 at 13:44 | Tweet |
---
Trackback
---
Comments RSS
---