Blog - Family kanshasai - YMCK & KAJI Hideki: live report
Family kanshasai - YMCK &
Kaji

Hideki: live report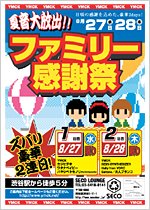 Yesterday was the first of YMCK's 2 day event "Family kanshasai" (ファミリー感謝祭) named to sound like a sort of "thank you sale" at your local supermarket. I went there of course to see YMCK but also Kaji Hideki who I had just seen for the first time last weekend.
At the beginning and between the sets was some DJing, and every once in a while would come up a supermarket-like jingle by YMCK. And before every artist was a funny message...
"Attention please, Kaji Hideki is asked to please come to the stage in the basement. Thank you." Haha. :)
Opening was Kaji Hideki, who was this time accompanied by a full band with two long-haired guys on keyboards and bass, and Yoshié on drums!! Yoshié is Shibuya-kei's leading female drummer since back in the day, and she kicks ass. That was a really energetic set. It seemed that they maybe had a sort of light backtrack, but it gave full room to the band's sound.
Partial set list: Muscat / Typical / Siesta / amai koibito / My Boom Is Me ...
Kaji-kun has a new album coming on October 22!
---
Next up was Watanababy, who isn't just quite my thing so I took a little break at the back, meanwhile finding my friend Akiko, but he sure was very popular! Even though he just sang and talked, accompanied with his acoustic guitar, the place was full of fans clapping and waving their hands to his every direction. Entertaining anyway!
---
Last on stage was of course YMCK! They played a full set similar to what I had seen at Womb 2 months ago, but in addition they played 3 brand new tracks! Two of these are covers from their upcoming cover albums coming next month, and the other is the ending theme for Japan/Korea anime series "Arado senki" (aka "Dungeon & Fighter", it seems) to start airing next January! They said that the anime's ending will not only feature YMCK's music but also their 8-bit graphics.
Partial set list: Starlight / Go! YMCK, Go! / Panic Racer 005 / Inoue Yōsui's yume no naka e / Sugar Babe's Down Town / Amado senki Ending Theme / Future Invation / Arigato Mr. Roboto ...
On my way out I bought a very cute YMCK mobile phone strap that doubles as a screen cleaner. Usually the back of these are black, but this one shows the 3 8-bit characters faces on the front, and the back of their heads behind. :)
Posted on August 28, 2008 at 23:59 | Tweet |
---
Trackback
chipple.net
A week in music
I've been too busy to blog (how sad), but I've been to quite a bit of shows over the last...
October 23, 2008 at 00:46
---
Comments RSS
---