Blog - New TV!
New TV!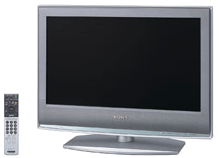 After a few months of suffering sound-only TV about half of the time, we finally went and bought a new one! Of course, we took the opportunity to upgrade to digital, as all analog transmissions will end in Japan in only a few years, and also to wide screen! After some shopping around and hesitation, we went for the Sony Bravia 26" KDL-26S2000 out just last month. 26" was the biggest that could fit in our small space for the TV (74cm between the wall and the fridge), so that's what decided of the size. I think it's big enough for a small LDK like ours.
The price was ¥165,000 at Bic Camera, minus ~¥10,000 I had in points, and I gained an extra 20-23% points (~¥34000), making it a spending of ~¥120,000. Not bad! I went and signed up for a Bic Camera/Suica/View credit/point/transport card in order to get 3% extra points, though this extra 3% only applied to the first ¥100,000 as that's the temporary card's spending limit. I didn't know I had to pay the balance in cash (I was thinking of paying the rest within another credit card), so we had to run around at the last minute to get cash at an ATM.
As for the Bic Camera/Suica/View card, I was eager to stop using my old regular Suica card and have everything combined into one, so I was a bit disappointed when I learnt that the Suica part of the credit card doesn't allow to combine your commuter's pass. The regular View/Suica card does it, so why not this one? So I'll have to keep using my old card, and I probably won't use the Suica feature at all on this new one.
Otherwise, all is good! The TV arrived today, and what a great experience! As Roy said, digital TV in Japan is quite something! So clear, and so much information available right there. There's even a LAN port on it, so I'll try hooking it up to the net and see if that brings up any extra features.
Posted on April 14, 2006 at 00:37 | Tweet |
---
Trackback
---
Comments RSS
---