Blog - Weekly revue: 2017 week #26 (June 24 to 30)
Weekly revue: 2017 week #26 (June 24 to 30)

Food: - Dinner at Matsuki, Nakano
- Lunch at Gastro Pub Augustus, Shibuya

Exhibition: Went to see street artist ESSU's exhibition at Diginner Gallery Workshop in Jiyūgaoka. There were several new big pieces and sculptures, with an impressive large 3D artwork, the type where things appear and disappear when looking at it from another angle.

New music: This week was the release of Cornelius' new album "Mellow Waves"! I've been listening to it a lot since, and it's great! Actually I also got the Cornelius x Idea design book (which comes with non-album track "Surfing on Mind Wave pt.3"), and Sound & Recording magazine (which has downloadable remixes by Sakamoto Ryuichi and Hosono Haruomi). Now I really can't wait to experience this live just in a few weeks!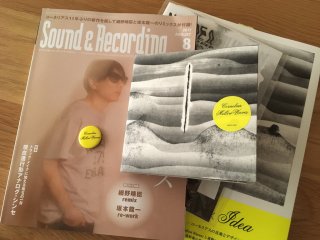 Music release news: Tamaki ROY, Inoue Honoka, STE (Sunaga t Experience)
This week's videos:
Félix Dyotte ft. dahlia "Iki O Tsuitara"
This is a special collaboration of Québécois Félix Dyotte and Japanese dahlia! Bravo!!!
A must hear & watch! :)
Tamaki ROY "furukotobumi"
Posted on July 1, 2017 at 12:20 | Tweet |
---
Trackback
---
Comments RSS
---