Blog - Weekly revue: 2014 week #7 (February 8 to 14)
Weekly revue: 2014 week #7 (February 8 to 14)

Last weekend we got a lot of snow, and then it went away, and then today again it's snowing a lot!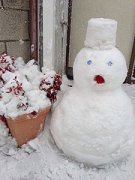 Btw, I didn't make this snowman! Just found it on the street. :)
Food: - Curry & more at South Indian restaurant Pondy Bhavan, Musashi-Niita
- Curry lunch plate at Sri Lankan restaurant Acala.naatha, Nakano
- Cottage pie, pork & apricot pie, spicy chicken, fish & chips, etc. at Bespoque, Higashi-Nakano
New music: Some free tracks for Valentine's day! Grab them right now before it's too late. :) & Happy Valentine's Day!
- HNC "YUKI NO FURU HI"
- Fantastic Explosion "Chocolate 2014" remake by Yoshida Tetsuto
- Find more at Make Believe Melodies!
Music release news: Kinbara Chieko, DJ Fukutake, Wonder Headz
Playlist: hitomitoi, blue marble, The Nanbatatin, Aira Mitsuki, esu-efu
This week's videos:
Sugar's Campaign "otokano"
Wonder Headz "wonder wanderer"
Posted on February 14, 2014 at 23:23 | Tweet |
---
Trackback
---
Comments RSS
---