Blog - Weekly revue: 2014 week #5 (January 25 to 31)
Weekly revue: 2014 week #5 (January 25 to 31)

Food: - Curries (chicken, spinach & satoimo croquettes, and deep fried tofu & micro-sardines) at Tapir, Shin-Ōkubo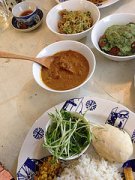 Parties: - This year again I had the chance to go to "Snack Mitsuo", a special birthday party for art director Shindō Mitsuo who turned 66! The party was also the inauguration for new sake "shōshū raifuku" (笑酒来福) for which Shindō-san chose the name and did the calligraphy. The party had free sake and drinks and also sushi prepared by Bijin-zushi.
The party also had shows by The Scooters (Shindō-san's band) and new wave unit RIS (aka r_i_s_u aka risu). The Scooters did an acoustic-ish set with Sally Kubota on woodbass. There was also a DJ set by Nomiya Maki and Noboru! Maki sang "kimi mitai ni kirei na onna no ko" (karaoke-style), a special song for me from the "Playboy Playgirl" album. There was also some sexy dancing that managed to make the 38th floor view even better.
- Then on Sunday was another party for Sunday Bake Shop's 5th anniversary! Congrats! Thanks always for the great food and fun times. :)
Stuff: I got a "Hakovision", a new product released this week and that's already hard to find because of its popularity. Hakovision ("hako" means "box") is a small box that contains a small reproduction of a building, and placing your phone above with a specific movie playing gives you a miniature 3D projection mapping show in a box! It's wonderful, but very tiny! So far I could only find the Tokyo Station edition. There's another one of the Tokyo National Museum, and a Gundam series will be coming in April. What I'd like is one of Denki Groove's projection mapping from their Tour Panda of last year!
New music: - I got hitomitoi's new album, "Snowbank Social Club"! This is again a nice city pop album along the lines of the previous ("Surfbank Social Club"), maybe this time a bit more electro/synth-oriented.
- I also got two 7"'s, one is Hoshino Michiru's latest single, "Magic Hour". Both songs are really great! And Vanilla Beans' first 7" "Jewel Memories / Scone no hana ga saiteiru".
- And also, I downloaded "hop step junk" a free album by mig, side-project of a member of Yucca. mig has for motto to use only cheap used instruments, mostly junk-ish ones bought at "Hard Off" (a chain of second-hand stores of the Book Off family). A quite nice lo-fi electro-punk album! Grab it here.
- Last but not least, MoliquL (friends Tsugumi & Avery) has released a new digital EP, "Into the Night"! I love those two new tracks, and the remixes are great too!
Music release news: Kyary Pamyu Pamyu, MoliquL, shippai shinai ikikata, Kafka's Ibiki
Playlist: (((sssurrounddd))), Hoshino Michiru, Pizzicato Five, MoliquL, hitomitoi, mig
This week's videos: RIS "Not Too Bad"
playtime rock "This Is Love"
Posted on February 1, 2014 at 22:12 | Tweet |
---
Trackback
---
Comments RSS
---