Blog - Weekly revue: 2014 week #11 (March 8 to 14)
Weekly revue: 2014 week #11 (March 8 to 14)

It's about time!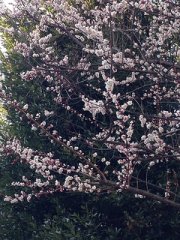 Food: - Lunch with agneau and quiche at Bistrot de Bave, Kagurazaka
- Falafel pita sandwich at Kuumba du Falafel, Shibuya
- Sushi at Sushi Dai (honkan), Tsukiji
- Cakes from Sunday Bake Shop
- Fun home party with lots of delicious food!
Exhibition: Dropped by an exhibition by Aida Makoto. Mainly featured was his latest film 「土人@男木島」 ("dojin @ Ogijima", 48 min., 2013), about a group of indigenous people who time-slip to our time in a southern island in Japan, and are followed by a TV crew and reporter. The movie was quite silly, I liked it. :)
Music release news: "NHK dai! tensai terebi-kun MTK the 18th", "Snow Monkey Beer Live!", Nakatsuka Takeshi with Iga-Bang BB (7"), Tempura Kidz, Omodaka, Dempa Gumi.inc
Playlist: Nomoto Karia, The Nanbatatin, blue marble, frenesi, Sunahara Yoshinori
This week's video: Dempa Gumi.inc "Fancy hoppe u-fu-fu"
Posted on March 15, 2014 at 18:24 | Tweet |
---
Trackback
---
Comments RSS
---