Blog - Weekly revue: 2017 week #25 (June 17 to 23)
Weekly revue: 2017 week #25 (June 17 to 23)

Food: - Chicken curry at Tapir, Shin-Ōkubo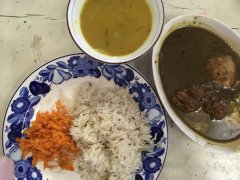 Music event: I went to Wakita Monari's in-store event at HMV record shop Shinjuku Alta, on the day before the release of new single "I'm with you"! The new single's title track is a song written and produced by Fukutomi Yukihiro, a house music producer also famous for doing programming for Pizzicato Five (he was the co-producer of "Happy End of the World", which happens to have been released on the very same day 20 years ago!). The song is great of course! Watch the new video below. I also love the B-side, "EST! EST!! EST!!!", which was arranged by Arai Toshiya (of Count Joke, and also programmer for Konishi Yasuharu for many years now). She also sang new song "Irony" from her upcoming album "I am ONLY" (I suspect the title is a sort of "Monari" anagram). I really can't wait for the album!
Set list: Irony / EST! EST!! EST!!! / I'm with you
New music: Also this week was the release of Hoshino Michiru's new album "12 signs of the zodiac"! I've been enjoying it a lot! I can't wait to hear many of the new songs live. Check out the video below, directed by Sally Kubota!
Exhibition: I went to Los Apson's annual T-shirt fair, where about a hundred artists make brand new T-shirts. It supposedly starts with T-shirts sorted and piled nicely, but with so many people digging around to find ones they like or their own size it soon gets very messy! T-shirts end up in big piles, and what should be here might be at the other side of the room. Bottom line it's a lot of fun despite being a bit tiring! :) This is going on until tonight at 10pm. Hurry!
Music release news: Wakita Monari, Hoshino Michiru
This week's videos:
Hoshino Michiru "nagareboshi Rendez-vous"
Wakita Monari "I'm with you"
Posted on June 25, 2017 at 11:47 | Tweet |
---
Trackback
---
Comments RSS
---