Blog - Weekly revue: 2013 week #40 (September 28 to October 4)
Weekly revue: 2013 week #40 (September 28 to October 4)

Food: - Brasserie Gus, Kagurazaka
- Cheeses from Alpage, Kagurazaka
- Halloween cat ice cream at Baskin Robbins
- And lots of great food at home parties!

Music event: I went to Aira Mitsuki's last show, on September 29, at least the last before her announced hiatus. Aira was accompanied by her 4 dancers, and on stage were also her small Korg keyboard, her red SHS-10 strap-on keyboard, and a drum set.

The show was really great, filled with some 28 of her best songs (including most of her latest album "I'll Be Back"), some in shorter versions so that more could fit into the show. Towards the end of the show there was an awkward moment when she was telling her feelings to the crowd, and her mom (!) interrupted from the back, making everything really weird. The reason why she quit remains a mystery. Anyway I feel quite sad about her retiring, as I've followed her since quite early in her career and always enjoyed her music and shows.

Set list: I can fly / Mysteric / High Bash / make new world / twinkle twinkle / time machine / Knee High Girl / Colorful Tokyo Sounds No.9 / China Discotica / BARBiE BARBiE / Darling Wondering Staring / you know / I still love you / Butterfly / BAD trip (feat. Terukado) / Plastic Doll / HiGH SD Sneaker / Wonder touch / tell me / 321 / Robot Honey / Fantasy Candy / Train Train / Heat My Love / ??? / Summeeeeeeeer set
Encore #1: Yellow Super Car
Encore #2: Robot Honey (remix)

- Also dropped by event "Marché" at Organ b. with P5ML friend Don and his girlfriend. It was DJ Takahashi Masaru's event's 3rd anniversary, and also the last time with Sumire before she moves to Kyoto. Masaru played a back-to-back set with Hase Yasuhiro (Yume to Cosme).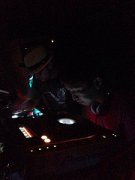 Playlist: "dakishimetai!", Negicco, Pizzicato Five, Kero Kero Bonito, Mark Robinson, Perfume, Takako Minekawa & Dustin Wong
This week's video: YMCK "sasetsu shite usetsu shite"
Posted on October 5, 2013 at 00:15 | Tweet |
---
Trackback
---
Comments RSS
---