Blog - Weekly revue: 2012 week #48 (November 24 to 30)
Weekly revue: 2012 week #48 (November 24 to 30)

Tech: After over 11 years with DoCoMo, and almost 6 years with Sony feature-phone SO902i, I ditched all of this and got an iPhone 5 (with phone company au)! Let me be the first to say "it was about time"!!! :)

Food: Nepal-style curry at Shiva Cafe, Kichijōji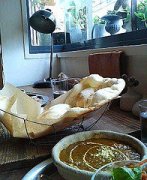 Music events: - On Sunday we went to event "Rallye shijan" organized by the Kanazawa label Rallye at Kichimu (café and event space in Kichijōji). We got to see Chocolat & Akito perform a free live set, accompanied for a few songs by Miyauchi Yūri. The event also had Sunday Bake Shop set up in a corner, and I enjoyed a delicious sticky toffee pudding while watching the show.
- And on Friday I went to an awesome show by Nosa Reina, a newcomer singer produced by Takanami K-tarō. The event also featured Portable Rock, of which both musicians are part of Reina's band. All songs from her album were played live backed by an all-star band with K-taro, Portable Rock and many more! Of course Portable Rock means Nomiya Maki!... and Maki & K-taro means... Pizzicato Five! We got to hear rare P5 gems performed live... "They All Laughed", "Eclipse", "Peace Music", and "Sweet Soul Revue" (yes, 3 songs from "Bossa Nova 2001")! Reina was of course very cute and has a beautiful voice!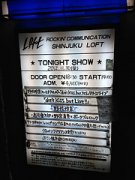 New music: - At Nosa Reina's show, I got her 7" that had sold out in shops before I noticed its release. The B-side is a different version of "Scat" with bonus K-taro scats and a special appearance by Kinoco Hotel's Marianne (who also duets on A-side "Lambrusco ni koi shite").
- Another 7", Fujisawa Shiho is back with a transparent red pressing of breakbeat covers of Paul McCartney's "Wonderful Christmas Time", and "Ave Maria". Great stuff! Get yours at Jet Set while it's the right time. :)


Music release news: Original Love, DadaD, TGMX
Playlist: Teams, Denki Groove, FPM, Nosa Reina, "Crue-L Café"
This week's video: Kinoco Hotel "sono toki nani ga okotta no?" (short ver.) from upcoming album "Marianne no yūwaku"
Posted on December 1, 2012 at 21:55 | Tweet |
---
Trackback
---
Comments RSS
---