Blog - columbia*readymade's jazz-rock reviewed #1, 2, 3
columbia*readymade's jazz-rock reviewed #1, 2, 3
Slowly but surely, I've been picking up the columbia*readymade re-issues of Japanese jazz-rock albums from 1968-1970. Selected by Konishi Yasuharu, these are mostly rare releases, now available on CD for the very first time. Each is in a mini-LP sleeve with great attention to detail, some even having a jacket of different texture. Liner notes from the sleeve, which in CD size are too small to be read, are included as a separate sheet.
Some would buy the whole lot at once, but I prefer to buy one at a time, on weeks where there's nothing else I want to buy, and take the time to listen to each several times so that I can get a good feel of each artist. If I'd get them all at once, I'd probably listen to each just once and then not remember what each sounded like individually.
As I go through this series, I'm thinking of doing short reviews of each album, hoping to be able to guide you a little bit through this massive volume of music from the past.
Here are the first three of the series (which I'm buying in catalog number order, surely someone thought that it was the best order to enjoy them). Common points in these three are that they contain both originals and covers, all including some Beatles songs, and all are instrumental. Also all three have a 2-pane sleeve.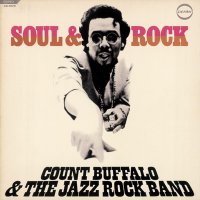 Count Buffalo & The Jazz Rock Band "Soul & Rock" (1969)
カウント・バッファローズとジャズロックバンド 「ソウル・アンド・ロック」
Count Buffalo is drummer Ishikawa Akira, and his band here features Terakawa Masaoki (bass), Satō Masahiko (piano), Suzuki Hiromasa (piano), Sugimoto Kiyoshi (guitar) and Muraoka Takeru (sax).
When I heard the term "jazz-rock", I didn't really know what to think, but hearing this release (first of the series) seemed to make it all clear. Rock songs are performed in a quite normal way, or so you'd think until some improvised jazz solos come up half-way, with sometimes one player keeping his feet on the ground until everyone comes back to the main theme for the end of the song. Not knowing better, the jazz parts reminded me of when I saw Ōtomo Yoshihide New Jazz Ensemble. Being a drummer, I also very much enjoyed leader Count Buffalo's energetic and creative playing. I was especially impressed by a cover of the Beatles' "Michelle", song that I never liked so much, but this cover really made me appreciate it. Original songs "The Cougar" and "No More Than A Drop", both written by pianist Satō Masahiko, definitely stand out.
Track list: The Cougar / I'm Gonna Make You Love Me / Michelle / Green Sleeves / The Sandpiper / No More Than A Drop / Hey Jude / Deep River / Mago-Uta
---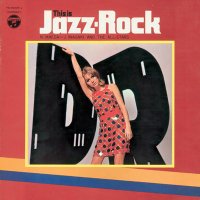 Maeda Norio / Inagaki Jirō All Stars "This Is Jazz-Rock" (1968)
前田憲男/稲垣次郎オールスターズ 「決定版!これぞジャズ・ロック」
This album features Maeda Norio (Hammond organ) and Inagaki Jirō (tenor sax), accompanied by trumpet, guitar (Sugimoto Kiyoshi also on Count Buffalo's album above), bass, drums and latin percussions. It seems like these two are still making music together to this day! The presence of the two lead instruments is felt throughout the album, which is mostly rock but with a touch of jazzy solos (far from being as radical as Count Buffalo's above).
I was especialy very pleased with the opening "Pata Pata" (Miriam Makeba), "Watermelon Man" (Herbie Hancock), and "House of the Rising Sun" (The Animals). Originals "Snap-Shot" and "Go Go A Go Go" written by Maeda also stand out very much, both of these were included on the Readymade compilation "Midnight Tokyo".
Track list: Pata Pata / Mercy, Mercy, Mercy / Day Tripper / Snap-Shot / My Girl / Boom Boom / Watermelon Man / Barock / House Of The Rising Sun / Go Go A Go Go / Soul Finger / Here, There And Everywhere
---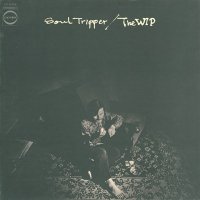 The WIP "Soul Tripper" (1968)
飯吉馨とザ・ウィップ 「ソウル・トリッパー」
The black jacket showing a hippie sitting in the dark didn't particularly attract me, but I was pleased with the music. The liner notes don't tell us much about the members other than leader Iiyoshi Kaoru (piano/organ), but he's accompanied by guitar, bass, drums, flute/horns and sometimes strings. Not much of a jazz feel here.
The album contains 4 original songs, and the rest are covers. I found original title track "Soul Tripper" especially impressive, and the bossa nova "I Love Jobim" (obviously an homage to Tom) is great too. As far as covers go the Beatles' "Eleanor Rigby" gets good treatment, and "Where Have All The Flowers Gone" (Pete Seeger) also stood out. About half of the songs are slowish, still quite a good listen as a whole.
Track list: Soul Tripper / Eleanor Rigby / Where Have All The Flowers Gone / A Treasure Island / Secret Love / I Love Jobin / By The Time I Get To Phoenix / We've Only Just Begun / Ticket To Ride / Who Can I Turn To / Love Story / Catolea
---
That's it for now! Next up on my pile is Sawada Shungo / Muraoka Takeru All Stars "Hit & Hit In Bossanova" that I just picked up yesterday. I can't promise that I'll keep reviewing everything in the series, but I'll try (especially if there's any interest). :)
Find all details on the 9 columbia*readymade jazz-rock re-issues, out April 16, 2008.
Posted on May 31, 2008 at 19:17 | Tweet |
---
Trackback
---
Comments RSS
---