Blog - Weekly revue: 2017 week #36 (September 2 to 8)
Weekly revue: 2017 week #36 (September 2 to 8)

Food: - "Canadian size" poutine at Robson Fries, Shimokitazawa
- Horse meat & more at Ōhashi-shōten no tonari shokudō, Daitabashi. Great food and BGM!

Music event: I went to the release party live show for Wakita Monari's album "I am ONLY"! It was held at clubasia in Shibuya, and the place was packed! Monari was backed by a full band (guitar, bass, keyboards and drums) for the first time in her solo career, and together they performed all of the songs from the album, no exception! I've been enjoying the album a lot, and this made me realize even more how all the songs are so good. As always Monari's singing was amazing! There was also an acoustic part where Hase Yasuhiro (Yume To Cosme) accompanied on piano for three covers.

Set list: Cloudless Night / Irony / Est! Est!! Est!!! / Nakimushi Revolution / inori no kotoba / Tonight, the Night (Bonnie Pink cover) / Circus Night (Nanao Tavito cover) / Joy (Yuki cover) / I'm with you / Dippin' / anone,,, / akai Skirt / yoake no View / Boy Friend
Encore: In the City

The release of her next single was also announced, "Wingscape" produced by Count Joke, out on November 22! And another show with the same band will be held on December 15 at Roppongi Varit. These flowers were sent by Mori Erika (ex-Especia).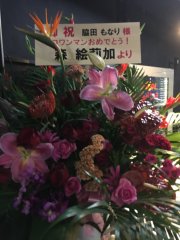 Music release news: Cutemen, Lucky Tapes, TRI4TH, Kaseki Cider & The Natsuyasumi Band, Ōzawa Kenji to Sekai No Owari, neco nemuru
This week's video: YMCK "Come on! Swing all stars" live performance from their show last February
Posted on September 10, 2017 at 12:19 | Tweet |
---
Trackback
---
Comments RSS
---