Blog - Weekly revue: 2017 weeks #31-32 (July 29 to August 11)
Weekly revue: 2017 weeks #31-32 (July 29 to August 11)

Food: - Steak tartare and T-bone steak at BLT Steak, Roppongi
- Pork slider, spicy chicken, fish & chips and chocolate cake at Bespoque, Higashi-Nakano
- Ice cream at Dandelion Chocolate, Kuramae
- South Indian dinner at South Park, Asakusa

Music events: - On July 30 was an in-store event at HMV record shop Shinjuku Alta, featuring Wakita Monari, whose album "I am ONLY" had just been released! Her set focused on album tracks, excluding all of her previous singles with the exception of the last song, "Boy Friend". I've been enjoying this first solo album a lot!

Set list: Irony / Dippin' / inori no kotoba / nakimushi no Revolution / Boy Friend

- On Sunday August 6 I went to the World Happiness festival! It was the 10th edition, and the first time it was held at Kasai Rinkai Park. Some of the acts I especially enjoyed were (in order of appearance) Kotringo, Miyauchi Yuri, Itō Seikō with Dubforce (feat. Scha Dara Parr & Takagi Kan), Takenaka Naoto (with Takagi Kan and Araki Yūko), Denki Groove, Towa Tei, and Takahashi Yukihiro (feat. Suzuki Keiichi, Sunahara Yorhinori, Horie Hirohisa, ...). Takahashi Yukihiro's set featured actress Non for a cover of "Time Machine ni onegai" (Sadistic Mika Band), and the encore had all of Metafive plus Itō Seikō. That was a really great event! It was very very hot though, and I ended with a bit of a sunburn.

Denki Groove set list: Ningen President / Fallin' Down / Puerto Rico No HITorIKKO / Ichigo-Musume / Missing Beatz / Shameful / CATV2017

- And on August 11, a public holiday (since last year) called Mountain Day, was summer festival "Shibuya no Natsu-matsuri"! I was able to catch DJ Kawanabe Hiroshi and then a solo live performance by Tajima Takao (Original Love)! That was awesome! :)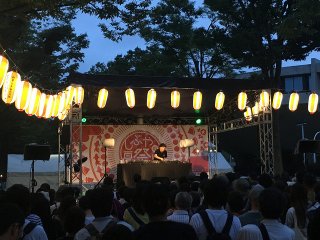 Exhibition: Went to see solo exhibition 「1マス戻る」 by Okano Akiko (also known as the great curry chef at Tapir). This time all of her works were painted using just toothpicks! It's almost hard to believe as many of the pieces are quite large, with repetitive patterns that must have taken a lot of patience. The toothpicks she used were also turned into art pieces by being stuck together.
Music release news: Wednesday Campanella, Omisohan to Richakohan / Vanilla Beans, Kaseki Cider, WHY@DOLL, P.O.P, Sunaga Tatsuo (compilation), Emerson Kitamura
This week's videos:
P.O.P "Kiss Me"
Kaseki Cider "Kung-Fu Dance"
Wednesday Campanella "Yuta / Nero / Unico (Live)"
Posted on August 12, 2017 at 22:59 | Tweet |
---
Trackback
---
Comments RSS
---